Weekly Newsletter
April 17th, 2022
What's Going On?
Welcome to our BRAND NEW weekly newsletter, or what may be referred to as our e-bulletin. We will still continue to produce a printed copy of our weekly bulletin but this electronic version will also be sent out and give you peace of mind knowing it travels with you everywhere your smart phone does too. You will find that this electronic version allows you to save events directly to your calendar as well as join groups with the click of a button.
We hope to include more features in the future such as prayer lists and other things of note. Enjoy this edition and stay tuned for more!
Invite others to sign up for the newsletter as well.
HE IS RISEN!
Resurrection Sunday
Matthew 12:38-41
The Sign of Jonah
W.A.R. - We Are Redeemed Youth
Come Join us this Thursday at 7:00 PM
Vacation Bible School 2022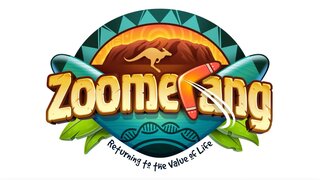 Vacation Bible School also known as VBS is coming up and we want you to save the dates!
June 27 - July 1.
Also if you are interested in leading an area please let us know by signing up in the lobby at church - joining the VBS group and posting there or just by emailing and contacting the church to get your name down. Lots of great areas!
Team Leader, Bible Leader, Craft Leader, Science Leader, Games Leader, Photographer. Please let us know if you have any questions.
Youth Retreat - "Fearless"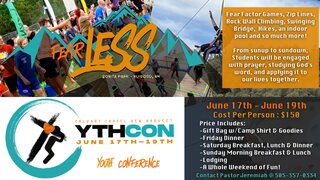 Theme is fearless and the retreat is at Bonita Park
Contact Robert and Amanda Esparza if interested.
Signup is on the counter in the lobby at Church
Get Baptized!!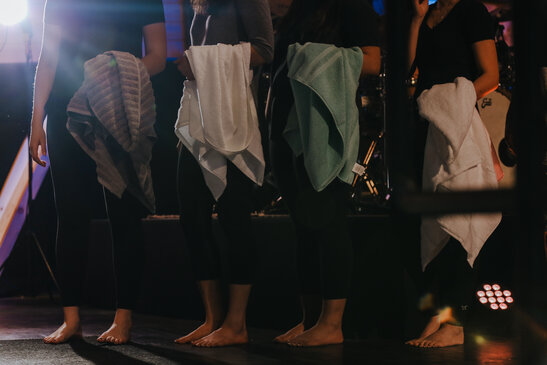 Baptism Signups Are Open
If you are saved but haven't been baptized yet its time to get signed up and take the plunge to walk in obedience with Christ's commands. Baptism is one of two ordinances we observe as a church to be obedient to Christ. Pickup an application at church - or use the online form found by clicking here.
If You Have Any Questions Contact Pastor Mike
After Service At Church
Email: michael@ccrgep.org
Call: 915-317-7789
Upcoming Events
Download
Sunday, April 17th  •  9:00–10:30 am (MST)
Download
Sunday, April 17th  •  11:00 am – 12:30 pm (MST)
CC Sun City Annual Golf Tournament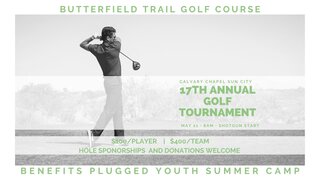 Come enjoy a day of golf without pressure, with a lot of fun, a breath-taking course, and fellowship together while supporting Calvary Chapel Sun City Plugged Youth. www.ccsuncity.org to register or contact Pastor Mike at church.
Saturday May 21st 8:00 AM
Teams of 4 and the cost to enter is $100
Includes goodie bag, green fees, door prizes and much more.
Register - Use QR Code or Link at Bottom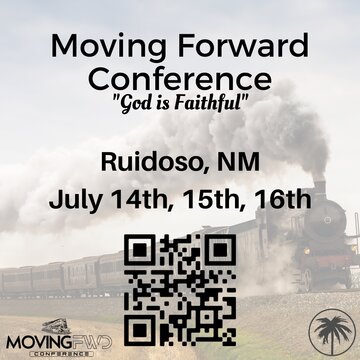 Register online in order for them to get an accurate head count for seats and for a free BBQ dinner on the first evening.
MCM Elegante Rooms Are Booked Up
Hampton Inn - 575-378-1199
Best Western - 575-257-3600
From the Pastor's Devotion
What controls us? What is the main determining factor or our main motivation from which we direct our lives? Is it our desire to be liked? This can drive us down the wrong roads accepting the wrongs things for the sake of not upsetting anyone at us. Are we driven by career, money or status? Then we shall never be satisfied and always pursuing more and doing more at the sake of everything else - family, time, and our own soul. Paul says may the love of Christ be what controls us, and compels us. If we are driven and motivated by the love of Christ we may upset people, we may sacrifice things like money, careers and status but we will please the one whom died for us and brought us eternal life. We will lose the world and gain our souls. Let us be driven and motivated by nothing but instead may the love of Christ control and compel us in our lives.
NEW OUTREACH MINISTRY
You can now give directly to Radio Outreach to support sending the Gospel out over radio on KELP - select the Radio Outreach fund when giving through FaithLife giving.
DOWNLOAD AND GET CONNECTED TODAY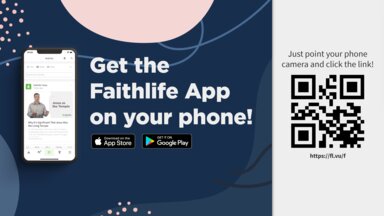 Create your account and then search for Calvary Chapel Redeeming Grace and join our group and enjoy all the benefits.
Logos Bible Software Library
Join Small groups
Enjoy Faithlife TV on your favorite streaming device
Give through the APP
Follow the Service Presentation through Faithlife Study Bible or Logos App
So much more
Our address is: 11505 Confederate Dr, El Paso, TX 79936, USA