Weekly Newsletter
July 17th, 2022
What's Going On?
Welcome to our weekly newsletter, or what is referred to as our e-bulletin. We will still continue to produce a printed copy of our weekly bulletin but this electronic version will also be sent out and give you peace of mind knowing it travels with you everywhere your smart phone does too. You will find that this electronic version allows you to save events directly to your calendar as well as join groups with the click of a button.
We hope to include more features in the future such as prayer lists and other things of note. Enjoy this edition and stay tuned for more!
Invite others to sign up for the newsletter as well.
This Week
Habakkuk - Perplexed Faith
Persevering Perspective
Habakkuk 3:1-19
W.A.R. - We Are Redeemed Youth
Come Join the FUN this Thursday at 7:00 PM
Rescue Mission of El Paso
Men's walking shoes needed
All Sizes
New Or Gently Used (no holes please)
Powdered Laundry Detergent is also needed
Upcoming Events
Download
Sunday, July 17th  •  9:00–10:30 am (MST)
Download
Sunday, July 17th  •  11:00 am – 12:30 pm (MST)
NEW OUTREACH MINISTRY
You can now give directly to Radio Outreach to support sending the Gospel out over radio on KELP - select the Radio Outreach fund when giving through FaithLife giving.
DOWNLOAD AND GET CONNECTED TODAY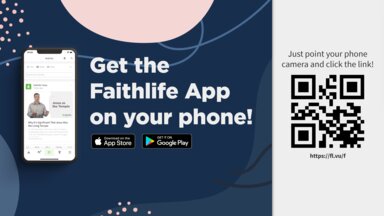 Create your account and then search for Calvary Chapel Redeeming Grace and join our group and enjoy all the benefits.
Logos Bible Software Library
Join Small groups
Enjoy Faithlife TV on your favorite streaming device
Give through the APP
Follow the Service Presentation through Faithlife Study Bible or Logos App
So much more
Our address is: 11505 Confederate Dr, El Paso, TX 79936, USA