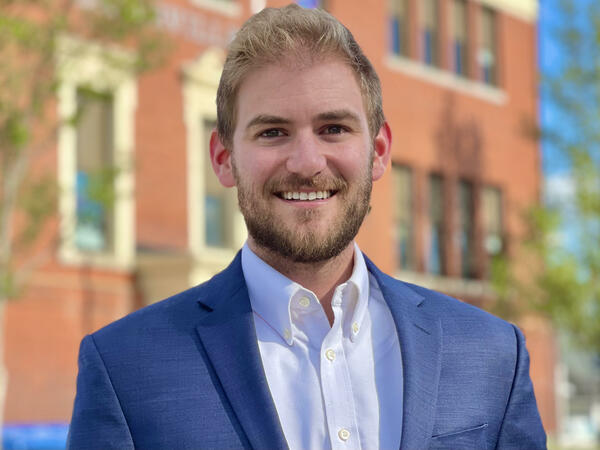 How Faith Communities can Impact Change
Sunday, September 26, we welcome Deacon Chris Potter as our preacher at both services. Chris serves as Faith Community Organizer for Granite State Organizing Project, the largest faith-based grassroots organization in New Hampshire.
After the 10:00 a.m. service, Deacon Chris will lead a 45 minute forum (outdoors, weather permitting) on Community Organizing, an important concept concerning how we practice our faith in the world. The session will be interactive and reflective with an emphasis on empowerment, and is an important step in reflecting on our ministry in this pandemic era. You can learn more about GSOP HERE.
Youth Service Night Tonight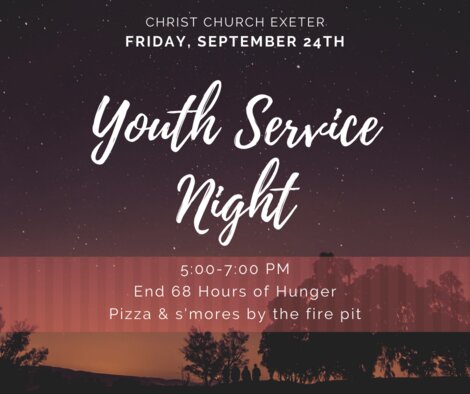 Grades 7-12 are invited to volunteer with End 68 Hours of Hunger and then gather by the fire pit. Contact Maggie O'Neill choircccexeter@gmail.com or Christina DeMaio events@christchurchexeter.org to RSVP.
Sunday School (in-person) Returns
Both Mark and the Rev. Melissa Remington will be kick-starting and overseeing our faith formation program for children from ages 3 to 11. We are going to be dividing the two age groups between "the littles" and "the bigs." We begin this Sunday in the Parish Hall at 9:15 a.m. and will go through to the beginning of the 10:00 a.m. service.
Sunday Worship Information
Download the Sunday bulletin HERE
Preacher: Deacon Chris Potter
To add a name to our ongoing prayer list, please send it to Darla Watt in the office (office@christchurchexeter.org)
8:00 am Eucharist Outdoors in the Courtyard
(Weather permitting) Bring lawn chairs!
If it rains, we will move the service inside.
10:00 am Eucharist inside the church. (Masks Required)
We live-stream all worship services from our YouTube channel, "Christ Church Exeter, New Hampshire"
Resettling Afghan Families in NH
Ascentria is moving at light speed to prepare for the Afghan evacuees we will be welcoming to Massachusetts and New Hampshire. The number of Afghans that Ascentria has committed to resettling has doubled from 250 to 500 (400 in Massachusetts and 100 proposed in New Hampshire). To date they have received an incredible outpouring:
Over 200 volunteers
Over 100 offers of housing
Nearly 50 offers to donate clothing and household items
Nearly 50 organizations have reach out to provide support as a community partner
Regarding the critical need for housing, they are calling on landlords who have apartments available at an affordable rental price to please contact Ascentria by completing this form.
Gift cards are preferred over donations of clothes and household goods due to storage limitations.
Learn more HERE
Join Christ Church Choir
Rehearsals are Wednesday evenings from 7-8:30 pm in the church. The choir sings at the 10:00 am service most Sundays. Email Director of Music, Maggie O'Neill at choircccexeter@gmail.com with inquiries. Join us!
If you missed it... M2 Mechanical Donates Air Filtration System for the Parish Hall
We are celebrating cleaner indoor air for the people of our parish and the community groups that meet and use the Parish Hall. M2 Mechanical, an Exeter-based HVAC company, invited local non-profits to enter a random drawing for one of their state-of-the-art air filtration systems. Christ Church is the lucky winner of that drawing!
The Rev. Mark Pendleton said this for the company's press release to the media: "This new 'air-scrubbing' system will benefit not just the people of our parish, but the many community groups who use our spaces. Safer indoor air is an answer to our prayers. It will help us carry on our work, and we are very grateful to M2 Mechanical for this generous donation."
Learn more about our new system HERE.
Sunday Morning Counters Needed
During the early days of the Pandemic, when we were having our Church services via zoom, we no longer needed volunteers to count the Sunday collection during the week. Now that we have returned to in-person worship and have the Alms Basins (Collection Plates) out for people to place envelopes and cash donations. We are looking for help to verify the Sunday collection.
We would count on Sunday mornings using a simplified form. This new procedure should not take more that about 15 minutes, and it no longer makes sense for someone to come into the office on Mondays. We will use an on-line sign-up form for scheduling.
Frequency for volunteering will depend on how many folks are available.
If you would like to sign-up, please contact Lucia at treasurer@christchurchexeter.org, Normand at bookkeeper@christchurchexeter.org or call the church office at (603) 772-3332.
We are grateful for the continued generosity and support of God's mission in and through Christ Church! You can continue to mail in your giving envelopes or give online.
Use this link to see the latest financials from August, 2021
Church Office Hours
Monday 9 am - 12 Noon
Tuesday 9 am - 12 Noon
Wednesday 9 am - 4 pm
Thursday 9 am 12 Noon
OFFICE CLOSED ON FRIDAYS
Church Website
Use this link to visit Christ Church's website.
Check back often as it is always being updated with the upcoming events and services.
Living, Connecting, Serving
Our address is: 43 Pine St. Exeter, NH 03833, USA