Make Your Christmas Plans
Choose offerings during our "Three Days of Christmas"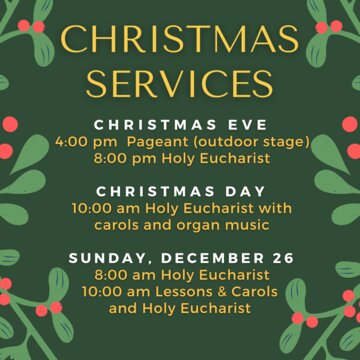 2022 Pledge Update:
As of December 7, we have received 97 pledges for a total of $261,678. 6 are first time pledges, 30 increased from 2021, 52 are the same, and only 9 decreased. Thank you!
In 2021 we received 149 pledges for $365,561 so we still have a way to go to fund our mission and ministry next year.
You can mail in the paper pledge card, or pick one up in the Narthex entryway of the church.
You also download a pledge form:
Or you can use this secure online form to enter your pledge: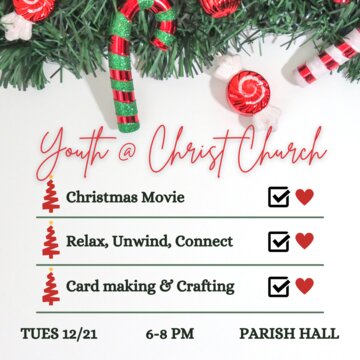 Email events@christchurchexeter.org or choircccexeter@gmail.com to RSVP!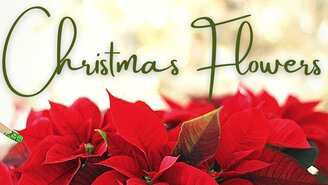 Memorial Wreaths & Poinsettias: As in the past, we will place memorial flowers, poinsettias, and wreaths in the church for Christmas. Anyone wishing to provide a poinsettia (or a financial contribution toward a plant or flowers) in memory of a loved one(s) is asked to contact Darla in the church office to give her the names you would like included at office@christchurchexeter.org or call 772-3332, ext. 11, by Sunday, December 19.

Download the Sunday bulletin
Preacher: The Rev. Mark Pendleton
To add a name to our ongoing prayer list, please send it to Darla Watt in the office (office@christchurchexeter.org)
8:00 a.m. and 10:00 a.m. Holy Eucharist. Masks Required
We live-stream all worship services from our YouTube channel, "Christ Church Exeter, New Hampshire"
Sunday School (in-person)
The Rev. Mark and the Rev. Melissa lead faith formation program for children from ages 3 to 11. We are dividing the two age groups between "the littles" and "the bigs." We gather Sunday in the Parish Hall at 9:00 a.m. and wrap up to 9:45. Masks required.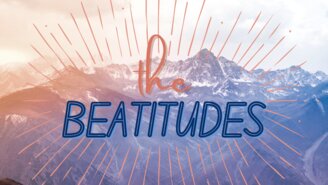 The next Zoom gathering will be Tuesday December 21 on The Beatitudes. Extending through December and January, five sessions will be held on Tuesdays, via zoom from 6:30-7:45 pm. There will be one in-person session in the middle of the series where we will gather in Harris Hall following 10:00 worship.
For the December 21st Zoom Link, CLICK HERE
Our hope is to learn and grow together by sharing personal reflections on the Beatitudes, as we prepare for the birth of Christ and seek the wisdom of Jesus's Sermon on the Mount. Please plan to join us for any or all of these gatherings! For more information on the sessions, CLICK HERE.
'Tis the Season... to consider making a year-end gift from a Traditional IRA
For those in retirement, one of the easiest gifts to help Christ Church grow our mission and ministry is a Qualified Charitable Distribution (QCD) from a Traditional IRA.
Some background: When people reach 70 1/2 years old they must take Required Minimum Distributions (RMD) from many tax-deferred retirement accounts. Those who have Traditional IRAs (QCDs don't apply to other types) are able to make a direct gift to Christ Church and have it count toward their RMD.
Making the gift directly to the church avoids a donor paying taxes on that additional income which they are now forced to take.
You can make a donation of stock or other equities through our Edwards Jones account representative. Call the Treasurer at the church office at 603-722-3332 for more information.
May ways to give: Give with a Text using your smartphone
To Donate via Text, Dial 207-401-5449 and text Give and then the dollar amount you wish to donate, i.e. Give100
Give a donation of stock or other equity through our Edwards Jones account representative. Call the Treasurer at the church office at 603-722-3332 for more information. There may be tax advantages in giving out of an IRA account.
Set up recurring ACH transactions between your bank and the church through Faithlife. This way to give helps the church with a steady cash flow to pay staff and utilities.
How to make recurring pledge payments for 2022 to start in January:
If you are already a member of Faithlife, click the Give button in the upper right section of the Christ Church Exeter Activity page.
Follow the instructions. You will want to "Add or change funds" to set up a recurring pledge payment with your Credit Card or Bank Account. It is as simple as that.
If you do not use Faithlife, you can also go to the Give Online button on the church website homepage, and enter your email without joining Faithlife.
Date for Annual Meeting: January 23, 2022
The Annual Meeting of Christ Church of Exeter (our incorporated name in the State of New Hampshire) will gather in person after the 10 a.m. service at 11:15 a.m. in the church. We will live stream on our YouTube channel (stay on worship link). We will meet to elect officers, new vestry members and diocesan delegates and to hear reports including our finances. More news to follow.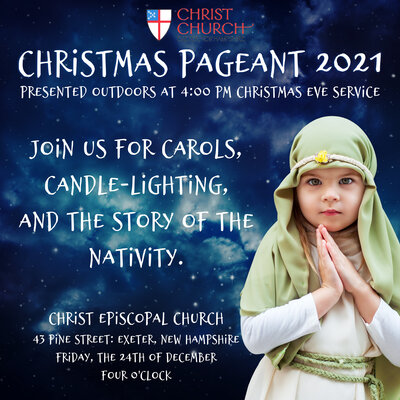 Church Office Hours and Website
Monday 9 am - 12 Noon
Tuesday 9 am - 12 Noon
Wednesday 9 am - 4 pm
Thursday 9 am 12 Noon
OFFICE CLOSED ON FRIDAYS
Use this link to visit Christ Church's website. Check back often as it is always being updated with the upcoming events and services.
Upcoming Events
Download
The Oasis Sisters are a group of women who began meeting in October 2019 in person and continued to meet via Zoom throughout the pandemic. We have grown closer through the sharing of current life experiences, prayer concerns, praises and studying the word of God. Our meetings are on Wednesdays from 10:30 am until 12 noon. We currently meet in person on the first Wednesday of each month in the Dodd Room and the remainder of the month we meet via Zoom. New members are always welcome. For more information contact Kim Storms at 817-905-8987 or stormspk84@gmail.com.
Wednesday, December 15th  •  10:30 am – 12:00 pm (EDT)
Download
In the first concert of our sixty-fourth season,
Accompanied by a chamber orchestra, the Rockingham Choral Society singers' holiday concert program features Antonio Vivaldi's Magnificat, RV 610 and a selection of carols and some good old fashioned sing-alongs. The concert will begin with the live premiere of the Venite, an original work written by Artistic Director, Dr. Alex Favazza specifically for the Rockingham Choral Society.
Since 1957, the Rockingham Choral Society has expanded and enhanced cultural experiences by performing choral masterpieces and adhering to the highest musical standards. The Choral Society is comprised of 70+ members and presents two concerts annually to the audiences in the New Hampshire Seacoast region.
Sunday, December 19th  •  3:30–4:30 pm (EST)
Download
Tuesday, December 21st  •  6:30–8:00 pm (EST)
Living, Connecting, Serving
Our address is: 43 Pine St. Exeter, NH 03833, USA