Seven Days and Counting
Make plans to join us this Christmas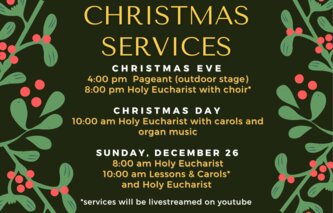 Do sign up today for Christmas Greens
Memorial Wreaths & Poinsettias: As in the past, we will place memorial flowers, poinsettias, and wreaths in the church for Christmas. Anyone wishing to provide a poinsettia (or a financial contribution toward a plant or flowers) in memory of a loved one(s) is asked to contact Darla in the church office to give her the names you would like included at office@christchurchexeter.org or call 772-3332, ext. 11, by Sunday, December 19.
The Best Pageant Ever... Outside this year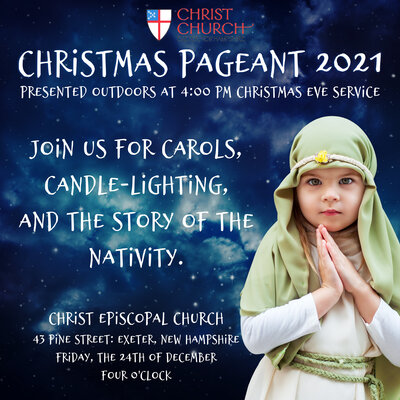 Rental Assistance Program Makes a Difference
In 2020, Christ Church was awarded $25,000 by the Hillsborough County Emergency Food and Shelter National Program (EFSP) Board as part of the Phase CARES, a program to help meet the needs of hungry and homeless people throughout the U.S. by allocating federal funds for the provision of food and shelter.
We thank vestry person Deb Fournier for managing the distributions that helped roughly 14 families stay current on rent and avoid eviction. And we give thanks: Living out our mission to "serve the local and global community."

Download the Sunday bulletin HERE
(If the bulletin fails to load, please go to our homepage under Events and download a copy)
Preacher: The Rev. Mark Pendleton
To add a name to our ongoing prayer list, please send it to Darla Watt in the office (office@christchurchexeter.org)
8:00 a.m. and 10:00 a.m. Holy Eucharist. Masks Required
We live-stream all worship services from our YouTube channel, "Christ Church Exeter, New Hampshire"
Sunday School (in-person)
The Rev. Mark and the Rev. Melissa lead faith formation program for children from ages 3 to 11. We are dividing the two age groups between "the littles" and "the bigs." We gather Sunday in the Parish Hall at 9:00 a.m. and wrap up to 9:45. Masks required.
Join the Zoom Gathering on the Beatitudes next week
The next Zoom gathering will be Tuesday December 21 on The Beatitudes. Extending through December and January, five sessions will be held on Tuesdays, via zoom from 6:30-7:45 pm. There will be one in-person session in the middle of the series where we will gather in Harris Hall following 10:00 worship.
For the December 21st Zoom Link, CLICK HERE
Our hope is to learn and grow together by sharing personal reflections on the Beatitudes, as we prepare for the birth of Christ and seek the wisdom of Jesus's Sermon on the Mount. Please plan to join us for any or all of these gatherings! For more information on the sessions, CLICK HERE.
Sunday School in the Parish Hall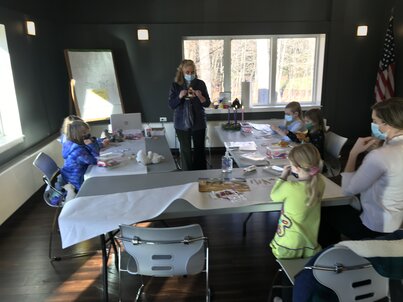 The Rev. Melissa leads a class on Advent.
Volunteers needed for Refugee Family relocating to the Seacoast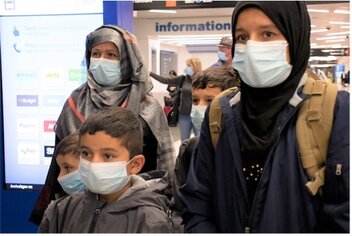 What would it be like to find yourself in a strange land? You left nearly everything behind when you fled your country…
Now what?
Hundreds of Afghan evacuees now arriving in New Hampshire are experiencing this.
A well-organized Neighborhood Support Team —an NST—is critical to easing their transition. The members of this team will form a supportive community around our refugee family; their mission is to help the family restart their lives here in the US and become self-sufficient.
As part of our recently formed Seacoast Team of the Granite State Organizing Project, we are building an NST with people from various faith communities and other organizations in the seacoast. We are coming together to do this right now, so that we will be ready to welcome an Afghan family to the Seacoast area in early 2022.
Can you help? Your gifts of time, energy, and compassion are greatly needed:
There are all sorts of volunteer possibilities for members of Christ Church. We're looking for people who can contribute furniture, and people with strong backs to move that furniture; drivers to help transport family members to appointments, and people to organize and schedule those drivers. We are also looking for people with financial abilities to help with budgets and fundraising, to welcome the family when they arrive, to help the family learn about shopping and buses, to help the adults navigate the job market, and the list goes on!
We'll have help from Ascentria Care Alliance, the resettlement agency overseeing our NST. They are working alongside us, helping with volunteer training, and they will provide other guidance when the family arrives. The goal is to have our family pretty self-sufficient after about six to eight months.
Does this sound like something you'd like to be part of? Would you like to join Team Seacoast? If so, please let Mark Pendleton know.
"I was a stranger, and you welcomed me"(Matthew 25:35)
2022 Pledge Update and Ways to Give
As of December 14 we have received 103 Pledges for a total of $271,344. Thank you for the many households that have renewed your support.
Now more than ever, in this prolonged season of exile and disconnection, Christ Church remains a community of hope, welcome, and hospitality. Your pledge helps strengthen our mission and ministry. Check out our latest financials HERE.
If you haven't made a decision yet, please make this a priority.
In 2021 we received 149 pledges for $365,561 so we still have a way to go to fund our mission and ministry next year.
You can mail in the paper pledge card, or pick one up in the Narthex entryway of the church.
You also download a pledge form:
Or you can use this secure online form to enter your pledge:
Giving from Traditional IRA's
For those in retirement, one of the easiest gifts to help Christ Church grow our mission and ministry is a Qualified Charitable Distribution (QCD) from a Traditional IRA.
Some background: When people reach 70 1/2 years old they must take Required Minimum Distributions (RMD) from many tax-deferred retirement accounts. Those who have Traditional IRAs (QCDs don't apply to other types) are able to make a direct gift to Christ Church and have it count toward their RMD.
Making the gift directly to the church avoids a donor paying taxes on that additional income which they are now forced to take.
You can make a donation of stock or other equities through our Edwards Jones account representative. Call the Treasurer at the church office at 603-722-3332 for more information.
BEWARE OF EMAIL SCAMS
We are hearing about email scams that are going around. This time, scammers are trying to impersonate clergy, and other public officials.
Please never, ever buy gift cards based on an email request. (You would always hear about a drive for gift cards from the clergy in person or from the church announcements, not by direct email.
If you receive an email like this, however, you as the recipient can report it to authorities, see the FTC Page.
If you have an email you're unsure about, never be afraid to forward it to the parish office or to the Rector.iz
Church Office Hours and Website
Monday 9 am - 12 Noon
Tuesday 9 am - 12 Noon
Wednesday 9 am - 4 pm
Thursday 9 am 12 Noon
OFFICE CLOSED ON FRIDAYS
Use this link to visit Christ Church's website. Check back often as it is always being updated with the upcoming events and services.
Living, Connecting, Serving
Our address is: 43 Pine St. Exeter, NH 03833, USA