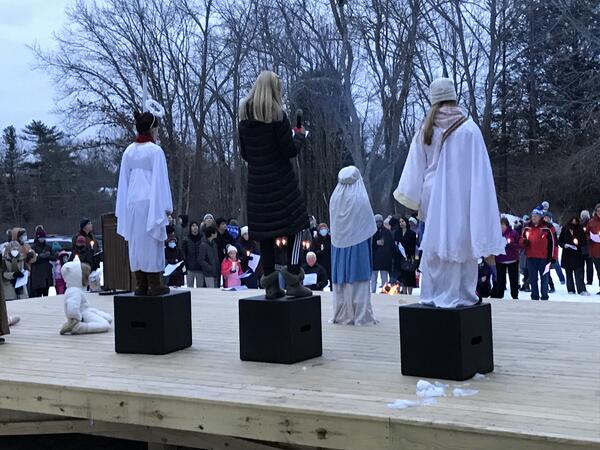 The 12 Days of Christmas
Photos of the BEST PAGEANT EVER!
A Cold night in Bethlehem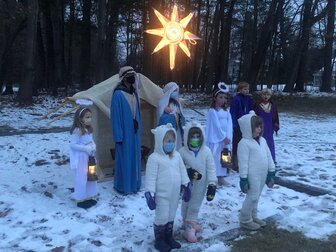 Over 100 faithful gathered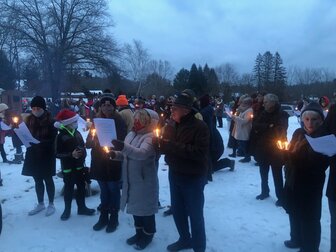 Download the Sunday bulletin HERE.
(If the bulletin fails to load, please go to our homepage under Events and download a copy)
Preacher: The Rev. David Holroyd
To add a name to our ongoing prayer list, please send it to Darla Watt in the office (office@christchurchexeter.org)
8:00 a.m. and 10:00 a.m. Holy Eucharist. Masks Required
We live-stream all worship services from our YouTube channel, "Christ Church Exeter, New Hampshire"
No Sunday School on January 2.

In addition to the Zoom session on January 4 (see event and Zoom link below under Upcoming Events) join us on Sunday, January 9, after the 10 AM service for our fourth session exploring the meaning of the Beatitudes. The Parish Hall is a large space with the added benefit of state-of-the-art air filtration system.
In this session we will reflect and discuss on the Beatitude verses,
Blessed are the peacemakers for they will be called children of God. Blessed are those who are persecuted for righteousness' sake for theirs is the kingdom of heaven.
We will reflect on a scripture text and explore with each other questions like:
What does it mean to be a peacemaker in our world today?
What are the sacrifices and challenges we face to seek peace on earth good will towards all people?
Don't miss this in person special session of the Beatitudes and please be sure to sign-up HERE. Lunch will be provided, so we need a head count.
-The Renewal Works team: Patricia Gianotti, Jeannette McDonald, Judy Blaisdell, Alison Watt and Carol Allard, and your associate priest, Rev Melissa Remington
Bruce Adami Featured in Noontime Concert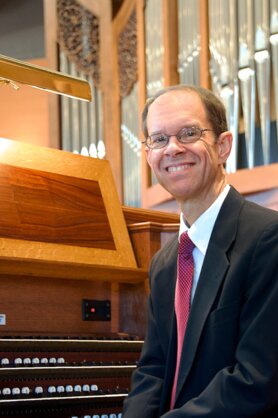 Christ Church's organist Bruce Adami will play a 30-minute concert on Friday, January 7th, 2022 beginning at 12:15 pm at First Congregational Church in Nashua. The church's Austin organ dates from 1926, was completely restored in 2015, and contains 4,000 pipes. The program is uniquely suited to the instrument and will feature works by William Albright, William Bolcom, Norman Cocker, Grayston Ives, and Louis Vierne. The church is located at 1 Concord Street, Nashua, NH. For more information visit www.first-music.org.
2022 Pledge Update and Ways to Give
As of December 28 we have received 120 pledges for 2022 for a total of $295,852. Thank you for the many households that have renewed your support. 15 are new, 36 increases, 57 remained the same as this year. In 2021 we received 149 pledges for $365,561.
Now more than ever, in this prolonged season of exile and disconnection, Christ Church remains a community of hope, welcome, and hospitality. Your pledge helps strengthen our mission and ministry. Check out our latest financials HERE.
If you haven't made a decision yet, please make this a priority.
You can mail in the paper pledge card, or pick one up in the Narthex entryway of the church.
You also download a pledge form:
Or you can use this secure online form to enter your pledge:
Plans to Welcome an Afghan family to the Seacoast
As part of our recently formed Seacoast Team of the Granite State Organizing Project, Christ Church is part of a Neighborhood Support Team from various faith communities. Vestry person Deb Fournier is our contact person. We want to be ready to welcome an Afghan family to the Seacoast area in early 2022.
Can you help? Your gifts of time, energy, and compassion are greatly needed:
There are all sorts of volunteer possibilities for members of Christ Church. We're looking for people who can contribute furniture, and people with strong backs to move that furniture; drivers to help transport family members to appointments, and people to organize and schedule those drivers. We are also looking for people with financial abilities to help with budgets and fundraising, to welcome the family when they arrive, to help the family learn about shopping and buses, to help the adults navigate the job market, and the list goes on!
We'll have help from Ascentria Care Alliance, the resettlement agency overseeing our NST. They are working alongside us, helping with volunteer training, and they will provide other guidance when the family arrives. The goal is to have our family pretty self-sufficient after about six to eight months.
Does this sound like something you'd like to be part of? Would you like to join Team Seacoast? If so, please let Mark know at mpendleton@christchurchexeter.org
"I was a stranger, and you welcomed me"(Matthew 25:35)
Church Office Hours and Website
Monday 9 am - 12 Noon
Tuesday 9 am - 12 Noon
Wednesday 9 am - 4 pm
Thursday 9 am 12 Noon
OFFICE CLOSED ON FRIDAYS
Use this link to visit Christ Church's website. Check back often as it is always being updated with the upcoming events and services.
Living, Connecting, Serving
Our address is: 43 Pine St. Exeter, NH 03833, USA