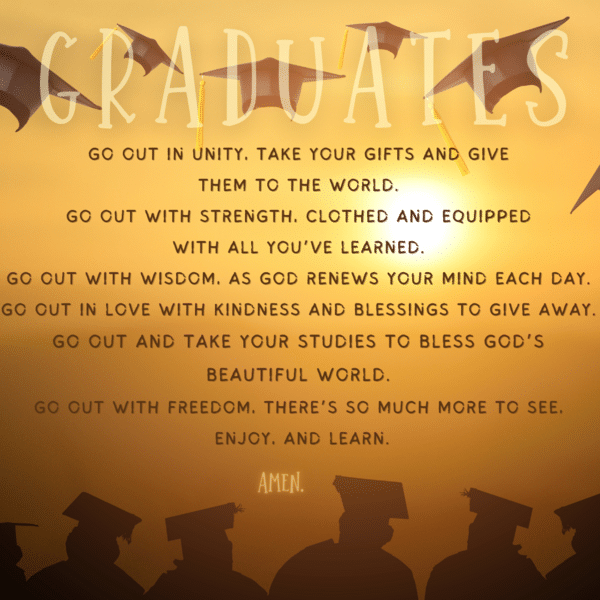 Giving Thanks for our Graduates
Alyssa DiPalermo, daughter of Joe & Diane DiPalermo, graduated Summa Cum Laude from James Madison University with a Bachelor of Science Degree in Psychology with a minor in both Disability Studies and Sociology.
Dalton Vega, son of Carlos Vega, graduated with highest honors at the Georgia Institute of Technology with a bachelors degree in Aerospace Engineering. Dalton will attend Stanford University for graduate school.
Connor Wyskiel, son of Derek & Lauren Wyskiel, graduated Exeter High School. He will be attending Saint Joseph's College of Maine.
Adam Neil, the son of Jeff & Libby Neil will be attending Clemson University and has been accepted into the College of Business at Clemson.
Grant Sorber, son of Kevin & Anne Sorber, graduated from Exeter High School and will be attending Iowa State University to study Computer Science.
Caroline Elizabeth Savage, daughter of Eric & Cammie Savage, granddaughter of Lucia & Neil Savage, graduated Exeter High School. She will attend UNH.
Jessica Juliet Savage, daughter of Christopher & Grady Savage, granddaughter of Lucia & Neil Savage, graduated Exeter High School. She will attend Southern New Hampshire University.
Ryley Fisher, grandson of Lee & Maureen Hunter, graduated from Brookline's Ivy Street School with a High School Degree.
Mark Lillie, son of Jim Lillie, graduated with his Master of Music degree in Double Bass Performance at The Julliard School.
Summer Bible Verse Challenge
Episcopalians -- let's use this summer to exercise our brain and deepen our faith. Join us in committing one verse a week to memory. First up: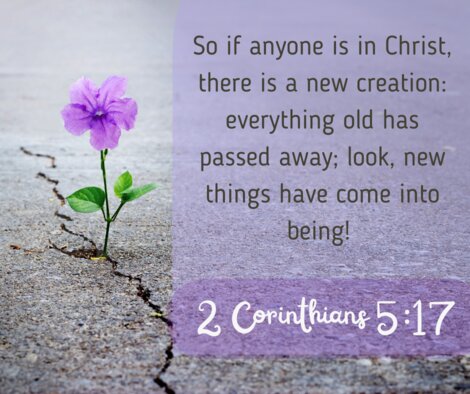 So if anyone is in Christ, there is a new creation: everything old has passed away; look, new things have come into being!
2 Corinthians 5:17
Join us this Sunday for Worship
Holy Eucharist at 8:00 a.m. and 9:30 a.m.
Masks Optional (and Welcome)
Download the Sunday bulletin HERE
Preaching: The Rev. Melissa Remington
To give flowers for the altar, please sign up HERE
To add a name to our ongoing prayer list, please send it to Darla Watt in the office (office@christchurchexeter.org).
We live-stream worship services from our YouTube channel, "Christ Church Exeter, New Hampshire"
Judy Wainwright - Rest in Peace+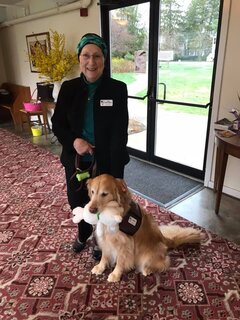 Judy Wainwright, shown here with her beloved Keeper, greeting on Easter morning, died on Wednesday. We grieve her loss and we pray for her husband Paul. Judy's service will be Saturday, June 18 at 10:30 a.m. with a reception to follow. If you would like to contribute food for the reception, please email events@christchurchexeter.org
May her soul, and the souls of all the departed, through the mercy of God, rest in peace. Amen.
Summer Hospitality
Join sign up to bring treats to share.. Could be a box of donuts, coffee cake, fruit, or cookies. Store-bought and homemade are welcome!
Sign up to help with Sunday morning Hospitality HERE.
Safe Church Ministry
Over the last three years, Wendy Gladstone and Sue Ingram have served as our Safe Church Ministers. They are both rotating out of these roles this month. We thank them both for their service!
The Safe Church Program of the Episcopal Church of New Hampshire has three major components – policies, training, and background checks. Church leaders are responsible for knowing and following these policies.
The Episcopal Church is deeply committed to fostering communities and congregations that are safe spaces for all people, particularly those who may be vulnerable in some way, to worship and minister generously, free of any form of harassment, bullying, abuse, or exploitation.
Please see Mark if you are interested in learning more about this ministry and possibly serving as our Safe Church minister.
Looking to make a difference?
One way to create change in our community is to serve on a board of directors. The Granite State Organizing Project, which Christ Christ joined this past year, is looking for a board member from the Seacoast for their official governance Interfaith Action Fund (c4). The board meets once a month via Zoom on Thursday evenings.
GSOP strives to create communities in which residents accept, respect, and value one another; justice, equity, and the democratic process are upheld in all interactions. Its unites to strengthen our voice in decisions that affect our communities by taking action on issues such poor housing, failing schools, barriers to citizenship, unjust working conditions, and costly health care that put our neighborhoods at risk. We work together for a just society. Learn more at https://granitestateorganizing.org/
Please see Mark if you are interested in serving.
5 Things You Can Do to Respond to Gun Violence Today
With increasing frequency, acts of mass violence continue appearing in news headlines. Our urge to act can often be stifled by the feeling of inadequacy for the task at hand.
Here are five things you can do today. Download HERE
Supporting our Local Food Pantry
The Society of St. Vincent de Paul Food Pantry in Exeter at 53 Lincoln Street relies on the generosity from the community to serve families in need year-round. Christ Church has supported SVdP over the years. Their aim is to provide the healthiest and most nutritious food possible.
If you are able to donate any of the following items, please drop them off in the basket in the Narthex (entrance hall) of the church, or at the back door of the pantry on Monday, Wednesday or Friday, 8:30am-4:00pm.
Wish List includes: Fresh produce and fruits; Tea/Coffee; Low sodium nuts and nut butters; Canned Fish; Canned chicken or turkey; Oats, rice and other grains- high fiber, whole grains; Canned vegetables- low or no salt; Canned fruit in natural, juice; 100% fruit juice; Canned soups, low or no sodium; Toilet paper; Deodorant; Liquid hand soap, Dish detergent; Laundry detergent; Razors; Tissues; Shampoo/conditioner, Hand sanitizer.
Consider joining the Anchor Legacy Society
The Anchor Legacy Society includes those who have remembered Christ Church in their wills or have made provision for the church through other planned gifts.
If you are making a Will or updating financial or estate plans and would like to support God's work in Exeter and the wider church and community, please reach out for more information so that we can answer any inquiries you may have.
The Endowment Fund also welcomes gifts for any occasion; it is not exclusively for bequests. Gifts in memory of a family member or friend are very appropriate; likewise, gifts in honor or in celebration of a person or event are equally desired. There are any number of occasions when a gift can be made, (birthdays, baptisms, graduations, anniversaries, good fortune, and others) recognizing the moment and helping to grow the Fund.
Email office@christchurchexeter for more information or download enrollment forms from our page on the website HERE
JULY 16: Seacoast Family Fun Day
Families of New Hampshire churches are invited to join us for a Family Fun Day at Odiorne State Park in Rye on Saturday, July 16, from 10:30 am to 2 pm. The event is being hosted by members of the diocesan Earth Care Outdoors group and Linden Rayton of Living Water Nature Programs LLC. There will be games, tide pooling, outdoor worship, and a bring-your-own picnic lunch.
There is no cost for this event but registration is required. Click here to register. Families of all stripes are invited: parents, guardians, aunties and uncles, family friends, and all beloveds. We can't wait to see you there!
Church Office Hours and Website
Monday 9 a.m. - 12 Noon
Tuesday 9 am - 12 Noon
Wednesday 9 am - 4 pm
Thursday 9 am 12 Noon
OFFICE IS CLOSED ON FRIDAYS
Rector's Office Hours: Over the last two years, Mark has adapted to more remote work during the week. He is regularly in the office Tuesdays and Wednesday and is available all days minus Friday, his day off. You can email him at mpendleton@christchurchcexeter.org or call his cell at 860 490-8544 for more urgent matters or to make an appointment.
Use this link to visit Christ Church's website. Check back often as it is always being updated with the upcoming events and services.
Upcoming Events
Download
The Oasis Sisters gather on Wednesdays from 10:30 am until 12 noon. Occasionally on Zoom. We meet June 15 in the Community Room. New members are always welcome. For more information contact Kim Storms stormspk84@gmail.com.
Wednesday, June 15th  •  10:30 am – 12:00 pm (EDT)
Living, Connecting, Serving
Our address is: 43 Pine St. Exeter, NH 03833, USA