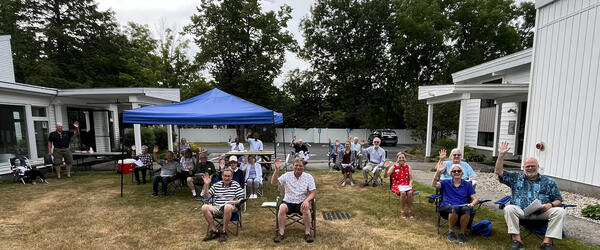 ENews: 8:00 a.m. Outdoors this Sunday
Join us this Sunday for Worship
Holy Eucharist at 8:00 a.m. (in Courtyard). Beat the heat and join us outdoors. Chairs will be available.
9:30 a.m. in the Church
Masks Optional (and Welcome)
Download the Sunday bulletin HERE
Preaching: The Rev. David Holroyd
Offertory Solo: Steve Watt
To give flowers for the altar, please sign up HERE
To add a name to our ongoing prayer list, please send it to Darla Watt in the office (office@christchurchexeter.org).
We live-stream worship services from our YouTube channel, "Christ Church Exeter, New Hampshire"
Bible Verse Challenge
A Word of Thanks from Jeanette McDonald
How many times do we take for granted something valuable? Something we see often, or go somewhere often, or greet someone often? But because it becomes so familiar, we don't always realize the extent of its beauty.
This is what I experienced these past many weeks with the passing of my husband Thomas McDonald. Beauty abounds at Christ Church.
I'll begin with Tom's memorial service. So many, many guests commented on the magnificence of our liturgy, music, and sanctuary, the ease and sincerity of Mark's presence in the service.
The reception was held in Harris Hall – what a gift! Congenial round tables allowed for so many people to talk and feel welcomed. The catering staff was able to easily handle the luncheon with efficiency because of our well-appointed kitchen.
But I never realized the relationships I have at Christ Church. The care and compassion so many have expressed just fills me with gratitude.
I am thankful Tom's service and reception had such positive memories; it fills the emptiness. Thank you to all at Christ Church.
Peace,
Jeannette McDonald
Update on our Friends in Cuba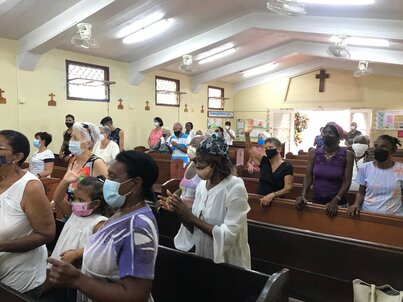 Mark has shared recent communication coming in from our friends at our companion parish in Cardenas that details a deteriorating situation on the ground.
There are now almost daily electricity blackouts that can last up to 10 hours at a time. Imagine tropical heat without any fans or air conditioning -- though most Cubas do not have a.c. Christ Church was able to send some food down to the parish that will be used for a special parish meal. The political horizon looks very bleak as more young people and professionals attempt to leave the country. Pray for the people of Cuba and our friends who live under oppressive conditions.
Please keep up with giving if possible
Thank you for your faithful giving.
We are running $36,000 behind budget in pledge payments from where we should be at this point in the year. As we all face inflation pressures in our budgets, we are grateful if households can keep up with pledges and giving. And for those able to increase their giving, well, that is always a good thing and will strengthen our ministries.
Summer Hospitality Outdoors
Summer hospitality is stronger with many hands. We are looking for folks to take on the duties of helping set up the outdoor tables with cold drinks etc. We have a core group of organizers looking to grow their ranks.
And if not able to help oversee the spread, we always need people to sign up to bring treats to share after the services... Could be a box of donuts, coffee cake, fruit, or cookies. Store-bought and homemade are welcome!
Click on the graphic above to give online. We are always grateful for your donations and pledges that support our mission and ministry.
Consider setting up regular giving through Faithlife.
Church Office Hours and Website
Monday 9 a.m. - 12 Noon.
Tuesday 9 am - 12 Noon
Wednesday 9 am - 4 pm
Thursday 9 am 12 Noon
OFFICE IS CLOSED ON FRIDAYS
Rector's Office Hours: Mark is regularly in the church office Tuesdays and Wednesdays, and is available all days except Friday, his day off. You can email him at mpendleton@christchurchcexeter.org, or call his cell at 860 490-8544 for more urgent matters, or to make an appointment.
Use this link to visit Christ Church's website. Check back often, as it is always being updated with the upcoming events and services.
Living, Connecting, Serving
Our address is: 43 Pine St. Exeter, NH 03833, USA