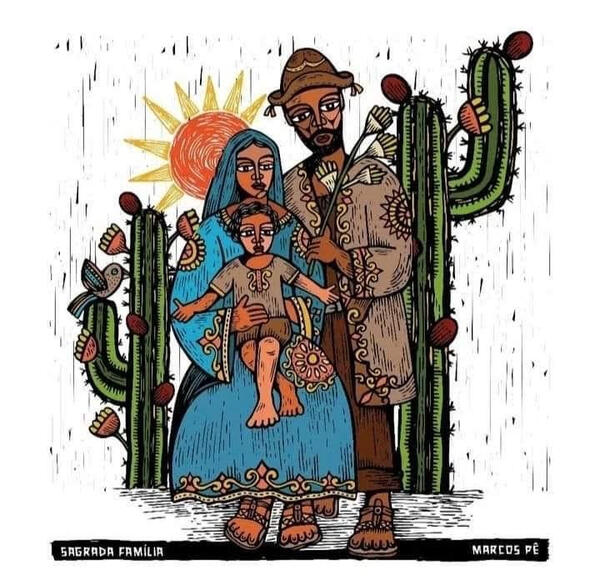 Enews: The Feast of the Epiphany
The Holy Family greet the Magi
Chalking your Door on Epiphany
"Bless this house and all who inhabit it. Fill us with the light of Christ, that our concern for others may reflect your love."
A short liturgy is a way of marking our homes, usually at the front or main entrance, with sacred signs and symbols as we ask God's blessing upon those who live, work, or visit throughout the coming year.
In Exodus, the Israelites marked their doors with blood so that the Lord would pass over their homes; but in this service, we mark our doors with chalk as a sign that we have invited God's presence and blessing into our homes.
In Deuteronomy 6:9 God tells the people of Israel: "These words that I command you today shall be on your heart. You shall teach them diligently to your children, and shall talk of them when you sit in your house… You shall write them on the doorposts of your house and on your gates." Chalking the door is a tangible way to honor God in our lives. You can write:
20 + C + M + B + 23
Learn more about these Epiphany traditions HERE
A prayer for today:
Jesus, light of the world, let your bright star stand over the place where the poor have to live; lead our sages to wisdom and our rulers to reverence. Hear this prayer for your love's sake. Amen.
Sunday worship information
Services at 8 and 10 a.m.
Download Sunday's bulletin HERE
Masks are optional and welcome at Christ Church for all events
To add a name to our ongoing prayer list, please send it to Darla Watt in the office (office@christchurchexeter.org).
We live-stream worship services from our YouTube channel, "Christ Church Exeter, New Hampshire"
Sunday Reception for Maggie O'Neill
This Sunday we will honor Maggie O'Neill at a reception in the Parish Hall after the 10:00 a.m. service. Director of Music since 2018, Maggie's last time leading the choir was Christmas Eve.
Under Maggie's guidance and leadership the choir deepened its musical foundations and lifted this worshiping community through challenging times. A gifted vocalist, Maggie also added her voice at many of our services. Join us!
Seacoast Family Promise Week Jan. 15
Barbara Cutting is our new SFP coordinator. We're always looking for more volunteers! If you're interested in joining this ongoing ministry, please contact Barbara at sfpcce2@gmail.com.
Our week to prepare meals is January 15-21. Sign up HERE
2023 Pledge Update: Thank you!
As of January 3 we have received 100 pledges for 2023 totaling $251,048.23
In 2022 we received 134 pledges for $331,512.
Our 2023 goal is 150 pledges for $380,000 to return to pre-Pandemic levels of giving.
For recurring gifts through Faithlife or banks, we do need a pledge card or an email from you to record a pledge for 2023.
Download the 2023 Pledge Card Here
Click on the graphic above to give online. We are always grateful for your donations and pledges that support our mission and ministry.
To give flowers for the altar, please sign up HERE
Inquirers' Classes/Episcopal 101 on Zoom
The Rector will offer five Zoom sessions for those who want to learn more about the Episcopal Church and for those who might be interested in being confirmed or received by the bishop on May 7, 2023. Zoom links to follow.
January 23 Monday at 7 p.m. Zoom
What does it mean to be an Episcopalian/Anglican?
What do Episcopalians believe?
February 15 Wednesday at 7 p.m. Zoom
Are Episcopalians Protestants or Catholics?
The History of the English and American church.
March 6 Monday at 7 p.m. Zoom
A Tour through the Book of Common Prayer
March 21 Tuesday at 7 p.m. Zoom
The Sacraments and Episcopal Liturgy
March 27 Monday 7 p.m. Zoom
Structure, Decision Making, and all things Episcopal
Annual Meeting January 29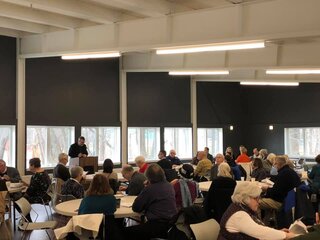 The Annual Meeting of Christ Church of Exeter (our incorporated name in the State of New Hampshire) will convene after the 10 a.m. service at 11:15 a.m. in the Parish Hall on January 29. We will meet to elect officers, new vestry members and diocesan delegates and to hear reports including our finances. More news to follow.
Our address is: 43 Pine St. Exeter, NH 03833, USA