Enews: Music News
Sunday Services at 8 and 10 a.m.
Download this coming Sunday's bulletin HERE
Masks are optional and welcome at Christ Church for all events
To add a name to our ongoing prayer list, please send it to Darla Watt in the office (office@christchurchexeter.org).
We live-stream worship services from our YouTube channel, "Christ Church Exeter, New Hampshire"
Suzanne Jalbert Jones named Director of Music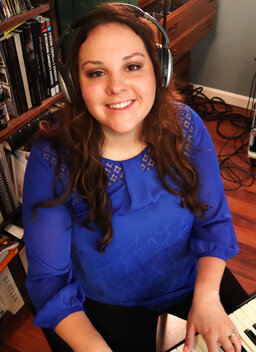 Suzanne Jalbert Jones has been named Interim Director of Music at Christ Church.
As our Director of Music from 2014 - 2018, Suzanne enjoyed the richly musical and spiritual parish of Christ Church and considers it her home. She brings with her a diverse background of musical training from New England Conservatory of Music and University of New Hampshire, although her greatest teachers are her friends and family, with whom she often shares the stage. She honors the power of music to heal and bring people together and has built her musical practice upon that tenant. She hopes to inspire any individual, with a song in their heart, to join the Christ Church Choir! In her words: "she is grateful to once again be making a joyful sound with Christ Church Exeter." Suzanne will join us next Sunday, January 22nd.
Seacoast Family Promise Week Jan. 15
There are still a few openings to provide meals this week. Sign up HERE
There are other ways to help with this ministry. Seacoast Family Promise has provided a current list of household needs:
Hefty 30-gallon strong trash bags (not contractor bags)
Laundry detergent (no pods please)
Ziplock bags, gallon size
Ziplock bags, sandwich size
6-12 pack of Scott or Scott equivalent toilet paper
3-6 pack of select-a-size paper towels
Tissues
Tinfoil
Ground coffee
New, unused sheet sets and comforters, full size
You can drop them off in the Narthex in the bin near the Chapel or in the office during office hours.
Barbara Cutting is our SFP coordinator. We're always looking for more volunteers! If you're interested in joining this ongoing ministry, please contact Barbara at sfpcce2@gmail.com
2023 Pledge Update: Thank you!
As of January 12 we have received 128 pledges for 2023 totaling $307,058. In 2022 we received 134 pledges for $331,512.
Our 2023 goal is 150 pledges for $380,000 to return to pre-Pandemic levels of giving.
Download the 2023 Pledge Card Here
Click on the graphic above to give online. We are always grateful for your donations and pledges that support our mission and ministry.
To give flowers for the altar, please sign up HERE
Inquirers' Classes/Episcopal 101 on Zoom
The Rector will offer five Zoom sessions for those who want to learn more about the Episcopal Church and for those who might be interested in being confirmed or received by the bishop on May 7, 2023.
January 23 Monday at 7 p.m. Zoom link HERE
What does it mean to be an Episcopalian/Anglican?
What do Episcopalians believe?
February 15 Wednesday at 7 p.m. Zoom
Are Episcopalians Protestants or Catholics?
The History of the English and American church
March 6 Monday at 7 p.m. Zoom
A Tour through the Book of Common Prayer
March 21 Tuesday at 7 p.m. Zoom
The Sacraments and Episcopal Liturgy
March 27 Monday 7 p.m. Zoom
Structure, Decision Making, and all things Episcopal
Annual Parish Meeting January 29
The Annual Meeting of Christ Church of Exeter (our incorporated name in the State of New Hampshire) will convene after the 10 a.m. service at 11:15 a.m. in the Parish Hall on January 29. We will meet to elect officers, new vestry members and diocesan delegates and to hear reports including our finances. More news to follow.
Upcoming Events
Download
In person Bible Study in the Dodd Room
Tuesday, January 17th  •  11 am – 12 pm (EST)
Download
The Oasis Sisters gather on Wednesdays from 10:30 am until 12 noon. We currently meet in person on the first Wednesday of each month in the Dodd Room and the remainder of the month we meet via Zoom. New members are always welcome. For more information contact Kim Storms stormspk84@gmail.com.
Wednesday, January 18th  •  10:30 am – 12:00 pm (EDT)
Download
Saturday, January 21st  •  8:00–9:30 am (EST)
Our address is: 43 Pine St. Exeter, NH 03833, USA