Enews: Guest Preacher Sunday
We welcome back a friend of Christ Church this Sunday to preach: The Rev. Jamie Hamilton.
For twenty years, Jamie was both an educator and administrator at Phillips Exeter Academy, teaching religion and philosophy and overseeing the health and welfare of students in her role as dean. In October 2014, she was called to become the Rector of All Saints' Church in Peterborough. In October 2021, she retired from parish work to write about the universal themes of the Qur'an that speak to the depth of our shared faith as Jews, Christians, and Muslims.
Join us this Sunday
Sunday Services at 8 and 10 a.m.
Download the service bulletin HERE
Masks are optional and welcome at Christ Church for all events
To add a name to our ongoing prayer list, please send it to Darla Watt in the office (office@christchurchexeter.org).
We live-stream worship services from our YouTube channel, "Christ Church Exeter, New Hampshire"
Saturday Men's Breakfast Group
Once a month on a Saturday morning, the Christ Church's Men's Group gathers to create opportunities for men to develop friendships, deepen faith, and to support one another through life's journey. We meet from 8:00 to 9:30 a.m. The group is facilitated by the Rector Mark Pendleton. Contact Mark for more information. The group always welcome new faces. January 21 is our next gathering in the church kitchen.
Learn more about our Diocese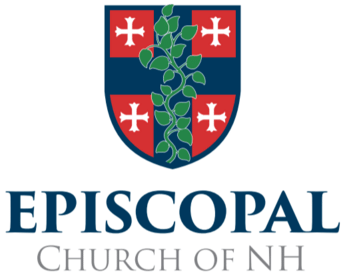 Worship, Learn, Serve - Welcome to the Episcopal Church of New Hampshire. Learn more in this video HERE
2023 Pledge Update: Thank you!
As of January 17, we have received 132 pledges for 2023 totaling $322,838. In 2022 we received 134 pledges for $331,512. There is still time to pledge.
Our 2023 goal is 150 pledges for $380,000 to return to pre-Pandemic levels of giving.
Download the 2023 Pledge Card Here
Click on the graphic above to give online. We are always grateful for your donations and pledges that support our mission and ministry.
To give flowers for the altar, please sign up HERE
Inquirers' Classes/Episcopal 101 on Zoom
The Rector will offer five Zoom sessions for those who want to learn more about the Episcopal Church and for those who might be interested in being confirmed or received by the bishop on May 7, 2023.
Test your knowledge. Take the EpiscoQuiz HERE
January 23 Monday at 7 p.m. Zoom link HERE
What does it mean to be an Episcopalian/Anglican?
What do Episcopalians believe?
February 15 Wednesday at 7 p.m. Zoom
Are Episcopalians Protestants or Catholics?
The History of the English and American church
Welcome back Suzanne Jalbert Jones
Suzanne Jalbert Jones has been named Interim Director of Music at Christ Church.
As our Director of Music from 2014 - 2018, Suzanne enjoyed the richly musical and spiritual parish of Christ Church and considers it her home. She brings with her a diverse background of musical training from New England Conservatory of Music and University of New Hampshire, although her greatest teachers are her friends and family, with whom she often shares the stage. She honors the power of music to heal and bring people together and has built her musical practice upon that tenant. She hopes to inspire any individual, with a song in their heart, to join the Christ Church Choir! In her words: "she is grateful to once again be making a joyful sound with Christ Church Exeter." Suzanne will join this Sunday, January 22nd.
Annual Parish Meeting January 29
The Annual Meeting of Christ Church of Exeter (our incorporated name in the State of New Hampshire) will convene after the 10 a.m. service at 11:15 a.m. in the Parish Hall on January 29. We will meet to elect officers, new vestry members and diocesan delegates and to hear reports including our finances. More news to follow.
Donations for the church in Cuba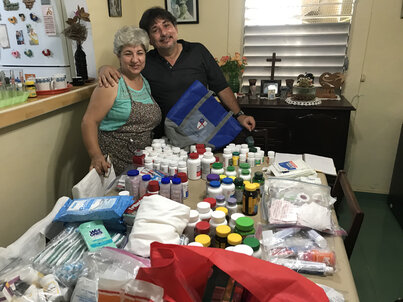 (Fr. Aurelio and his wife Laura in 2022 in Cardenas, Cuba receiving Christ Church's donations)
Five of us from Christ Church will be traveling to Cuba in March to bring much needed medicine and supplies for water filtration systems.
As in past years, we will be collecting much needed over-the-counter- medicines and other products to bring down with us. Some of these items may seem to us as very basic, but they are largely unavailable anywhere on the island. Please give to one of the clergy or Darla in the church office. GRACIAS!
B12 vitamin
test strips for diabetics
Aspirin
Folic acid
Antacid tablets
Alka Selzer
Adult multivitamins
Centrum
Vitamin E
Tylenol
Advil
Lotrimin cream
Lamisil cream (antifungal creams)
Glucosamine / Chondroitin
Neosporin
Omeprazole (brand names Zegerid OTC, OmePPi, Prilosec OTC)
Ranitidine (Zantac 75, Wal-Zan 150)
Our address is: 43 Pine St. Exeter, NH 03833, USA