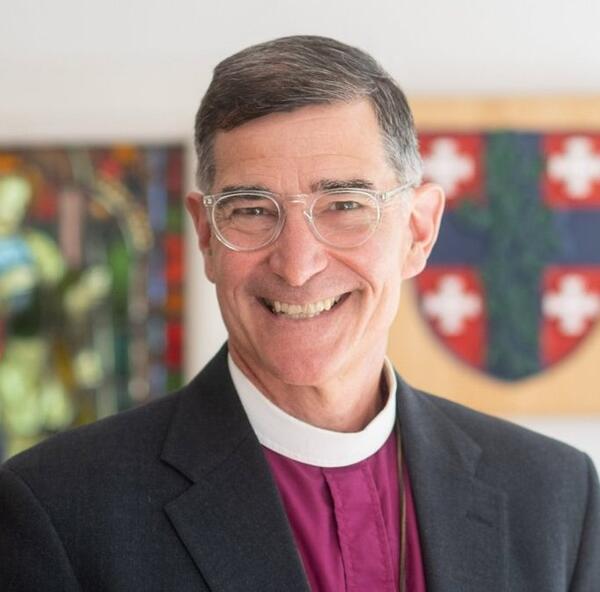 Enews: Welcome Bishop Rob
Our bishop the Rt. Rev. A. Robert Hirschfeld will visit Christ Church on Sunday May 7 at both services. There will be confirmations at 10 a.m.
At each Episcopal Visitation an offering is gathered for the "Bishop's Discretionary Fund." By giving to this fund we participate in the wider ministry of the Bishop and the Episcopal Church of New Hampshire. Checks can also be mailed directly to: The Episcopal Church of New Hampshire 63 Green Street, Concord, NH 03301 with "Bishop's Discretionary Fund" in the memo. We invite your generosity.
Learn more about how we in the Episcopal Church of New Hampshire live out our beliefs HERE
Praying for our Confirmands
This Sunday the Bishop will confirm the following youth at the 10:00 service:
Callum Willard Bishop
Kaya Sky Chase
Amelia Elizabeth Faria
Sophia Lilly Gagalis
Nora Rose Hanlon
Connor Jeffrey Karam
Walter Richard Levesque
Brooklynne Lea O'Blenis
William Harrison Shanelaris
Samuel Phillip White
Kiernan Patric Werchniak
Camden Jeremy Wyskiel
Adults:
Michael Paul Ferguson
Danielle Lee Larson-Clark
Donna Mae McCay
To reaffirm her baptismal vows:
Susan Taylor Wakefield
Sunday May 7 8:00 a.m. and 10:00 a.m. Eucharist
Download the service bulletin HERE
Preacher: The Bishop
Masks are optional and welcome at Christ Church for all events.
To add a name to our ongoing prayer list, please send it to Darla Watt in the office (office@christchurchexeter.org).
To give flowers for the altar, sign up HERE
We live-stream worship services from our YouTube channel, "Christ Church Exeter, New Hampshire."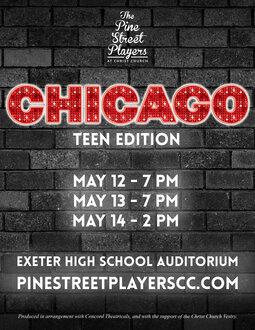 The Pine Street Players at Christ Church are jazzed to present Chicago: Teen Edition, performing May 12 - 14 at Exeter High School. Tickets are $15 and may be purchased online at PineStreetPlayersCC.com, or at the door (cash or Venmo). Please note that Chicago: Teen Edition contains mild instances of stylized violence.
Serving as Lector and Greeter
As our Sunday attendance bounces back after these Pandemic years, we are eager to add to our ministry of welcome and hospitality. Please see Mark if you would like to serve as a greeter/usher, a lector and intercessor, a Eucharistic minister, and help with our growing Coffee Hour team. mpendleton@christchurchexeter.org
Organ Recital on May 20
The current Young Organist Collaborative students will play in a recital at Christ Church on Saturday afternoon, May 20th at 2:00 p.m. All are invited to attend this free concert. A reception will follow. The Young Organist Collaborative is a New Hampshire organization dedicated to introducing young musicians to the pipe organ. It does this by awarding scholarships to qualified piano students. First year students receive scholarships for a year of organ lessons and second year students receive scholarships for half their lessons. Formed in 2001, the Collaborative has provided organ lessons to over 120 middle and high school students throughout New Hampshire, northern Massachusetts, and southern Maine. Please join us May 20th to hear these amazing students play!
Looking for a WordPress Guru
We will be soon migrating our current website (Faithlife is closing shop at the end of June) to a new WordPress host. The rector is looking for someone who might have some experience in updating websites using WordPress. If you do, or would like to learn a new skillset, please reach out the Mark at mpendleton@christchurchexeter.org
Benefit Concert at St. John's May 13
St. John's Portsmouth is inviting all for an afternoon with The Chapel Street Band, including a festive reception, 50/50 raffle, and a silent auction.
Chapel Street Band, a newly formed quartet will be headlining a benefit concert at 3:30pm on Saturday, May 13th for the Choir School. This concert will feature the talents of our Event Coordinator Christina DeMaio. All donations collected at this event will support the Choir School children's music program.
Honoring Graduates June 11

IS SOMEONE IN YOUR FAMILY GRADUATING from high school or an institution of higher learning? We would like to list them in the bulletin and celebrate with them on June 11th at the 9:30 a.m. service. Please submit the following form (information) to: Darla at office@christchurchexeter.org Please note that the deadline is June 5. Please share name, name of parents, school or college and degree.
Faithful Giving
Click HERE to make a donation to support our mission.
Contact Jeannie our bookkeeper for any questions regarding your giving record. Bookkeeper@christchurchexeter.org
Upcoming Events
Download
In person Bible Study in the Dodd Room
Tuesday, May 9th  •  11 am – 12 pm (EST)
Download
The Oasis Sisters gather on Wednesdays from 10:30 am until 12 noon. We currently meet in person on the first Wednesday of each month in the Dodd Room and the remainder of the month we meet via Zoom. New members are always welcome. For more information contact Kim Storms stormspk84@gmail.com.
Wednesday, May 10th  •  10:30 am – 12:00 pm (EDT)
Our address is: 43 Pine St. Exeter, NH 03833, USA