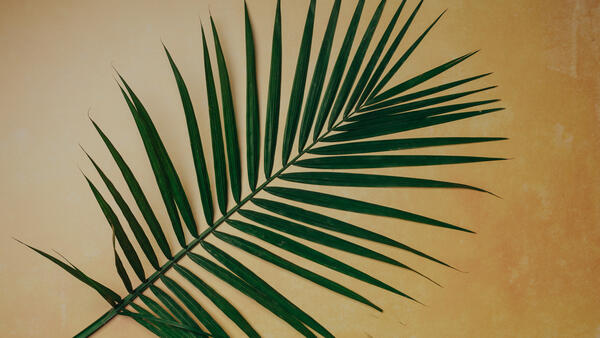 Holy Week begins Palm Sunday
You are invited to drive up to the main red door Sunday and pick up blessed palms and consecrated Holy Communion (to go) from 8:00 to 9:30 a.m. and again from 11:30 a.m. to 12:30 p.m.
More about Palm and Passion Sunday
This coming Sunday is the first day of Holy Week and the last Sunday in Lent, known as Palm Sunday or the Sunday of the Passion. The day begins by marking Christ's triumphal entry into Jerusalem.
We begin with the Liturgy of the Palms, when the priest blesses palms or other branches, and, following a reading from the Gospels, leads the congregation in procession into their church—often singing "All Glory, Laud, and Honor." This year our Youth Confirmation Class will pre-record the palm liturgy and procession. Pilgrims have been observing Palm Sunday since the year 381 when the faithful would process from the Mount of Olives into Jerusalem, waving palm or olive branches.
Then there is a dramatic shift in tone in the liturgy. In contrast to the earlier song of joy, Psalm 31, appointed for the day, cries, "For I have heard the whispering of the crowd; fear is all around; they put their heads together against me; they plot to take my life." The Gospel reading is likewise sorrowful, recalling the events of Jesus' Passion (that is, the events and suffering before and during his death). This year, to offer a more meditative experience, the passion will be chanted.
Still, we are reminded throughout the difficult days ahead that this is not the end of the story. Despite the Savior's death on the cross, he promises to rise again. (From the Office of Formation of the Episcopal Church)
The Week's Worship Offerings
March 28- Palm Sunday
10:00 am- Recorded Eucharist Service, including a procession led by the Confirmation Class.
Monday-Tuesday and Wednesday (29th-31st)
Bishop Rob and Rev. Alanna Van Antwerpen will lead Holy Week prayer services online at 5:00 p.m. for the diocese. Zoom links and order of worship to come soon.
April 1- Maundy Thursday
5:00 pm-Bishop Rob will lead a Maundy Thursday Agape meal service online for the diocese.
April 2- Good Friday
12:00 Noon-The Way of the Cross (Outdoors/In-person)
12:00 Noon to 3:00- Church open for prayer
7:00 pm- The Way of the Cross in Art and Music Liturgy (Zoom)
April 3- Easter Saturday
Easter Egg Hunt for children on the church lawn- 9 a.m.
Easter Vigil- April 3
8:00 pm-Join Bishop Rob for an Easter Vigil service online for the diocese. Look for links to follow.
April 4- Easter Day: The Day of the Resurrection
8:00 am- In-person Holy Eucharist in the church courtyard (weather permitting we will cancel for rain or snow).
Bring your own Lawn Chair.
Masks required.
Sign up required HERE
9:00 am - 9:45 am- Consecrated Communion will be available to take home. Drive up to the main church portico door.
10:00 am- Easter Morning Holy Eucharist (via Zoom, recorded)
Easter Flowers in Memory of Loved One and in Thanksgiving for Blessings
Easter brings us the hope of the Resurrection, life after death, and the promise of creation's renewal in the bursting shoots of spring. Both themes are given visible expression in the tradition of decorating churches on Easter Day with flowers given in memory of family and friends who now rest in the eternal peace of God's loving embrace.
Please send your contribution toward the cost of flowers, together with the name(s) of those whom you would like remembered, to the church office no later than March 28. You may also call Darla and give her your names at 603-772-3332.
Please address the envelope to Darla Watt, c/o Christ Church, 43 Pine Street, Exeter, N.H. 03833.
Checks should be made payable to Christ Church, and in the memo section, please put "Easter Flowers". Checks can be for any amount you wish
Easter Egg Hunt- Saturday, April 3rd
Please join us for our first Easter Egg hunt for children 10 and younger!
When: Saturday, April 3rd, 9:00 am
Where: Front Lawn
Good fun and prizes!!
Rest in Peace+ Herb Carey
Herb Carey, the husband of our long-time secretary Linda, died on March 21st, after a long battle with Alzheimer's. We pray for Linda and all her family during this time. Cards can be sent to LInda at 27 Autumn Lane East Kingston 03827.
Rest eternal grant to him, O Lord; And let light perpetual shine upon him. May his soul, and the souls of all the departed, through the mercy of God, rest in peace. Amen.
Volunteer Opportunity at End 68 Hours of Hunger
End 68 Hours of Hunger in Exeter has asked if Christ Church would like to put together a monthly team that could re-stock the food shelves at the facility at Tuck Learning Center. To learn more about this wonderful organization, use this link.
If this is something you are interested in, contact Sally Farrell.
Add a Name to our Prayer List
To add a name to our ongoing prayer list, please send it to Darla Watt in the office (office@christchurchexeter.org)
Jerusalem, Jerusalem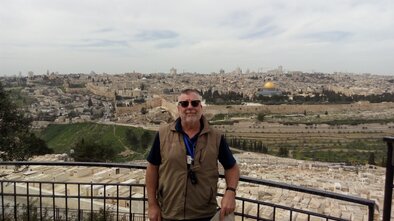 A picture of Mark during his pandemic-shortened trip to the Holy Land one year ago. He is making plans to return for a longer stay in 2022.
Thank you for your continued generosity and support of God's mission in and through Christ Church!
Use this link to see the latest financials.
Church Website
Use this link to visit Christ Church's website.
Check back often as it is always being updated with the upcoming events and services.
Upcoming Events-Click on event to get Zoom link
See what's been happening on Faithlife this week
I finished last night's book discussion with this poem by Kathleen Norris. She finds poetry in Jesus's commands to his followers. And that includes you and me. Enjoy this day and add a comment or two about which word or phrase touched you. Mark+ Look at the birds Consider the lilies Drink ye all of it   Ask Seek Knock Enter by the narrow gate   Do not be anxious Judge not; do not give dogs what is holy   Go: be it done for you Do not be afraid Maiden, arise Young man, I say, arise   Stretch out your hand Stand up, be still Rise, let us be going ... Love Forgive Remember me
The confirmation class met for the first time in person since last fall and the weather cooperated! We filmed the Liturgy of the Palms for this coming Sunday's service and just enjoyed being together, masked and 6 feet apart, of course!
Living, Connecting, Serving
Our address is: 43 Pine St. Exeter, NH 03833, USA