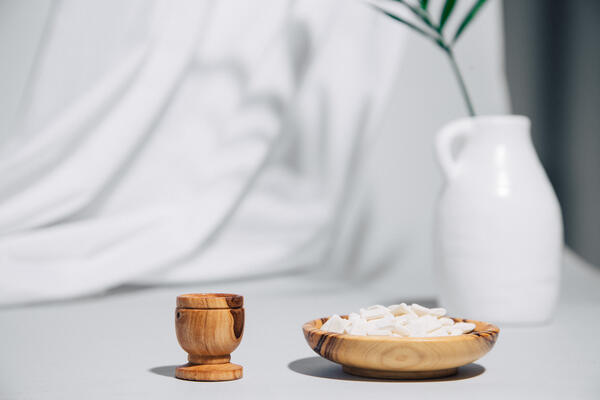 Today's Worship Links Palm Sunday
Today, drive into the church driveway and pick up blessed palms and consecrated Eucharist hosts from 8:00 to 9:30 a.m. and 11:30 a.m. to 12:30 p.m.
You can download today's service bulletin
For today's Zoom link click
Please remain muted upon entering the Zoom service.
To dial in by phone, call:
1 (301) 715 8592 or 1 (253) 215 8782
Meeting ID: 929 3809 2398
You can also watch on our YouTube Channel live during the service or "On Demand" anytime after 1:00 p.m. Sunday afternoon. To find our YouTube
Today we pray for:
Randall
Billie
Karen
Patrick
Maia
Tom
Margaret Rose and family
Barbara
Pat
Almighty and eternal God, ruler of all things in heaven and earth: Mercifully accept the prayers of your people, and strengthen us to do your will; through Jesus Christ our Lord. Amen.
Holy Week Worship Offerings
Monday-Tuesday and Wednesday (29th-31st)
Bishop Rob and Rev. Alanna Van Antwerpen will lead Holy Week prayer services online at 5:00 p.m. for the diocese.
April 1- Maundy Thursday
5:00 pm-Bishop Rob will lead a Maundy Thursday Agape meal service online for the diocese.
April 2- Good Friday
12:00 Noon-The Way of the Cross (Outdoors/In-person)
12:00 Noon to 3:00- Church open for prayer
7:00 pm- The Way of the Cross in Art and Music Liturgy (zoom link: https://zoom.us/j/92761646874)
April 3- Easter Saturday
Easter Egg Hunt for children on the church lawn- 9 a.m.
Easter Vigil- April 3
8:00 pm-Join Bishop Rob for an Easter Vigil service online for the diocese. Look for links to follow.
April 4- Easter Day: The Day of the Resurrection
8:00 am- In-person Holy Eucharist in the church courtyard (weather permitting we will cancel for rain or snow).
Bring your own Lawn Chair.
Masks required.
Sign up required HERE
9:00 am - 9:45 am- Consecrated Communion will be available to take home. Drive up to the main church portico door.
10:00 am- Easter Morning Holy Eucharist (via Zoom, recorded)
Upcoming Events
Download
This year's Lenten Book Study will focus on the theme of 2020-2021: Pilgrimage. Mark will lead a Lenten Book Study that will allow one to travel to the sacred places of Jesus' life through our imaginations and prayer. We will use Jesus: A Pilgrimage by the Rev. James Martin, a Jesuit priest, and writer, as our guide for conversation. One need not read the book to join the conversation.
Books are on discounted sale for $14.39 at our local Water Street Bookstore in Exeter. Support our local businesses! Lent begins on Ash Wednesday, February 17.
We will gather by Zoom Monday evenings for 90 minutes beginning at 7 pm. Look for the Zoom links on the Event page of the church home page.
February 22- Chapters 1-3
March 1- Chapters 4-8
March 8- Chapters 9-12
March 15- Chapters 13-15
March 22- Chapters 16-18
March 29- Holy Week: Chapters 19, 20, 21
April 12- Eastertide! Chapters 22-25
Monday, March 29th  •  7:00–8:30 pm (EDT)
Download
Wednesday evenings during Lent, beginning on February 24 through March 31, David and Snookie Holroyd will offer the service of Compline at 8:00 pm.
Compline is a beautiful liturgy that brings your day to a peaceful end. It takes about fifteen minutes. It is found in the Book of Common Prayer on page 127.
You can join us on Zoom using this link. Please join us!
"Guide us waking, O Lord, and guard us sleeping, that awake we may watch with Christ and asleep we may Rest In Peace."
Wednesday, March 31st, 8 pm (EDT)
Living, Connecting, Serving
Our address is: 43 Pine St. Exeter, NH 03833, USA