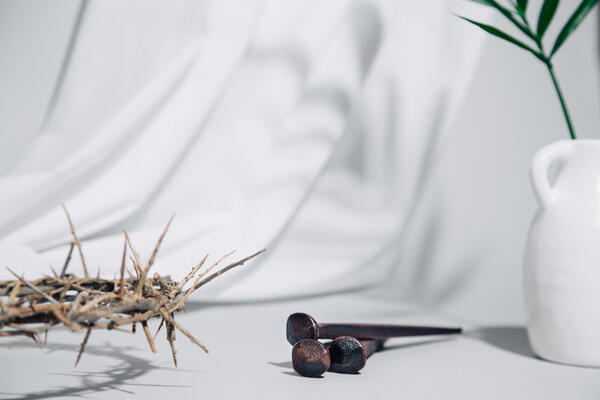 Holy Week continues as we await Easter Day
Worship Services Times and Links
April 1- Maundy Thursday
5:00 pm-Bishop Rob will lead a Maundy Thursday Agape meal service online for the diocese.
The link to join via Zoom meeting is HERE.
April 2- Good Friday
12:00 Noon-The Way of the Cross (Outdoors/In-person)
12:00 Noon to 3:00- Church open for prayer
7:00 pm- The Way of the Cross in Art and Music Liturgy
April 3- Easter Saturday
Easter Egg Hunt for children on the church lawn- 9 a.m.
Easter Vigil- April 3
8:00 pm-Join Bishop Rob for an Easter Vigil service online for the diocese.
The link to join worship is HERE.
April 4- Easter Day: The Day of the Resurrection
8:00 am- In-person Holy Eucharist in the church courtyard (weather permitting we will cancel for rain or snow).
Bring your own Lawn Chair.
Masks required.
Sign up required HERE
9:00 am - 9:45 am- Consecrated Communion will be available to take home. Drive up to the main church portico door.
10:00 am- Easter Morning Holy Eucharist (via Zoom, recorded)
Easter Egg Hunt- Saturday, April 3
Please join us for our first Easter Egg hunt for children 10 and younger!
When: Saturday, April 3rd, 9:00 am
Where: Front Lawn
Good fun and prizes!!
Volunteer Opportunity with End 68 Hours of Hunger
End 68 Hours of Hunger in Exeter has asked if Christ Church would like to put together a monthly team that could re-stock the food shelves at the facility at Tuck Learning Center. To learn more about this wonderful organization, use this link.
If this is something you are interested in, contact Sally Farrell.
A Conversation on Racial Reconciliation
Save the Date: Racial Reconciliation and Reparations Digital Dialogue May 11th from 7 pm to 8:30 pm.
The Diocesan Digital Mission and the Reconciliation Commission will be offering a diocesan-wide conversation around racial reconciliation and reparations on May 11th from 7:00 pm to 8:30 pm. Mark your calendars. More information to come.
Add a Name to our Prayer List
To add a name to our ongoing prayer list, please send it to Darla Watt in the office (office@christchurchexeter.org)
Thank you for your continued generosity and support of God's mission in and through Christ Church!
Use this link to see the latest financials.
Church Website
Use this link to visit Christ Church's website.
Check back often as it is always being updated with the upcoming events and services.
Upcoming Events-Click on event to get Zoom link
See what's been happening on Faithlife this week
Many people came out yesterday for Palms and communion. We had a cold rector but our hearts were warm with gratitude!
Today, in the midst of Lent, is a feast day. March 25. Nine months before Christmas. (Gender reveal: it's a boy!) The feast of the Annunciation is celebrated by Christians around the world as a way to commemorate the events of Luke 1:26-38, when the angel Gabriel announced to the Blessed Virgin Mary that she would bear the Savior of the world.   Mary continues to inspire. She was the first to "say yes to God," to allow her life to be transformed by Jesus, to allow him into her heart, mind, and body.  What does it mean to follow her example? How does she strengthen our relationship with her son Jesus? And how can we bear Christ to our friends and neighbors? Let's talk. Who is Mary for you?
Living, Connecting, Serving
Our address is: 43 Pine St. Exeter, NH 03833, USA