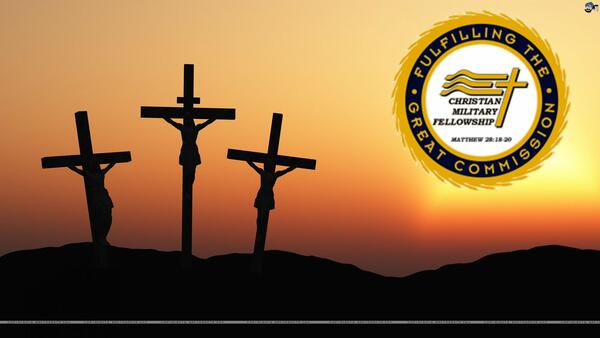 Remote Access Discipleship
July 2022
Why Does the Spirit DescendLike a Dove?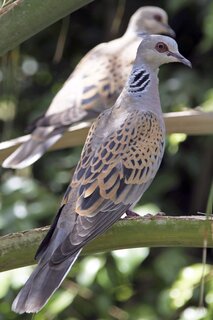 by Michael S. Heiser
The New Testament Gospels don't always record the same events in the life of Jesus. Based on their different audiences, the authors made decisions about which events or conversations were best to include. Consequently, when all four Gospels record a particular event, we can have reasonable assurance that the episode had significant messaging attached to it—a message that the original readers and listeners would have understood. This is especially the case when certain points of detail about an event appear in all the accounts.
One such instance relates to Jesus' baptism. Mark writes:
And when he came up out of the water, immediately he saw the heavens being torn open and the Spirit descending on him like a dove. And a voice came from heaven, "You are my beloved Son; with you I am well pleased." (Mark 1:10-11)
The other three Gospels also describe the Holy Spirit as descending on Jesus like a dove (Matt 3:16; Luke 3:22; John 1:32).
This description has intrigued biblical scholars for centuries, especially because it lacks Old Testament precedent. Commentators often point to Genesis 1:2, where the Spirit was "hovering" over the face of the deep. But there's no bird mentioned in that passage. (The connection of that verse with a bird comes by way of the Hebrew word for "hovering," raḥap, which is used in Deuteronomy 32:11 to describe how an eagle "flutters" over its young.) In fact, no ancient Jewish text depicts the descent of the Spirit (or any divine figure) as a dove. Rabbinic comments on Genesis 1:2 inserting a dove into the verse (such as in Babylonian Talmud, Tractate Hagigah 15a) are not helpful, since that material was written centuries after the Gospels.
Jesus and the epics of Homer
The Greco-Roman world of Jesus and the apostles provides a possibility that, if correct, would make the theological messaging of the Gospel writers transparent.
Recent research has demonstrated that Mark's Gospel has a number of literary connections to the Homeric epics of ancient Greece. Well-known works by Homer such as The Iliad and The Odyssey were composed in the eighth–seventh centuries BC, long before the New Testament era.
Scholars have noted that there are many instances in the writings of Homer where the comings-and-goings of the gods are described with bird imagery. For example, in The Iliad Zeus dispatches his son Apollo to help the injured Trojan leader Hector. Apollo descends "flying like a falcon, bane of doves and swiftest of all birds" (15.237–238). Poseidon departs a meeting "like a soaring falcon" (13.62–65). In dozens of such references—and not just in Homer—bird similes are used to describe the moment of a deity's appearance or departure.
By the New Testament era, many people in the Hellenistic (Greek) world of the ancient Mediterranean who would have read the Gospels also would have read or heard the great epic poems of Homer and other writers. Given the influence of Hellenism even in religious circles, it's no surprise that Greek literature would have reached Judea. The Sadducees, for example, embraced Hellenistic thinking far more than their rivals, the Pharisees. Literate Jews could very well have been familiar with describing a deity using bird imagery.
If this explanation is valid, the theological messaging is obvious. The Gospel writers had heard accounts of the descent of the Spirit upon Jesus at his baptism. By describing the Spirit using bird imagery, they conveyed the significance of this event to their audiences—people who already knew that such language signaled the presence of deities. These readers and listeners would have understood that the arrival of Jesus on the scene was the arrival of a divine figure—someone much more than a man.
The dove and numeric symbolism
There is another interpretive possibility for the depiction of the Spirit's descent as a dove—and it, too, telegraphs that Jesus was more than a man.
The dove reference may be an example of gematria—the assignment of numerical equivalents to letters. English uses both alphabetical characters (letters) and numeric characters (numbers), and each kind of character serves its own purpose (writing or counting). In other words, our letters do not function as numbers, nor vice versa. But ancient languages like Greek and Hebrew did not have two separate sets of characters. Instead, there was one character set used for both writing and counting.
The term gematria is Hebrew. It is often associated with the rabbinic writings of the Talmud, which date to roughly AD 200–600. But using letters for numbers is much older than the rabbinic period. Greek employed the technique centuries earlier. This is why numbers such as 666 are thought to perhaps encode the name of a ruler such as Nero (whose name can be "converted" to 666).
In the Gospels, the Greek term for "dove" is peristera. The letters of this term form the numerical sum of 801. Perhaps not coincidentally, 801 is also the numerical sum of the Greek letters alpha and omega. Therefore, the description of the dove could communicate that the one on whom the dove descends was the Alpha and Omega—an identification the Bible ascribes to Jesus (Rev 1:8; 21:6; 22:13).
While we cannot be completely certain about what the Gospel writers had in mind for the dove imagery, it's hard to think the possibilities are purely coincidental. Biblical writers were more than capable of communicating their theology in such clever ways.
Scripture quotations are from the English Standard Version.
Michael S. Heiser has a PhD in Hebrew Bible and Semitic languages. He is the author of several books, including The Unseen Realm and Supernatural, which explore the ancient worldview of the Bible. His latest book is The Bible Unfiltered: Approaching Scripture on its Own Terms (Lexham Press, October 2017).
Heiser, M. S. (2017). I Dare You Not to Bore Me with the Bible: Why Does the Spirit Descend like a Dove? Bible Study Magazine, 10(1), 9. (Used by permission).
Crisis at the Constitutional Convention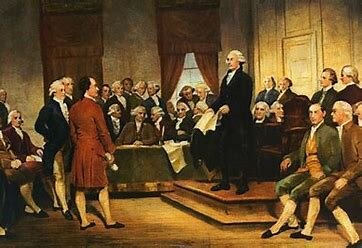 The contemporary enemies of Christianity and our great nation often lean to a revisionist history in order to promote the endemic gerrymanders that seek to cause the ultimate demise of both. Why is it that so many should endeavor to bury the foundation stones of our nation beneath the graveyard created in the image of an autonomous mankind? Perhaps the words of a devout and prominent secular humanist educator, John J. Dunphy will enlighten us:
"I am convinced that the battle for humankind's future must be waged and won in the public school classroom by teachers who correctly perceive their role as the proselytizers of a new faith; a religion of humanity that recognizes and respects the spark of what theologians call divinity in every human being. These teachers must embody the same selfless dedication as the most rabid fundamentalist preachers, for they will be ministers of another sort, utilizing a classroom instead of a pulpit to convey humanist values in whatever subject they teach, regardless of the educational level—preschool day care or large state university. The classroom must and will become an arena of conflict between the old and the new—the rotting corpse of Christianity, together with all its adjacent evils and misery, and the new faith of humanism, resplendent in its promise of a world in which the never-realized Christian ideal of 'love thy neighbor' will be finally achieved." John J. Dunphy, "A Religion for a New Age," The Humanist (January/February 1983), 26
From this rhetoric, it is not hard to see that a revisionist history is required to distance an unknowing population from the very Providence that gives life and breath to our sinews. As a product of the public school system, I had come to believe that our forefathers were not Christians but deists. According to Noah Webster a deist is: "One who believes in the existence of a God, but denies revealed religion, but follows the light of nature and reason as his only guides in doctrine and practice; a freethinker."
Now let us consider the words of one of these "deists" as he endeavors to help his fellow countrymen find a way around an impasse that was, in a very real sense, about to sink the ship of state before it was launched. History tells us that in the morning hours of June 28, 1787, Dr. Ben Franklin gave the following address to the Continental Congress:
"Mr. President—The slow progress we have made, after four or five weeks' close attendance and continual reasoning with each other—our different sentiments on almost every question, several of the last producing as many nays as yeas—is, methinks, a melancholy proof of the imperfection of human understanding. We indeed seem to feel our own want of political wisdom, since we have been running about in search of it. We have gone back to ancient history for models of government, and examined the different forms of those republics which, having been formed with the seeds of their own dissolution, now no longer exist. And we have viewed modern states all round Europe, but find none of their constitutions suitable to our circumstances.
In this situation of this assembly, groping as it were in the dark to find political truth, and scarce able to distinguish it when presented to us, how has it happened, sir, that we have not hitherto once thought of humbly applying to the Father of lights to illuminate our understanding? In the beginning of the contest with Great Britain, when we were sensible of danger, we had daily prayers in this room for the Divine protection. Our prayers, sir, were heard, and they were graciously answered. All of us who were engaged in the struggle must have observed frequent instances of a superintending Providence in our favor. To that kind Providence we owe this happy opportunity of consulting in peace on the means of establishing our future national felicity. And have we now forgotten that powerful Friend? Or do we imagine we no longer need His assistance?
I have lived, sir, a long time, and the longer I live, the more convincing proofs I see of this truth—that God governs in the affairs of men. And if a sparrow cannot fall to the ground without His notice, is it probable that an empire can rise without His aid? We have been assured, sir, in the sacred writings, that 'Except the Lord build the house they labor in vain that build it.' I firmly believe this; and I also believe that without His concurring aid we shall succeed in this political building no better than the builders of Babel. We shall be divided by our little, partial, local interests; our projects will be confounded, and we ourselves become a reproach and byword down to future ages. And, what is worse, mankind may hereafter, from this unfortunate circumstance, despair of establishing governments by human wisdom, and leave it to chance, war, and conquest.
I therefore beg leave to move that henceforth, prayers imploring the assistance of Heaven, and its blessings on our deliberations, be held in this assembly every morning before we proceed to business, and that one or more of the clergy of this city be requested to officiate in that service." (The Christian Life and Character of the Civil Institutions of the United States; Memoirs of the Life and Writings of Benjamin Franklin, LL.D. and http://www.house.gov/forbes/prayer/prayerincongress.htm)
Dr. Benjamin Franklin, LL.D. is known to have held many unorthodox religious views throughout his life. However, his quotation of Psalm 127 and overt statement that "God governs in the affairs of men," and his paraphrase of the Savior's words from Matthew 10:29, leads me to believe that his faith journey had arrived and his beliefs had matured to the point where he believed in more that some impersonal, far-away God. Rather, his assertions were to the contrary that the Lord Jesus Christ intervenes in the affairs of men.
Stepping Out in Faith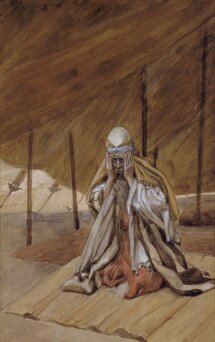 8 Weeks in the Life of Abraham
By Miles Custis, Douglas Mangum, and Matthew M. Whitehead
In the life of faith, we often hear that the hardest step to take is the very first one. Abraham's story opens with such a step, as God tells him, without invitation or warning, to "go … to the land that I will show you" (Gen 12:1).
While Abraham responds in faith to this call, beginning one of the great narratives of the Bible, his subsequent steps do not get easier. His story teaches us something profound: that the life of faith is a journey made up of a series of "first steps." While each of these steps brings us closer to the fulfillment of God's promises, they don't necessarily lead us farther away from the challenges and struggles involved with moving ahead.
Although the Bible often depicts Abraham as an exalted figure, his journey of faith resembles our own. Along with the glory of his victories, the Bible fully describes his scandalous failures. It does not hide Abraham's shortcomings; instead, it recounts these examples of failure so that we might have hope.
In Abraham, we observe someone uniquely chosen to receive a grand promise: Someday, he would become the father of a great nation and a channel of blessing to the world. Abraham embraced this promise, but it was 25 years before he saw it begin to happen. As he waited on God, he battled fear, anxiety, and doubt. In Abraham, we see a reflection of ourselves.
Abraham's story is about responding to God's call—journeying with him through life, facing challenges, and growing as a result of them.
Week 1: The Great Unknown
Read Genesis 11:10–32. Pray that you would pay attention to God's leading and have the faith to follow him.
The Bible is filled with genealogies. Some explain where various nations came from (e.g., Gen 10); others help advance the biblical story from one major character to the next (e.g., Gen 5). The genealogy in Genesis 11:10–26 moves the story from the time of Noah (the father of Shem) up to Abram (whom God later renames Abraham).
Abram belonged to a clan led by his father, Terah. Reread Genesis 11:27–32 and make sure you understand who's who. This short narrative introduces people and locations that will be important later in Abram's story.
Genesis 11:27–32 introduces three key locations:
Many Old Testament scholars think "Ur of the Chaldeans" refers to an ancient city in southern Mesopotamia. In most places where the Bible mentions "Chaldeans," it's talking about the Babylonians—the inhabitants of Babylon, a major city in south-central Mesopotamia (Isa 13:19; 47:1). Other scholars think Abram's starting point might have been a smaller trading center named Ur in northwest Mesopotamia. This option reflects clues from later in Abram's story (Gen 24:4–7), suggesting he saw his homeland as the region around Haran.
Haran was an ancient city on the Euphrates River in northwestern Mesopotamia. On the way from Ur to Canaan, Terah and his clan settled in Haran. The story provides no explanation as to why they interrupted their journey in this way.
Canaan was the promised land, the region that would one day become Israelite territory. By introducing Canaan here, Genesis 11:27–32 indicates that Abram's story is the story of Israel's beginning.
We all resist God's nudges and fight to stay within our own comfort zones. Have you ever caught yourself intentionally holding back when you felt called to step out in faith? Why might God keep trying to draw you toward something new and unknown?
Week 2: Trusting and Obeying
Read Genesis 11:27–12:9. Reflect on 12:1–4. If you feel God's calling in your life, pray for the courage to carry through in spite of any doubts or naysayers.
Imagine God spoke to you clearly and said, "I need you to pick up and move. Get your stuff together. I'll tell you where to go later." What would you do next? How would you explain this to your family and friends?
Abram wasn't an eager young man looking for adventure. The Bible tells us he was 75 years old when God told him to move. While Sarai, his wife, may have protested, the story simply shows Abram quietly obeying God's call, leaving for an unknown land where he supposedly would experience God's blessing.
The lack of details in God's instruction—"Go from your country … to the land that I will show you" (12:1)—speaks to the extent of Abram's faith. He didn't respond verbally; he simply packed up and left, trusting God to guide him.
The introduction of Abram represents a major turning point in Genesis. God's previous interactions with humanity, from Adam to the Babel event, were marked by discord and conflict. Abram's responsive acceptance of God contrasted sharply with humanity's continual resistance (except for Noah; see Gen 6:9–8:22). With Abram, God finally found someone who embraced his offer of blessing in exchange for obedience.
Have you ever felt torn between what you felt God was calling you to do and what your friends, family, or neighbors expected you to do? How did you respond? What types of pressures did you face from those who questioned your call? Have you ever found yourself in the opposite position—trying to talk friends or loved ones out of what they thought God wanted for them?
Week 3: Actions Speak Louder
Read Genesis 12:1–12:9. Reflect on 12:7–9. Ask God to reveal ways you can express your faith through action.
How could all families on Earth be blessed through one man? Abram didn't know how God's promise would unfold, but he believed and obeyed.
Abram must have been leading a sizable caravan, including not just his family but "all the persons they had acquired in Haran" (Gen 12:5). The Hebrew word for "persons" is nephesh—which the Bible regularly uses to indicate the soul, or to contrast the spiritual life-force and the physical body (Deut 12:23; Isa 10:18). In Genesis, nephesh often simply means "any living being" (Gen 1:20; 2:7, 19).
Three locations within Canaan are mentioned throughout Abram's story: Shechem, Bethel, and the Negev. These places represent the primary areas that Abram and his descendants occupy in Genesis. Shechem was in the central hill country. South of Shechem, Bethel was a Canaanite sacred site. The Negev desert was the southernmost region of Canaan. In mentioning these places, Genesis emphasizes Abram's presence in the heart of what later became Israel.
At Shechem, God expands on his promise to Abram. Earlier, God told him to go, promising to bless him (12:1–3); now God confirms that he is in the right place by promising to give this very land to his descendants (v. 7). Once again, Abram responds with actions, not speech. He builds altars, worships God, and continues exploring the land.
Consider the time and energy it took Abram to build an altar and offer a sacrifice. How did he honor God with outward acts reflecting inward faith? While worship today doesn't always involve physical effort, it could. In what ways could you outwardly respond to God in worship?
Week 4: The Hardest Step
Read Genesis 12:1–12:9; Acts 7:2–8; Hebrews 11:8–10. Pray that God will help you live faithfully, so that others are inspired to do the same.
Sometimes the hardest step of faith is the very first one. Every day leads us to a crossroads where we must choose between faith in God's promises and fear of the unknown. Genesis 12:1–9 shows Abram leaning fully on his faith, trusting in God and in his promises.
Abram's faithful response to God influenced the Bible's authors, as they struggled to balance obedience to God with fear of the unknown. Generations after Abram, his descendants faced a similar journey from Mesopotamia to the promised land when they returned from exile in Babylon (539 BC). The prophets encouraged the Jewish people by reminding them of God's faithfulness to Abram (Mic 7:19–20; Isa 51:2–3).
Centuries later, Abram's obedience served as a source of assurance in New Testament texts. Stephen begins his account of Israel's history by highlighting Abram's faithfulness (Acts 7:2–8). Paul upholds Abram as the forefather of the heirs of promise (Rom 4; Gal 3). The writer of Hebrews emphasizes that Abram stepped out in faith even without knowing where he was going (Heb 11:8–10). Just as Abram's journey served to reassure the Israelites returning from exile, his actions provided a model of exemplary faith for the early church.
Reflect on an occasion when God led you to the right place at the right time. Was your experience like Abram's, with God leading in a clear and obvious way? If you couldn't see God's hand in the events of that time, how did you react?
Week 5: Fear vs. Faith
Read Genesis 12:10–20. Pray that God would sustain your faith in times of doubt and difficulty.
It takes faith to trust God's promises when all goes well, but imagine a time when following God means risking your life. This was the situation Abram faced in Genesis 12:10–20. Confronted with a severe famine, he had to decide whether to trust God or take matters into his own hands. Should he remain in the land of promise or relocate to Egypt?
Famines were not unusual in ancient Mesopotamia. Drought often jeopardized food supplies, and such shortages quickly became a matter of life and death. Biblical accounts provide several examples of famines displacing God's people. Famine prompts Abram's son, Isaac, to travel to Gerar (Gen 26:1), and a more severe famine forces Jacob to send his sons to Egypt (Gen 42:1–3). Later in the Old Testament, Elimelech and Naomi go to Moab seeking relief from a famine (Ruth 1:1).
Since the residents of Canaan often found refuge from famine in Egypt, staying in Canaan would have been illogical to Abram and Sarai. Knowing this background helps us understand Abram's decision to leave. But what about God's promise? Instead of standing firm in faith, Abram allowed fear to sway him, and he chose Egypt over the promised land.
Has there been a time in your life when you had doubts about God's plan for your life? If so, what was the Canaan in your life and what was the Egypt? Did you act in faith or take matters into your own hands? Later, were you able to see how God brought you through?
Week 6: Disobedience & Deception
Read Genesis 12:10–20; focus on Gen 12:12–16. Pray that God would help you make decisions that align with his plan for your life.
Once in Egypt, Abram's continued to follow his fears. Afraid of how Pharaoh might treat him, he had Sarai pretend to be his sister. While travelers in the ancient world were vulnerable to bandits and other dangers, why would Abram feel less safe among the Egyptians than the Canaanites? And why didn't this patriarch of faith stop and ask God what to do?
On some level, Abram's lack of faith was driven by self-preservation: He didn't want to die. But what about Sarai's safety? In persuading her to participate in his deception, he failed to recognize that an Egyptian would take her as a wife. Abram's concern for his own survival blinded him to the issues of Sarai's safety and protection.
On another level, though, Abram's actions can be understood as a misguided attempt to preserve the future God promised in Genesis 12:2–3. After all, how could a dead man father a great nation?
This episode (and a similar one in Genesis 20) illustrates Abram struggling with fear—of death and of losing God's promised inheritance. Such fears reflect his humanity and ours.
As you read such accounts, do you recognize times when your choices led you off track and away from God? In making those decisions, did you consider how your they might affect others in your life? Or perhaps you have been carried along by someone else's decision. Did you place your faith in their leadership or in God? As the Bible illustrates repeatedly, despite our choices, God remains faithful to his promises and his people.
Week 7: Commemorating God's Faithfulness
Read Psalm 105:1–15; focus on verses 12–15. As you think about the times God has protected you and provided for you, take time for prayers of thanksgiving and praise.
Genesis 12 isn't just about Abram's faithfulness to God. It also shows God being faithful to Abram. Later in the Old Testament, a number of psalms pick up on this theme, recounting God's provision to the patriarchs and offering poetic summaries of Israel's history.
Psalm 105 calls on the audience to "sing praises" to God and remember his "wonderful works" (Ps 105:2–5). The rest of the psalm recounts God's faithfulness to Abram, Isaac, and Jacob—along with the Israelite nation—in rescuing his people from Egypt in the exodus. The psalmist emphasizes God's protection of his people and his faithfulness to his promises.
In particular, Psalm 105:12–15 seems to allude to the story of Genesis 12:10–20 and others like it from the lives of the patriarchs. The passage speaks of God's protection as they wandered among the nations.
Later in Psalm 105, the psalmist explains why God delivered Israel from Egypt in the exodus: "He remembered his holy promise and he remembered Abraham, his servant" (105:42). In Genesis 12, God directly redeems Abram and his household from Egypt. In the exodus account, God delivers "Abraham" collectively—by redeeming his descendants.
Think about a time when God delivered you from a poor decision. How did he protect you? How can recalling God's deeds of the past—like Psalm 105 does—strengthen your faith in his ability to direct your future. Have you praised him for his faithfulness?
Week 8: We Never Walk Alone
Read Hebrews 11; focus on verses 8–12. Pray that you would be inspired by heroes of faith and let their stories remind you of God's love and forgiveness.
Abram's decision to leave Canaan for Egypt reminds us that even the Bible's heroes of faith were sometimes moved by circumstance instead of conviction. Can we still look at Abram as a hero after he made these (and other) dreadful mistakes? Absolutely! Hebrews 11 honors him as one of the great witnesses whose faith provides an example for followers of Christ.
Note that Hebrews 11 makes no mention of Abram's mistakes in Genesis 12:10–20. Only his commendable actions remain: "By faith Abraham … obeyed to go out to a place that he was going to receive as an inheritance, and he went out, not knowing where he was going" (Heb 11:8, 10).
Reread Hebrew 11:8–12. What does this account of Abraham's life say about God's character? And how does this understanding of God affect your own faith?
Considering Hebrews 11 in light of Genesis 12 reminds us that our own efforts to be faithful—however flawed they might be sometimes—are always accompanied by God's faithfulness. Even when we venture off course, we can trust his grace to guide us back to his will.
This study is adapted from Abraham: Following God's Promise, part of the Studies in Faithlife Living series from Lexham Press. Scripture quotations are from the Lexham English Bible.
Custis, M., Mangum, D., & Whitehead, M. M. (2018). Not Your Average Bible Study: Stepping out in Faith: 8 Weeks in the Life of Abraham. Bible Study Magazine, 10(2), 43–46.
Bible Study Magazine, Volume 10 (Used by permssion)
To Win...To Disciple...To Equip...To Win
Our address is: PO Box 449, Veradale, Spokane Valley, WA, USA