Wednesday Bible Study
Church History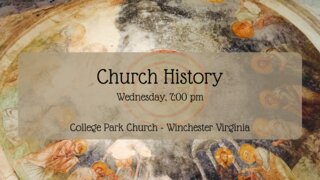 My favorite quote in High School history class was from Henry Ford. He said, "It means nothing to me. History is more or less bunk. It's tradition. We don't want tradition." This was something I repeated often, much to the annoyance of my teacher.
While we may find the sentiment in Henry Ford's quote amusing and relatable, it's also incorrect. History has great value in helping us understand the present and preparing us for what we face in the future.
Over the next several weeks, on Wednesday evenings we're going to be traveling through the history of the church. It's important, not just for expanding our knowledge, but teaching, encouraging, and warning us.
As we begin this week we're going to pick up where the New Testament ends. We'll learn about what happens to the Apostles. We'll see how the church grows and deals with intense opposition and persecution. We will learn about the reliability of Scripture. We'll be encouraged by how God is at work!
Bible Study begins at 7:00 pm and we meet upstairs at the church!
Glorifying God, Encouraging People, Obeying the Great Comission
Our address is: 106 Purdue Dr, Winchester, VA 22602, USA