Refreshed By the Gospel
Sunday, October 10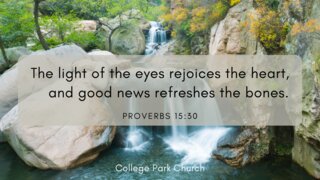 In a tired and hurting world, we all feel the need to be refreshed. Join us tomorrow as we are encouraged by the gospel!
We're going to finish up Acts 14 and see how Paul and Barnabas complete their missionary journey. In the account of their travels, we're also going to see how the gospel truly makes a difference in our lives.
Coffee is ready at 9:45 and our service begins at 10:15!
You can join our live stream here: https://faithlife.com/collegeparkwinchester/livestream
Our address is: 106 Purdue Dr, Winchester, VA 22602, USA