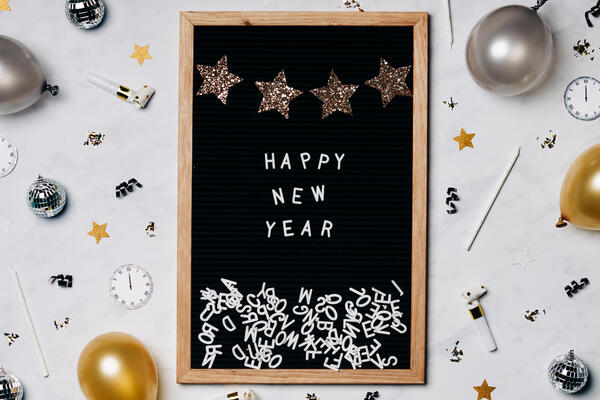 Happy (almost) New Year!
Sunday, January 1st
Worship This Sunday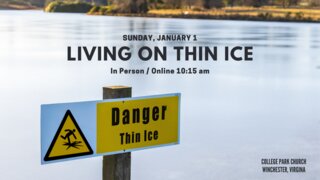 It doesn't take much to find ourselves dissatisfied. We frequently approach a new year with good intentions, big plans, and a hopeful attitude that things will be different. While resolutions are good and healthy, they ultimately will not remedy the dissatisfaction that we find in our lives.
This week in two short verses Solomon will confront us with a choice: will we choose to walk on the thin ice of our abilities and plans finding only disatisfaction? Or will we put our trust in the power and strength of God?
Coffee is ready at 9:45 and our service begins at 10:15. You can join us in person or online. You can find our service on our Website, Facebook Page and YouTube Channel .
Our digital bulletin is published each Sunday morning here: https://collegepark.updates.church
Winter Weather: It's gotten cold and winter seems like it's finally here. It is rare for us to cancel our Sunday morning services. However, please use caution when deciding if it's safe for you to attend. In the event we do need cancel a Sunday service, we'll send an email, call, and text to let you know. Note: Please make sure we have your updated contact info - see below!
Wednesday Bible Study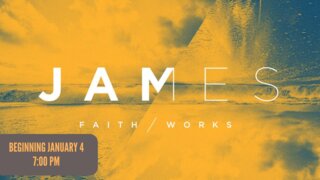 We're beginning a study of James on Wednesday, January 4th.
James' Letter was written primarily to Jewish Christians to clarify what a godly life should look like. The book is filled with practical wisdom for Christians, calling us to live out genuine faith through good works, but it is also rooted in deep faith and rich theology. Perhaps more than any other book in the New Testament, James emphasizes the application of Christian belief that flows out of a love for God and a understanding of the one true gospel.
In addition to our Wednesday study, we'll make the material (teaching videos and notes) available online (at this link). Currently the trailer is available at that link if you would like to see how it works.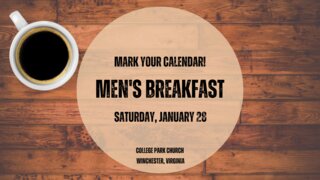 Mark your calendar and plan to join us for breakfast on Saturday, January 28th!
Our address is: 106 Purdue Dr, Winchester, VA 22602, USA