Sunday, January 15
God's gift of hope, purpose, and peace
Worship This Sunday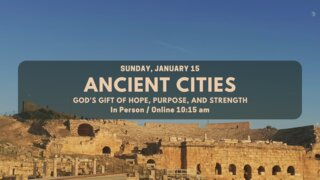 In Joshua chapters 20 & 21 we find a list of 48 cities. These chapters are more than a legal record of ownership, they will direct us to hope, purpose, and strength that is found in directing our lives toward God.
As you prepare for Sunday, take a moment to spend some time in prayer - specifically that as we gather, God will be glorified, we will be encouraged, and that the gospel will be shared.
Coffee is ready at 9:45 and our service begins at 10:15. You can join us in person or online. You can find our service on our Website, Facebook Page and YouTube Channel .
Our digital bulletin is published each Sunday morning here: https://collegepark.updates.church
Winter Weather: It's gotten cold and winter seems like it's finally here. It is rare for us to cancel our Sunday morning services. However, please use caution when deciding if it's safe for you to attend. In the event we do need cancel a Sunday service, we'll send an email, call, and text to let you know. Note: Please make sure we have your updated contact info - see below!
Wednesday Bible Study
This week we'll dive into James chapter 1 taking a look at Trials / Temptations. We meet upstairs at the church at 7:00 pm.
One of the greatest anchors for your soul in the trials that come, regardless of the intensity of those trials, is the greater your knowledge of the goodness and grace of God on your life, especially in the world of just common grace, the more likely you are to praise Him in the storm. - Matt Chandler
Online Video Access
If you would like to watch (or rewatch) the teaching videos you can find them at this link: WATCH HERE
Men's Breakfast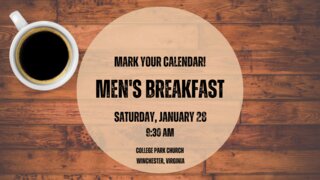 Mark your calendar and plan to join us for breakfast on Saturday, January 28th at 9:30 am. Please let Brandon or Stu know if you are planning to attend.
Our address is: 106 Purdue Dr, Winchester, VA 22602, USA