Sunday, April 2
In Person and Online at 10:15
Worship This Sunday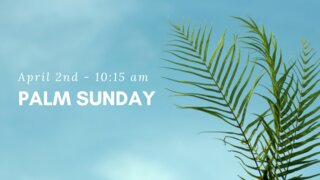 This Sunday marks the beginning of the last week of Jesus' earthly ministry. It is a week that filled with detail - about 30% of the Gospels are devoted to Jesus' last week.
This Sunday we'll see Jesus triumphantly enter Jerusalem surrounded (mostly) by cheering crowds. It's an account we are familiar with and one that, I think, we often miss the wonder and impact of. As we consider these events tomorrow I want us to see Jesus the unexpected Savior who calls the curious, the hostile, and his friends to follow him.
I would ask for your prayers as we seek to proclaim the gospel faithfully during Palm Sunday, our Passover meal, Good Friday service, and Easter Sunday. Pray that our little church would be a light that shines in the darkness.
Coffee is ready at 9:45 and our service begins at 10:15. You can join us in person or online. You can find our service on our Website, Facebook Page and YouTube Channel .
Our digital bulletin is published each Sunday morning here: https://collegepark.updates.church
Passover Meal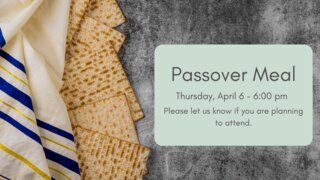 Passover is about remembering the promises of God but in a way that we can touch, taste, and feel and to do so in community. It's a family meal designed both to teach and to encourage.
I want to invite you to join us this Thursday for our Passover Meal. If you have never joined us for this before, we'll celebrate the passover with symbolic elements that help us not just hear the account of God's salvation but taste and feel it. We'll also share dinner together.
It's been several years since we've had the opportunity to do this and in the past it's been a wonderful time of fellowship and seeing the love of God for his people!
Because this takes special preparation we would ask that you RSVP if you are planning to attend (please let us know by Wednesday if you are planning on attending).
Good Friday Service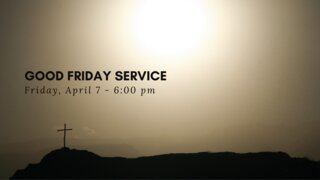 Our Good Friday service is a time to remember the sacrifice of Jesus on the cross. The darkness and suffering of Good Friday helps prepare our hearts for the wonder and joy of Easter.
Our service this year begins at 6pm and will last about 45 minutes.
No Wednesday Evening Bible Study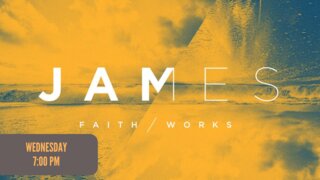 There is no Wednesday evening Bible study this week. I would invite you join us on Thursday for our Passover meal and Friday for our Good Friday service.
Join us Wednesday, April 12, as we study the book of James.
"True belief causes Christians to live out their faith according to God's Word. We don't passively hear the Word. Rather, action should always follow genuine heart change."
Would you like to watch the videos that are part of our study of James? You can do so by clicking the link below. We post each weeks video on Wednesday.
Our address is: 106 Purdue Dr, Winchester, VA 22602, USA