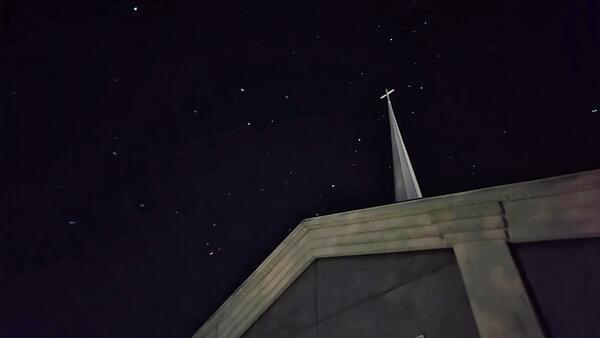 Preparation for Worship
for the Lord's Day, September 25, 2022
When I look at the heavens ... the stars
Consider your God, believer. He is a God of omnipotence, omnipresence, and omniscience. He is all-powerful, everywhere-present, and all-knowing. The Triune God is infinite, the creator of all that is. Look around you. The created world is but a canvas of the glory of your Maker. This same God has sent his only Son, our Lord Jesus, to save us for eternal life in his presence. What a God! The very thought of him should overwhelm you with awe and wonder, and accordingly drive you to praise:
I will give thanks to you, O Lord, among the peoples;
I will sing praises to you among the nations.
For your steadfast love is great to the heavens,
your faithfulness to the clouds.
Be exalted, O God, above the heavens!
Let your glory be over all the earth!
- Psalm 57:9–11
The Psalmist says, "Be exalted, O God!" May we all be present to lend all our voices in exalting our God's majestic name in our church's worship service this Sunday.
Sunday School
This Lord's Day, our Sunday School will be combined. Michael & Julie Carlyle will present to us the work that they are doing for Bibles International.
Worship Service
The sermon this Sunday is on Psalm 8. This will be my final Psalm sermon before returning to my exposition of Ephesians next Lord's Day. Psalm 8 gives praise to God for his grand work of creation. Psalm 8 presents creation as a place of wonder and awe, pointing to the glory of God. It also gives glory to God for the creation of man, and our place in God's plan in the created order.
Call to Worship: Psalm 57:9-11
Hymn 8 [Majesty] Glorious is Thy Name
Hymn 8 [HMA] Almighty Father
Prayer & Offering
Hymn 492 [Majesty] For the Beauty of the Earth The book of Romans says that humankind's problem began with ungratefulness. For although they knew God, they did not honor him as God or give thanks to him, but they became futile in their thinking, and their foolish hearts were darkened (Rom 1:21). Psalm 8 is directly contrary to this spirit. Beholding the wonders of creation, David glories in his God. If so much importance lies in our gratefulness, shouldn't Christian people ought to be "first in line" to thank God for his good gifts of creation? This hymn does just that: For the beauty of the earth, for the glory of the skies, for the love that from our birth over and around us lies: Lord of all, to thee we raise this our hymn of grateful praise.
Prayer of Confession & Assurance
Congregational Reading: Psalm 8
Hymn 38 [Majesty] How Great Thou Art
Sermon: How Majestic is Your Name! from Psalm 8
Hymn 28 [Majesty] Look, Ye Saints! The Sight is Glorious
Prayer
Benediction
For our evening worship, I will be preaching on 1 Corinthians 3:10-17.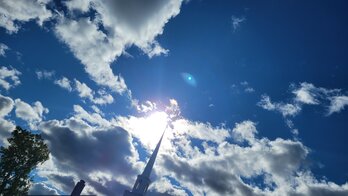 Our address is: 4200 Columbiaville Road, Columbiaville, MI, 48421