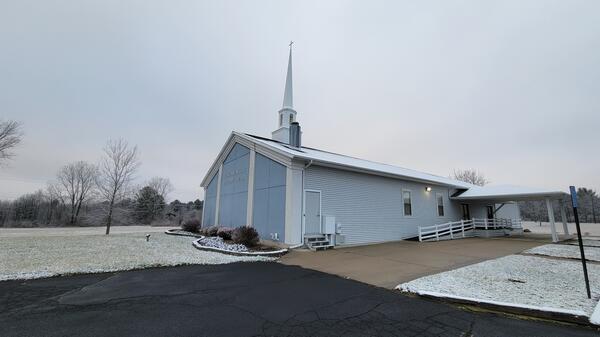 Preparation for Worship
for the Lord's Day, December 18, 2022
God sent forth his Son, born of woman
This Lord's Day, we will gather for worship, just as we always do on the first day of the week. Join us as we give glory to the Holy Trinity. We gather for worship because Christ's word commands us to do so.
But when the fullness of time had come,
God sent forth his Son, born of woman, born under the law,
to redeem those who were under the law,
so that we might receive adoption as sons.
And because you are sons,
God has sent the Spirit of his Son
into our hearts, crying, "Abba! Father!"
So you are no longer a slave, but a son,
and if a son, then an heir through God.
- Galatians 4:4–7
If you are a Christian, you have the Holy Spirit. Paul's words in Galatians make that truth crystal clear. God has sent the Spirit of his Son into our hearts, Paul says. This is the spring of our worship. If the Holy Spirit is in your heart, if you are a son of God, you will act in accord with those realities. You will give to God the worship due his name. The Christ of Christmas was born to make you a worshipper.
Over the years, I have heard a lot of Christians talk about how we need to get Christ back into Christmas. There is no better way to observe the "true meaning" of Christmas than to gather with your local church in adoration before our infant King and Savior.
Sunday School
This Sunday, I will teach on the Law and Grace in Adult Sunday School, which will be held one final Sunday in the fellowship hall. Chad Childs will teach the teens. Cathy Wagner will teach the children in the sanctuary.
Worship Service
Over the next two Sunday services, I will be preaching from Luke 2:10-14 for our Christmas messages. What the angels say and sing about the baby born in Bethlehem should have the whole world's attention. It should have our attention as well. The message of the angels is good news. We're going to walk carefully through their message to the shepherds, for the angels' message to them is also their message to us.
Call to Worship: Galatians 4:4-7
Hymn 201 [Majesty] O Come, All Ye Faithful
Hymn 213 [Majesty] The First Noel
Prayer & Offering
Ministry of Music: While Shepherds Watched Their Flocks
Prayer of Confession & Assurance
Congregational Reading: Psalm 72:1-14
Hymn 228 [Majesty] What Child Is This
Sermon: The First Noel from Luke 2:10-14
Hymn 222 [Majesty] In the Bleak Mid-Winter
Prayer
Benediction
This Sunday evening at 6 PM, our church will present a Service of Lessons & Carols. I hope you'll join us!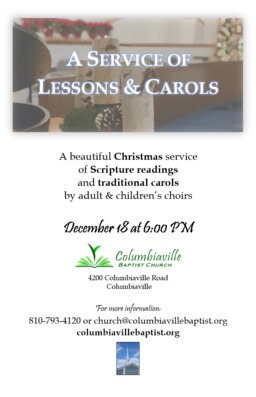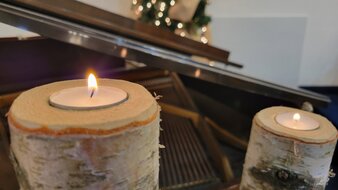 Our address is: 4200 Columbiaville Road, Columbiaville, MI, 48421