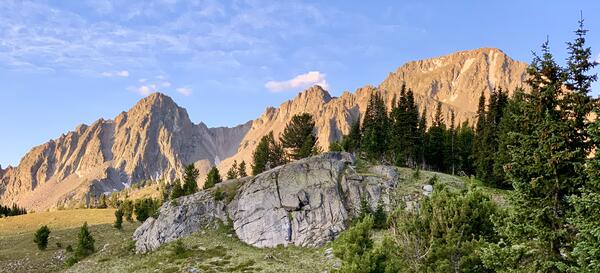 CPC NEWSLETTER
Early Summer 2022
Love Your Enemy
Luke 6:27-28 "But I say to you who hear, Love your enemies, do good to those who hate you, bless those who curse you, pray for those who abuse you."
Every sermon series I preach impacts me as a person. Some ideas linger in my heart and mind longer than others. In our Luke series, these words of Jesus continue to tumble around in mind and challenge my heart. "Love your enemies".
Jesus goes on to say:
"If you love those who love you, what benefit is that to you? For even sinners love those who love them. And if you do good to those who do good to you, what benefit is that to you? For even sinners do the same. And if you lend to those from whom you expect to receive, what credit is that to you? Even sinners lend to sinners, to get back the same amount. But love your enemies, and do good, and lend, expecting nothing in return, and your reward will be great, and you will be sons of the Most High, for he is kind to the ungrateful and the evil. Be merciful, even as your Father is merciful."
Three ideas stand out to me as I read these words. First, Jesus tells us we will benefit in loving our enemies. We will experience great reward. Our natural tendency is to be loving and generous to those who are loving and generous to us. We think of these types of relationships as mutually beneficial. You scratch my back, I'll scratch yours. But Jesus questions the validity of this mind set. He says, "even sinners" we might say "even the godless" can love this way. The harder path is to love our enemies those who don't look offer anything positive back to us. On this path there is greater reward. I'm not sure all that our "reward" might entail but certainly a part of the reward of loving our enemies is personal transformation into a more Christlike character.
The second idea that stands out is how Jesus describes the character of our heavenly Father. He says, "he is kind to the ungrateful and evil" My first thought is how can God be kind to those who are evil? Where is the justice in that? Think of all the revenge movies, songs, and stories that are popular in our culture. Don't we all find a little satisfaction when the "bad guy" gets what's coming to him? But then I think of these verses in Romans:
for all have sinned and fall short of the glory of God, (3:23)
when we were still powerless, Christ died for the ungodly. (5:6)
But God demonstrates his own love for us in this: While we were still sinners, Christ died for us. (5:8)
while we were God's enemies, we were reconciled to him through the death of his Son, (5:10)
For the wages of sin is death, but the gift of God is eternal life in Christ Jesus our Lord. (6:23)
The truth is we are all beneficiaries of our Heavenly Father's "kindness to those who are ungrateful and evil." If God didn't love his enemies we would all be in a mess.
The third idea I want us to consider is the connection between loving our enemies and our own experience of God's mercy. Jesus calls us to "be merciful as our Father is merciful". The call to be merciful, to love our enemies, is a call to share the love of God we have received with those around us. A recent email from the Colson Center had a paragraph that articulates this idea similarly: "The same salvation that frees us from sin and hell equips us for a redemptive purpose. Your redeemed life alters the time and place you inhabit…As Jesus changes you, you become in turn, an agent of change in the lives of those around you."
Loving our enemies isn't about what we receive but about what we give. When we love our enemy we give them the chance to experience that love and mercy of God that can change their life forever.
UPCOMING EVENTS
June 12- Getting to know CPC/New Member Class
Pastor Bob will lay out the basics of being part of
Community Protestant Church. This will immediately
follow the potluck.
June 12- Youth Night, 5 PM
Justin and Vanessa Byerly have been leading the junior
high/high school youth group, which usually meets on
two Sunday evenings each month.
June 16-Session Meeting, 6:30 PM
June 21-24- VBS! Our registration is live on our website and can be
printed and turned in at the church or texted to Annie @
406-855-2530. Food Truck Party is our theme this year, and
the focus is teaching children to pray. A youth group from
Georgia is coming to help us this year!
June 26- Annual Meeting
Our annual meeting will immediately follow the service
on this day. We will be voting on a new Elder. If you would
like to submit a name to session for consideration, please
let pastor know by June 5.
Summer Fellowship Dinners
If you'd like to participate in summer fellowship dinners,
please let Annie know! Groups will be posted Sunday,
June 12.
September 11-14 Men's Backcountry Backcountry Hiking Trip
Pastor Bob is getting a group of men together to enjoy a
few days of fellowship and hiking in the Yellowstone
Bechler region. Stay tuned for meeting times and dates!
9 AM Every Sunday Morning Elementary Sunday School
Kathy Byerly and Annie Colson have been leading an
elementary aged Sunday school class.
Jackie and Richard Klatt
Our dear friends, Jackie and Richard Klatt, are moving to Columbia Falls to be nearer to Gwen and her family! We celebrate with Jackie and Richard as they start this new and exciting chapter, and we keep them in our prayers. Thank you, Jackie and Richard, for all you are to us and have done for CPC. Jackie has written the following letter to share with her church family:
To my dear Church Family,
It is hard to say goodbye, so I will just say that we will see you later.
I can't tell you how much you all have meant to us over the years. Some we have known a long time and others we have just met, but each of you have touched our lives in meaningful ways. God has a great way of connecting us through His spirit.
CPC has ministered to us for over 40 years. The friends and family here have helped us through dealing with our son's death, as well as the passing of our parents, the marriage of our daughter, the dedicating of our grandchildren, and so much more. We have truly been blessed by you.
CPC has been through many ups and downs, too, but God is always faithful and will never leave us. I am excited to see our church growing and youth ministries reviving. It makes it easier to leave when I know things will go on bigger and better than ever! Thank you to those who say yes to God and help make things happen.
It has been an honor to serve with you all.
Thank you for the memories and blessings.
Sincerely,
Jackie Klatt
Easter Sunrise Service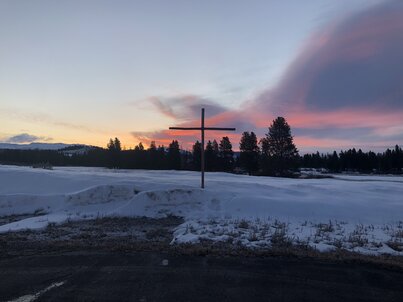 We celebrated Easter on a beautiful morning out at Duck Creek, followed by a potluck breakfast and a church service. Our Lord is Risen!
Opportunities to Serve @ CPC
*Weekly Church Cleaning
*Flavor of Fellowship snacks
*We are looking for additional worship leaders and music team members
*Volunteer child care workers
We wish a Happy Birthday to...
Emily Everest 4/8
Dona Stewart 4/9
Linda Eagle 4/9
Karen Giorgianni 4/9
Shantell Johnson 4/10
Maggie Tanner 4/15
Roxanne Beck 4/15
Sam Febres 4/17
Bill Clark 4/23
Vee Doverspike 4/25
Ken Davis 4/25
Kate Colson 4/26
Logan Lott 5/3
Jan Peterson 5/27
Jeannine Roberson 6/3
Nancy Dick 6/8
Dan Busse 6/22
Ed Rampy 7/4
Jeannine Shearing 7/21
Angie Everest 7/22
God's blessings on your year!
Happy Anniversary to...
Ken and Mary Davis 4/11
Bob and Angie Everest 5/27
Dan and Lynn Busse 6/7
Richard and Jackie Klatt 6/8
Chris and Annie Colson 6/29
May you celebrate many more years together!
Our address is: West Yellowstone, MT