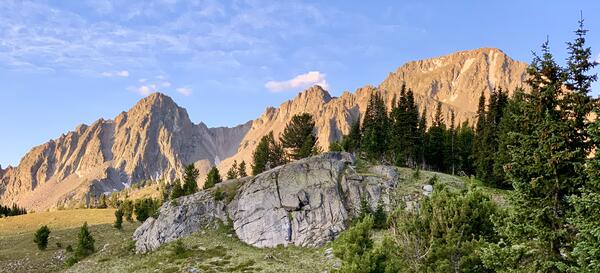 CPC NEWSLETTER
Late Summer 2022
Sunday Morning Sermons
I have the privilege of preaching almost every Sunday at CPC. Preaching is important. Every week I have the responsibility to bring a message from God to the congregation. It is a little, maybe a lot, presumptuous to assume that I have a message for you from God. And yet, I believe each Sunday as I present the sermon, that I am presenting to you a word from God. How does this all work and what does it mean for you? Whole books are written on this, but I will try to present two thoughts: First, my responsibility to prepare & deliver the message, and second, your responsibility to receive the message.
I believe the only way to deliver a message from God in a sermon is to ground the message in God's word, recognizing that God has revealed himself to us in the Bible; the written word, and in Jesus; the living word. Every sermon should begin in scripture and lead us to Jesus. I believe all scripture is inspired by the Holy Spirit and is beneficial for the life of every believer. This is why I generally preach through books of the Bible. It is a way to be accountable to all of God's Word rather than just cherry picking passages that preach easily.
My job as the preacher is to study the passage for each week and to be certain that I understand the main ideas and intent of the passage. This is the easy part of the preparation. Next, I have to decide how this fits for us today at CPC; what it is that we need to hear and apply to our own lives. Finally, I need to determine how to get that message across to you, the congregation of CPC. This is where a great deal of prayer is needed. I pray as I study for understanding of the passage, and as I plan the message, I pray for clarity regarding what is most beneficial for us as a congregation. And then I pray again that the message will be received well.
A sermon is not a one sided conversation. It may seem that the preacher does all the talking but really, a sermon is a dialogue. Those who receive the sermon have a responsibility, also. There are three words I would use to describe the responsibilities of the listeners. First is expectation. There should be an expectation that God will speak to you through the message. This requires a spirit of openness of heart and mind. Second, there should be attentiveness. Attentiveness both to the scripture as it is read and to the message as it is delivered. I know that the mind wanders during any sermon but there should be an effort put in to paying attention to the message. For some taking notes is a helpful way to be attentive. The third word is appropriation. The sermon may be spoken in generalizations or limited applications but the Holy Spirit is at work in us to bring about Christ like character formation and transformation in each of us individually. The Holy Spirit will make some personal applications clear to us during the message or in later reflections. It is the responsibility of listeners to own this personalization of God's word and learn to live it out in our lives. The sermon doesn't end when the preacher is finished. It should live on in the way we carry out our daily lives. Then we become witness to the world around us of the grace of God in our lives.
I don't preach because I like the sound of my own voice. I believe God has called me to preach His Word to His People. I don't believe you come to church just to hear my ideas. You come because you want to hear from God. We want transformation to take place in our lives as we submit our lives and wills to the truth of God's word. We all have a responsibility and need to take our roles in this process seriously. It is my prayer that each week God will take the loaves and fishes that I offer each Sunday when I preach, and feed your souls with the transformative power of His Word.
VBS 2022
Together with an incredible Youth Group comprised of adults, college students and high school students from the state of Georgia, we were able to minister each day to about 25 elementary aged students. Enthusiasm was high, music was great, snacks were fun, and Jesus was present! The children (and the volunteers) enjoyed raucous games, intriguing science, colorful art and more each day. We hosted a family BBQ one evening for the VBS participants and their families. We are so thankful for the prayers, materials, supplies and time so graciously shared by the many people who helped make the week a success.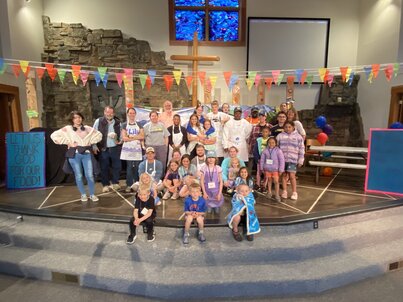 Our Georgia crew and some of the VBS participants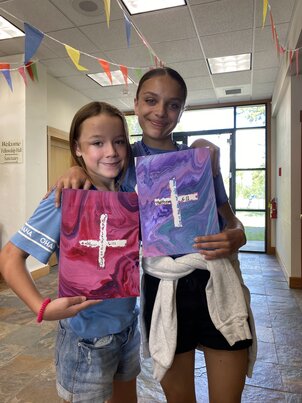 Peyton and Ola with their art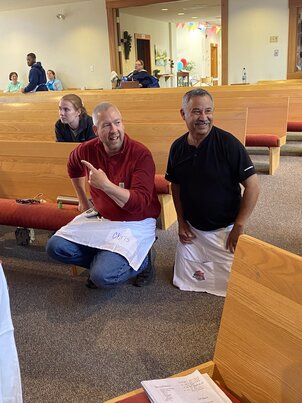 Some of our Station leaders.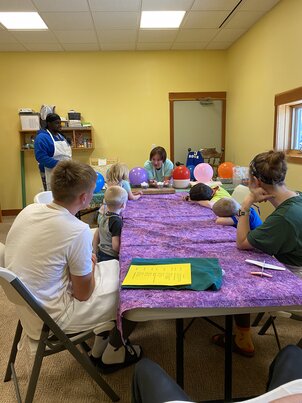 Science experiments with Mr. Sam and Miss Christina
Lake Day 2022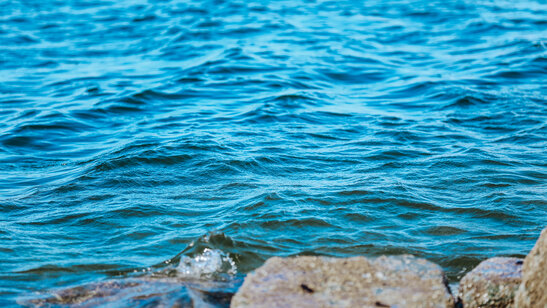 We will track down some more photos of this year's Lake Day, but it was a relaxing and fun time of fellowship, games, sun, sand and water! Lots more water than last year. Thank you to Bill and Nancy Dick for hosting us at their beautiful property again.
UPCOMING EVENTS
September 11-14 Men's Backcountry Backcountry Hiking Trip
A group of our men have been hiking up a storm this summer in preparation for their hike through the Bechler region of Yellowstone. They leave Sunday after potluck...keep them in your prayers!
September 18 Youth Night
This is for middle school and high school students, and will include dinner, games, and a devotion. The plan is to meet twice a month.
October 4 Taco Tuesday
All students able to leave campus at lunchtime are invited to come to church on the first Tuesday of every month and enjoy tacos.
Opportunities to Serve @ CPC
*Weekly Church Cleaning
*Flavor of Fellowship snacks
*We are looking for additional worship leaders and music team members
*Volunteer child care workers
We wish a Happy Birthday to...
Pily Collins August 20
John Colson September 10
Carolanne Todd October 3
Mary Davis October 7
Pastor Bob Everest October 21
Linda Todd November 14
Wendy Harvey November 18
God's blessings on your year!
Happy Anniversary to...
John and Marysue Costello August 3
May you celebrate many more years together!
Our address is: West Yellowstone, MT