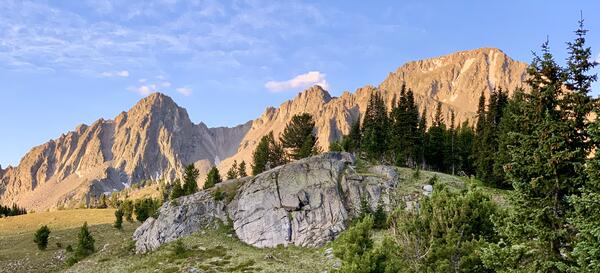 Pastor's Thoughts
From Despair to Hope
Fear, despair and hopelessness fill our headlines. The Covid-19 pandemic, economic shutdown, the reality of racial disparity, and riots rooted in and ending in senseless deaths & destruction, have all contributed to a slide toward darkness and chaos in our nation and world. I don't want to dive into the darkness, as many do on social media, but neither do I want to ignore the realities taking place around us. Ignoring the problems won't make them go away. I would rather look for ways to be light in the darkness—light that drives away the darkness
The spread of the coronavirus has reminded us that we are not in control. The economic crisis has reminded us that security can not be found in bank accounts. The reality of prejudice and racism in our lives and world has reminds us that our "enlightened" and "educated" society is still broken in many ways. The destructiveness and violence of riots accent the brokenness with further injustice. None of this is new. It is just a new expression of the damage of sin on humanity and creation that we have seen through out history.
So where do we find light in the midst of this darkness? If life is not in our control, if we can not find security in wealth, if prejudice pervades our relationships and social structures, if violence and force only further injustice, where do we find hope?
The answer of our Christian faith is Jesus—not in better education, not in governments or political parties, not in investment strategies or new technologies. But also, not in Jesus as we want him to be, but Jesus as he is revealed in God's Word, the Bible. Jesus who grew up in a poor family. Jesus who challenged the religious norms and prejudices of his day. Jesus who could heal the sick and raise the dead, but didn't even speak out against the Roman occupiers in his nation. Jesus who was merciful to the woman caught in adultery and the Samaritan woman at the well, but who overturned tables in the the temple and drove the moneychangers out with a whip. Jesus who dined with sinners and confronted calloused religious leaders. Jesus who died on the cross as the ultimate act of love and mercy. Jesus who said, "Love your enemies, do good to those who hate you, bless those who curse you, pray for those who abuse you. To one who strikes you on the cheek, offer the other also, and from one who takes away your cloak do not withhold your tunic either. Give to everyone who begs from you, and from one who takes away your goods do not demand them back. And as you wish that others would do to you, do so to them." Not only did he call us to live this way, he lived it out for us to see.
To bring light into the darkness of our day, we have to believe in this Jesus and trust that his way—the way he calls us to live is the path of life and light in the face of the death and darkness around us. Not only do we have to believe it, we have to live it. There are no easy solutions to the turmoil of our world, just the call to faithfully follow Jesus—not with judgment and condemnation—but with love and mercy. "Love your neighbors as yourself" Jesus says, but also, "Love your enemies" Our challenge is to take these commands and make them real life actions. Don't sow fear and hate. Sow love. Love like Jesus. Love those the world would call unlovable and hope will begin to grow around you.
ADVENTURES IN SPRING
West Yellowstone is known for having short seasons, but we can have snow 12 months out of a year. Spring was interrupted by snow in May. Don't know how much West received, but Idaho Falls had 3 inches of snow. All of it was gone by evening. I personally enjoyed it while everyone else hated it. That's life in West.
Birthdays
April 2 – Gabriel Lott
April 8 - Emily Everest
April 9 – Linda Eagle
Karen Giogianni
Dona Stewart
April 15 – Roxanne Beck
Maggie Tanner
April 23 – Bill Clark
April 25 – Ken Davis
Vee Doverspike
May 3 – Logan Lott
May 7 – Jamie Corliss
May 9 – Henry Freed
May 11 – Scott Newell
May 27 – Jan Peterson
June 3 - Jeanine Roberson
June 8 - Nancy Dick
June 22 - Dan Busse
Anniversaries
April 7 – Jean & Liz Page
April 12 – Ken & Mary Davis
May 18 – Jesse & Whitney Strangelove
May 27 – Bob & Angie Everest
June 7 – Dan & Lynn Busse
June 8 – Richard & Jackie Klatt
June 15 – Garth & Maggie Tanner
Church Wish List
Through the Covid-19 quarantine we have discovered we need a
VIDEO CAMERA WITH A MIC INPUT
(We are still researching the best camera for our needs)
APPLE TV DEVICE
MICROWAVE for kitchen
Session Meeting Report
The session met last Tuesday, May 25th.
The group was encouraged and helped to get onto the Faithlife program. We will be asking and helping all congregants to join in hope for better and easier communications. It only works if we all participate.
Plans were discussed to prepare for the annual meeting set for June 28.
Next meeting set for June 8.
Suggestions
If anyone including our summer residents have activities they would like to share with the rest of us, please send your information to Linda Todd at ltoddsoprano@ yahoo.com
Community Protestant Church
Our address is: West Yellowstone, MT