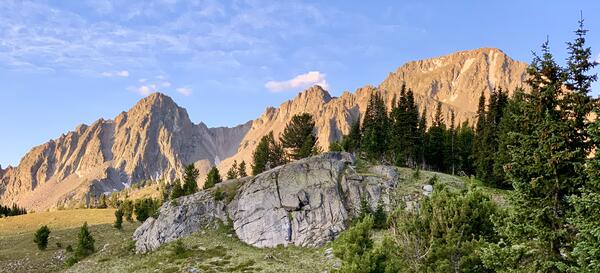 CPC NEWSLETTER
JANUARY 2021
CALENDAR OF MONTHLY EVENTS
January 3 - Service with Communion
January 10 - Service
January 17 - Service with Communion
January 19 - Session meeting
January 24 - Service
January 31 - Service
Hope in the Lord
Lamentations 3:19-24
19 Remember my affliction and my wanderings, the wormwood and the gall!
20 My soul continually remembers it and is bowed down within me.
21 But this I call to mind, and therefore I have hope:
22 The steadfast love of the LORD never ceases; his mercies never come to an end;
23 they are new every morning; great is your faithfulness.
24 "The LORD is my portion," says my soul, "therefore I will hope in him."
This is my first Pastor's note for the 2021 CPC newsletters. Like many of you there are aspects of 2020 that I will be glad to leave behind. The beginning of a new year fills me with hope that this year will be better than last year. One of my hopes is NO MORE MASKS! But despite this wishful thinking, the reality of life is that every year brings ups and downs. 2020 wasn't all that bad for some people, but for others it was terrible. 2021 might be better for you, it might be worse. I guarantee though that there will be challenges ahead for all of us.
An important aspect of facing the challenges of daily human existence is having the right focus for our hope. A new calendar year is just arbitrary number changes and not really something we can place our hope on. It seems many in our country put their hope in a new president or political party but this too is a false hope. The president isn't going to be there to help you get out of bed to face a challenging day. The democrats and the republicans won't be there to help you grieve the loss of a loved one. No, when the challenges of life are overwhelming, we need the
hope we are pointed to in Lamentations three. We need to remember the steadfast love of the Lord which never ceases. We need to be reminded that His mercies are new every morning. We need to know that the Lord is or us and with us. We need to hope in Him.
I hope and pray that 2021 is a blessing for you and for our congregation. Most importantly I pray we all learn how faithful God in His love and care for us.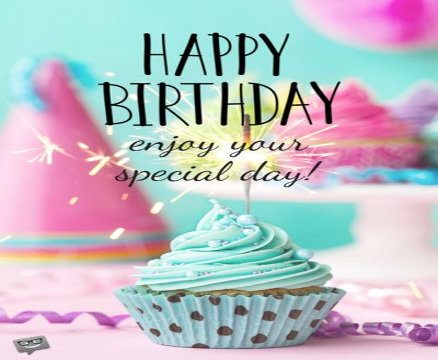 January 6 - Jeremy Huidekoper
January 7 - Lynn Busse
January 8 - Randy Roberson
January 31 - Whitney Strangelove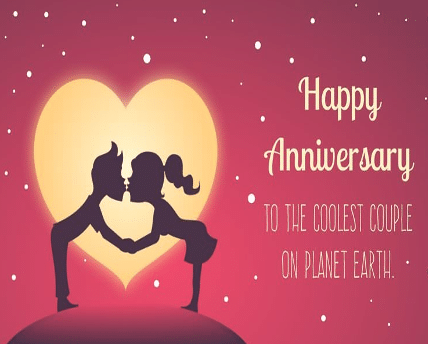 January 22 - Randy and Jeanine Roberson
Opportunities of Service @ CPC
Weekly Church Cleaning
We are looking for additional worship leaders and music team members
There are opportunities to provide special music
Volunteer child care workers
Worship Leaders this month
January 3 - Ken Davis
January 10 - Marysue Costello
January 17 - The Colsons
January 24 - Emily Everest
January 31 - Dewey Dumsday
Prayer after Service
January 3 - Ken Davis
January 10 - Marysue Costello
January 17 - Linda Todd
January 24 - Jackie Klatt
January 31 - Dewey Dumsday
Finance Report for December 2020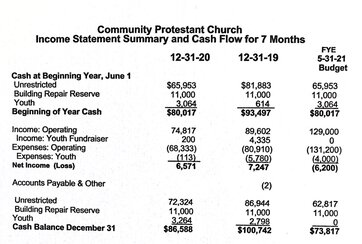 December Session Meeting
The session met for its regular monthly meeting on December 7th.
The meeting opened with prayer and a devotion.
The session then continued with a time to get to know Chris and Annie Colson who are interested in becoming members of CPC.
Time will be made for a receiving of their membership in our Sunday Service that week.
Session discussed an invitation to enter a float to the "Parade of Lights"organized for the Christmas Stroll. It was soon determined that we did not have the time or volunteers to make it happen.
The Christmas Eve Service was discussed for logistics. Advertising was arranged.
Our old lighting system has been worked on with thanks to Dewey. It was decided to keep the lights low as much as we can to preserve what has been done.
The meeting was closed with prayer and next meeting scheduled for January 19.
Receiving Membership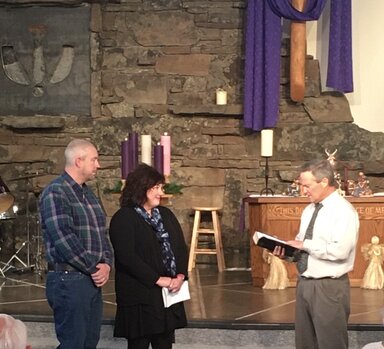 Update from Joanna Welter
(Joanna has been in school in Canada for a year now.)
Hi dear church family,
I started a news update to you many times, at least in my head. Can you believe 2020 is ending and 2021 beginning? I know it's been stressful for many of us, and I was no exception. I feel like every part of me that could be stretched has been, and I think I have grown, or at least grown in my capacity to grow.
I got outside my yard and neighborhood more in the first two weeks of the Fall term than I did all summer. Both Regent and Granville Chapel organized several small group (maximum 6 people) activities in which I participated before social restrictions were tightened again. I visited two local botanical gardens, went on a hike to Cleveland dam, went birding (birdwatching) on Iona beach, and a "walk with a professor" in Pacific Spirit Park. In October I went on a personal retreat by camping in my Jeep in a campground near Squamish (about an hour and a half drive). It rained the whole drive there, but I was treated to a broad, vibrant rainbow as I arrived. That night I had to hold an umbrella over my little stove while I heated soup for supper. The next day gradually cleared and I had a nice hike on Four Lakes trail. The drive home was beautiful with sights of the bay and mountains and waterfalls.
Classes have been challenging. I think I did best in Old Testament foundations. Introduction to Biblical Languages was difficult just because we were attempting to get a foundational understanding of both Greek and Hebrew in a matter of weeks. The hope was to learn enough to understand what the differences in the English translations are based on and to be able to use reference tools to look up things in the original languages - to learn enough to enable further exploration as needed. It was an overwhelming amount of material, but we made it through. The Christian Thought and Culture class was very interesting. We were exposed to great Christian thinkers throughout early church history up to the Reformation and how they engaged their cultures. Part two next term will cover the Reformation to present day. This was the most stressful class for me because every week we were required to respond to the reading of different Christian thinkers by answering a discussion question with a thesis statement supported with evidence from the reading, making a clear argument and addressing a bit of its relevance to our culture. I know this is standard academic stuff, but I found it very intimidating. It goes against my whole communication style, which avoids argument and debate. In practice I rarely risk taking a stand on something I do not consider essential, but I can understand the usefulness of this approach to engaging the reading. I struggled and stressed, and I just hope I passed.
Part of my purpose in this season is to engage in Christian community and I have involved myself in many groups. There is a women's Bible study group from Granville Chapel, a mental health support group called Living Room group, and a "Pod" group from Regent (groups facilitated to address the loss of soup groups and on-campus interaction between students due to restrictions from the pandemic). I also attend Regent Chapel and Granville Chapel services every week. I was invited to read Scripture in the Regent service a couple of times.
I see a spiritual director every few weeks. Spiritual direction/listening/friendship is something I am interested in learning more about and pursuing further.
I had a few sessions with a Christian counselor to help me address fears and old unhelpful coping reactions triggered by the stress.
I took advantage of some other opportunities that presented themselves as well. I listened to a weekly webinar for six weeks teaching strategies to help people affected by trauma. I also watched a Saturday seminar on ways churches help their communities with housing issues. I kept some resources with ideas that may be adapted.
Finishing the term and having a break from classes has been a relief. I have been sleeping in, reading for fun, watching Netflix, and now, catching up on correspondence. I made chocolate peanut cluster candies for my holiday treat and tried a simple crochet project (I am a beginner). One of my housemates invited the other two of us to help her decorate cookies. We don't do much together, so that was fun.
I try to take a short walk almost every day. I enjoy noticing birds when I'm outside. I even hung a hummingbird feeder (one species stays through the winter here). It is cloudy and/or rainy most days this time of year, and dark so early. It was so strange to see the use of heavy equipment to remove leaves instead of snow! It's about 6 blocks to Balaclava Park from which I can see the mountains if it is not too cloudy. I miss the open space of a rural setting.
I biked to Regent one day, exploring a different route home (about 25 minutes each way). I'm trying to see if there is a route (mostly using Park paths) that I'd be willing to use to attend in-person classes if they are allowed in a couple of months. I attended a pilot class for two weeks preparing for hybrid classes next term (in-person/Zoom mix). No groups or in-person classes will be allowed yet when classes start in January, but they are hoping to allow in-person by the end of February. I am confirmed as part of the in-person group when it is allowed.
My mom and sisters and their families are going to try to do a Zoom call on January first - we've never tried such a thing before. I have had a phone call from each of my four children over the last two weeks and an email from Ken and Mary there at CPC.
I think of you all fondly and I am so grateful for your prayers.
Continue to take care of one another, as I know you do.
May you have grace and provision for every need as you trust and depend on the One faithfully committed to you in love - Father, Son, and Spirit.
Joanna
Joanna's pictures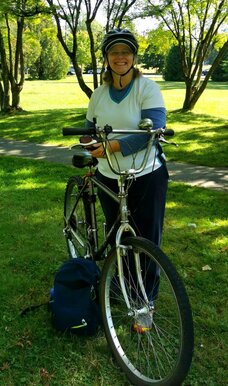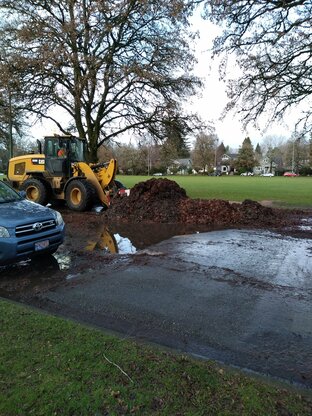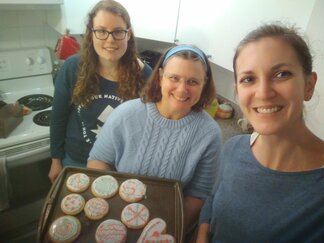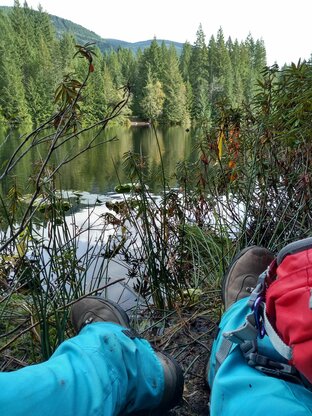 Christmas Eve 2020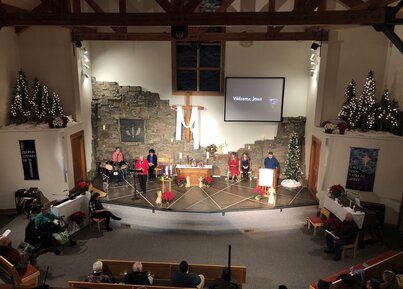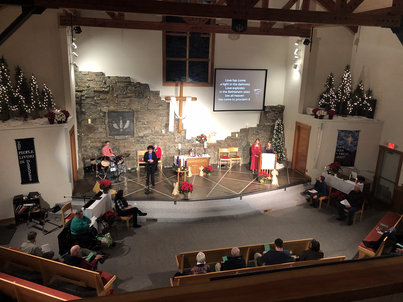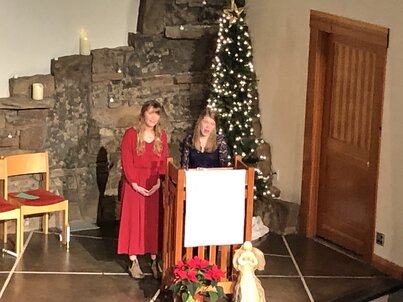 Community Protestant Church
Our address is: West Yellowstone, MT