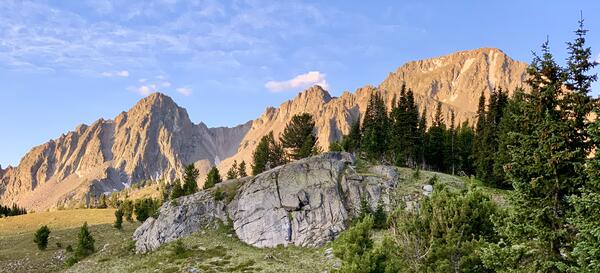 CPC NEWSLETTER
Spring 2021
CALENDAR OF MONTHLY EVENTS
April 25- Service
May 2 - Service with Communion
May 9 - Service
May 16 - Service with Communion
May 18 - Session Meeting
May 23 - Service
May 30 - Service; Summer Kick-off Sunday
God's Eternal Kindness
But God, being rich in mercy, because of the great love with which he loved us, even when we were dead in our trespasses, made us alive together with Christ—by grace you have been saved— and raised us up with him and seated us with him in the heavenly places in Christ Jesus, so that in the coming ages he might show the immeasurable riches of his grace in kindness toward us in Christ Jesus." (Ephesians 2:4–7 ESV)
I've been reflecting on these verses for several weeks, especially the part in bold. It really came into focus for me reading, Gentle and Lowly: The Heart of Christ for Sufferers and Sinners, by Dane Ortlund. Commenting on this phrase he says:
" What does this mean for those in Christ? It means that one day God is going to walk us through the wardrobe into Narnia, and we will stand there, Paralyzed with joy, wonder, astonishment and relief.
It means that as we stand there, we will never be scolded for the sins of this life, never looked at askance, and never told, "Enjoy this, but remember you don't deserve this." The very point of eternity is to enjoy his 'grace and kindness.'" (p 209)
I have underlined the portion of the quote that stood out to me. Honestly, I have not ever thought about eternity with God in this way. I have found reflecting on this thought to bring me a renewed sense of peace in my relationship with God. It has, also, given me a new sense of anticipation and hope for the future. We live in such a critical world and often we are our own worst critics. We wear ourselves out with guilt, shame and self-condescension. At least, I do and I'm pretty sure I'm not alone in this experience. But God does not hold me, hold us, in such a harsh and critical light when we are "in Christ"
Maybe though, the most important impact of my reflection, has been on how this understanding of God's love, grace and kindness might be lived out in my relationship towards others. It means I don't have to hold on to the failures of others. I can offer love, grace, forgiveness and kindness too, and I should. It means I am free to see the person and not hold their failures against them. It means I can offer acceptance, openness and love and leave the work of transformation in their life in God's hands.
I hope these thoughts trigger some reflection for all who read this. Let me know what your reflections work in your heart and mind. I would love to hear from you how God might be stirring in your life.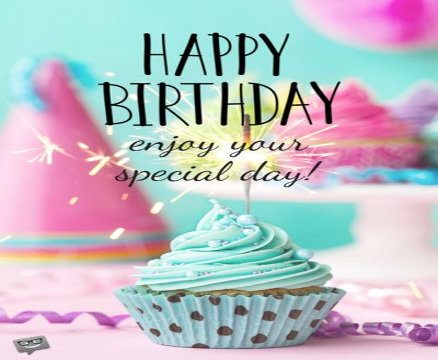 April 23 - Bill Clark
April 25 - Vee Doverspike
April 25 - Ken Davis
May 9 - Henry Freed
May 27 - Jan Peterson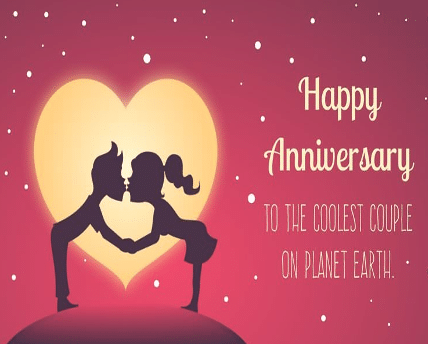 April 11 - Ken and Mary Davis
May 27 - Bob & Angie Everest
Opportunities of Service @ CPC
Weekly Church Cleaning
We are looking for additional worship leaders and music team members
There are opportunities to provide special music
Volunteer child care workers
Worship Leaders this month
April 25- Emily Everest
May 2 - Annie Colson
May 9 - Ken Davis
May 16 - Marysue Costello
May 23 - Chris Colson
May 30 - Emily Everest
Prayer after Service
April 25- Jackie Klatt
May 2 - Linda Todd
May 9 - Ken Davis
May 16 - Marysue Costello
May 23 - Linda Todd
May 30 - Jackie Klatt
CPC Finances for March 2021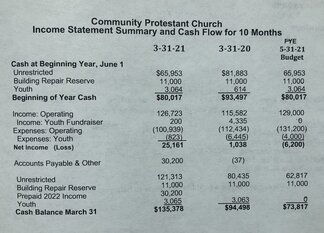 Easter Sunday
Finally, this year we were able to celebrate Easter in our traditional way! We had a beautiful Sunrise Service at Duck Creek at the break of dawn, a potluck breakfast and our regular service gathered at 9 am. A great day for CPC and the world!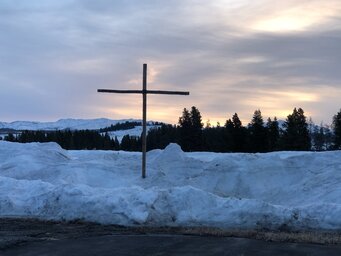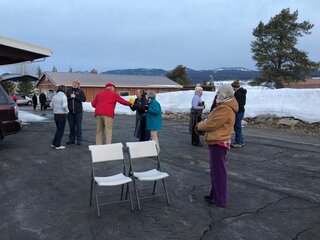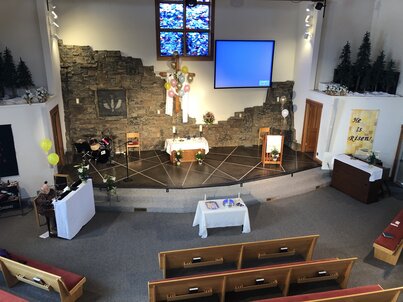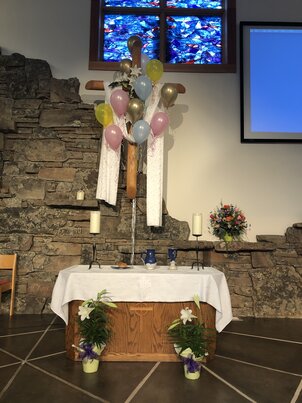 Vacation Bible School 2021
We are excited that our new member, Annie Colson is eager to take the lead to plan VBS this year. Now that our Covid risks have calmed down, we are hoping and planning on a meaningful and fun VBS June 16-19. Our theme is Rocky Railway, Jesus Power Pulls Us Through! If you have or know of any children 5 yrs old through 5th grade that would be interested in coming, please let us know.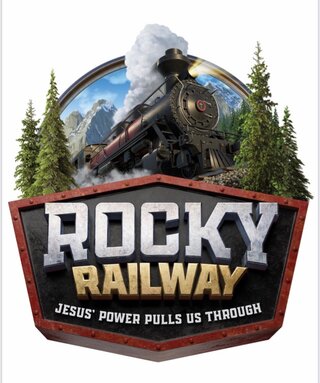 UPCOMING EVENTS
May 19 - Youth Event 6:30 pm
May 30 - Summer Kick-off Sunday
June 16-19 - Vacation Bible School
June 27 - Annual Congregational Meeting
July 5-9 - Senior High Camp
July 12-16 - Junior High Camp
July 19-23 - Middle School Camp
July 26-30. - Junior Camp
July 27 - Youth Event
We are planning to organize some Fellowship Groups for this summer.
Community Protestant Church
Our address is: West Yellowstone, MT