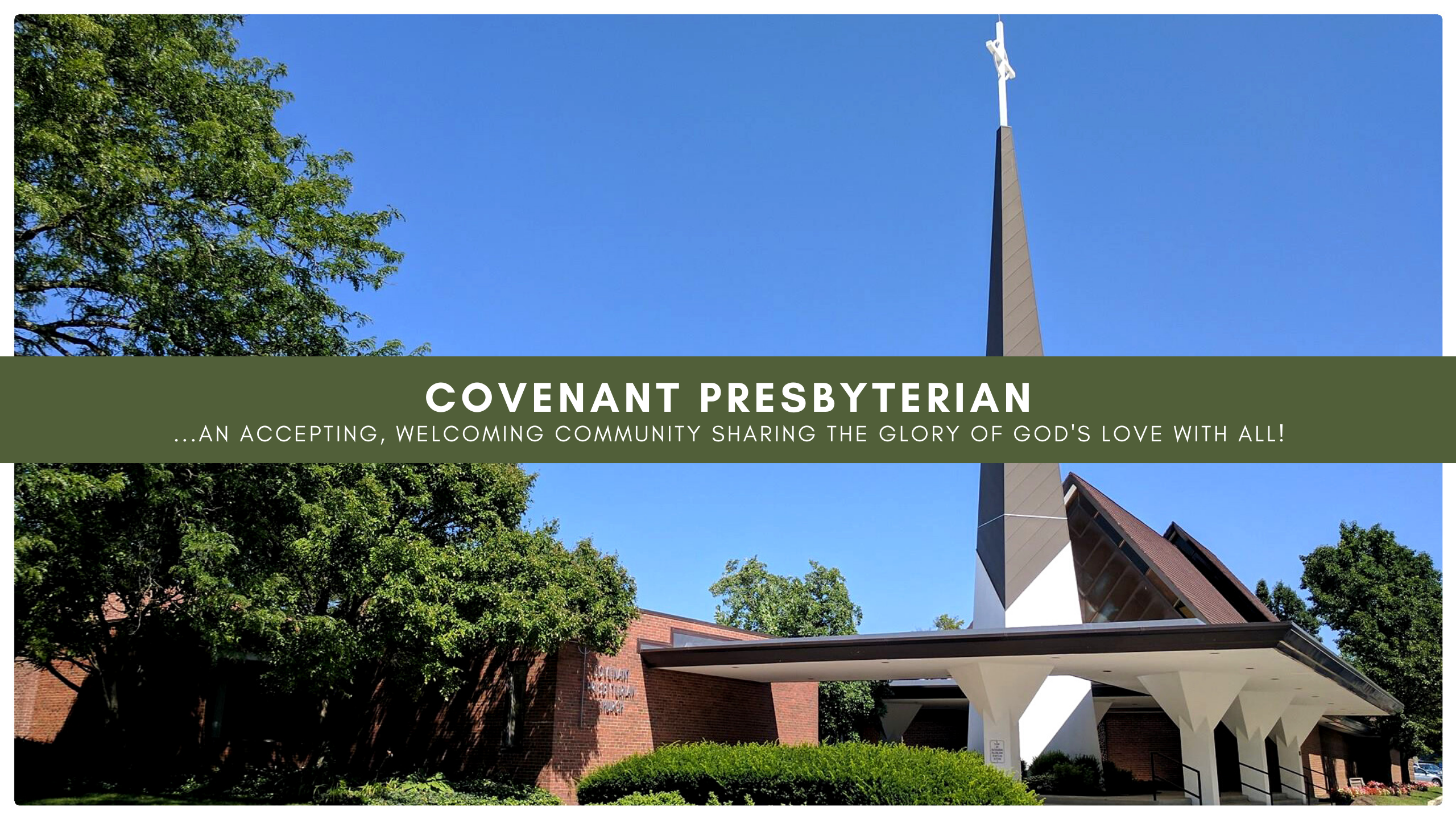 Bulletin - January 15th, 2023
Covenant Presbyterian Church
Baptism of the Lord
January 15, 2023 – 10am
Covenant is an accepting, welcoming community sharing the glory of God's love with all.
PRELUDE "Baptized In Water" arr. Hayes
WELCOME AND ANNOUNCEMENTS Candle
CALL TO WORSHIP
Leader: In the beginning, at creation, the Spirit hovered over the waters of the deep.
People: God caused the waters to part so that Israel could cross from slavery to
liberation.
Leader: God formed Jesus in the waters of Mary's womb.
People: Jesus taught us how to live by washing his disciples' feet in water.
Leader: Today we celebrate the baptism of Jesus, the Christ.
People: God meant for Jesus to be the firstborn in a large family.
Leader: Family of faith, you belong here. Let us worship God!
*HYMN #475 "Come, Thou Fount of Every Blessing" (verses 1-3) Ribbon
1 Come, thou Fount of every blessing;
tune my heart to sing thy grace;
streams of mercy, never ceasing,
call for songs of loudest praise.
Teach me some melodious sonnet,
sung by flaming tongues above;
praise the mount! I'm fixed upon it,
mount of God's unchanging love!
2 Here I raise my Ebenezer;
hither by thy help I'm come;
and I hope, by thy good pleasure,
safely to arrive at home.
Jesus sought me when a stranger,
wandering from the fold of God;
he, to rescue me from danger,
interposed his precious blood.
3 O to grace how great a debtor
daily I'm constrained to be!
Let that grace now, like a fetter,
bind my wandering heart to thee.
Prone to wander, Lord, I feel it,
prone to leave the God I love;
here's my heart; O take and seal it;
seal it for thy courts above.
CALL TO CONFESSION
PRAYER OF CONFESSION
God, you show no partiality, yet we are not always as tolerant and accepting. Forgive our intolerance, and help us to see as you see, that we may be found acceptable in your sight through Jesus our Christ. Amen.
WORDS OF FORGIVENESS
HYMN #132 "Good Christian Friends Rejoice" (verse 2) Ribbon
2 Good Christian friends, rejoice
with heart and soul and voice;
now ye hear of endless bliss;
Jesus Christ was born for this!
He has opened heaven's door,
and we are blest forevermore.
Christ was born for this!
Christ was born for this!
PASSING OF THE PEACE
The peace of the Lord, be with you all. And also with you.
HYMN #188 "Jesus Loves Me"
TALK WITH CHILDREN
PRAYER FOR ILLUMINATION Cross
THE FIRST READING Isaiah 42:1-9 (NRSVUE)
The voice of the Lord, powerful and full of majesty. Thanks be to God.
THE GOSPEL READING Matthew 3:13-17 (NRSVUE)
The Gospel of the Lord. Praise to you, O Christ.
PRAYER OF THE DAY †
God of freedom,
your beloved meets us where we are,
immersed in the flow of life:
by his humility and solidarity
raise us from fear and guilt;
may the arc of the Spirit's flight
make us a people of peace;
through Jesus Christ, the Son of Righteousness
Amen.
SERMON "Our Baptismal Journey"
REAFFIRMATION OF BAPTISM
Trusting in the gracious mercy of God,
do you turn from the ways of sin
and renounce evil and its power in the world?
I renounce them.
Who is our Lord and Savior?
Jesus Christ is my Lord and Savior.
Will you be Christ's faithful disciple,
obeying his word and showing his love?
I will, with God's help.
*HYMN #482 "Baptized in Water" (verses 1-3) Ribbon
1 Baptized in water,
sealed by the Spirit,
cleansed by the blood of Christ our King;
heirs of salvation,
trusting the promise,
faithfully now God's praises we sing.
2 Baptized in water,
sealed by the Spirit,
dead in the tomb with Christ our King;
one with his rising,
freed and forgiven,
thankfully now God's praises we sing.
3 Baptized in water,
sealed by the Spirit,
marked with the sign of Christ our King;
born of the Spirit,
we are God's children;
joyfully now God's praises we sing.
INVITATION TO THE OFFERING
You can give online to Covenant by scanning this QR code.
OFFERTORY "This is My Son, My Beloved" by Kathy Powell
*DOXOLOGY #606 Ribbon
Praise God, from whom all blessings flow;
praise God, all creatures here below;
praise God above, ye heavenly host;
Creator, Christ, and Holy Ghost. Amen.
*Prayer of Dedication Cross
*HYMN #543 "O Christ, Surround Me" (verses 1-5) Ribbon
1 God, be the love to search and keep me;
God, be the prayer to move my voice;
God, be the strength to now uphold me:
O Christ, surround me; O Christ, surround me.
2 Bind to myself the Name of Holy,
great cloud of witnesses enfold;
prophets, apostles, angels witness:
O Christ, surround me; O Christ, surround me.
3 Brightness of sun and glow of moonlight,
flashing of lightning, strength of wind,
depth of the sea to soil of planet:
O Christ, surround me; O Christ, surround me.
4 Walking behind to hem my journey,
going ahead to light my way,
and from beneath, above, and all ways:
O Christ, surround me; O Christ, surround me.
5 Christ in the eyes of all who see me,
Christ in the ears that hear my voice,
Christ in the hearts of all who know me:
O Christ, surround me; O Christ, surround me.
*CHARGE AND BENEDICTION
POSTLUDE Reprise of "O Christ, Surround Me"
Unless otherwise noted, prayers in this service are reprinted by permission of Westminster John Knox Press from Feasting on the Word® Worship Companion. Copyright 2012.
† From Prayers for an Inclusive Church by Steven Shakespeare. New York: Church Publishing, 2009
Assisting in Worship Today:
Rusty Miller–Liturgist
Jason Guthrie–Vocalist
Cherie Brooks – Director of Music & Technology
Katie Wynkoop–Organist/Pianist & Assistant Director of Music
Erin Wise – Director of Children's & Youth Ministries
Brian Biller – Media Production Specialist
Rev. Joel A. Esala–Pastor
Let us get to know you!
Please take a moment to send us your information so that we may stay connected with you. Your information is carefully managed and protected.
How did you hear about us?