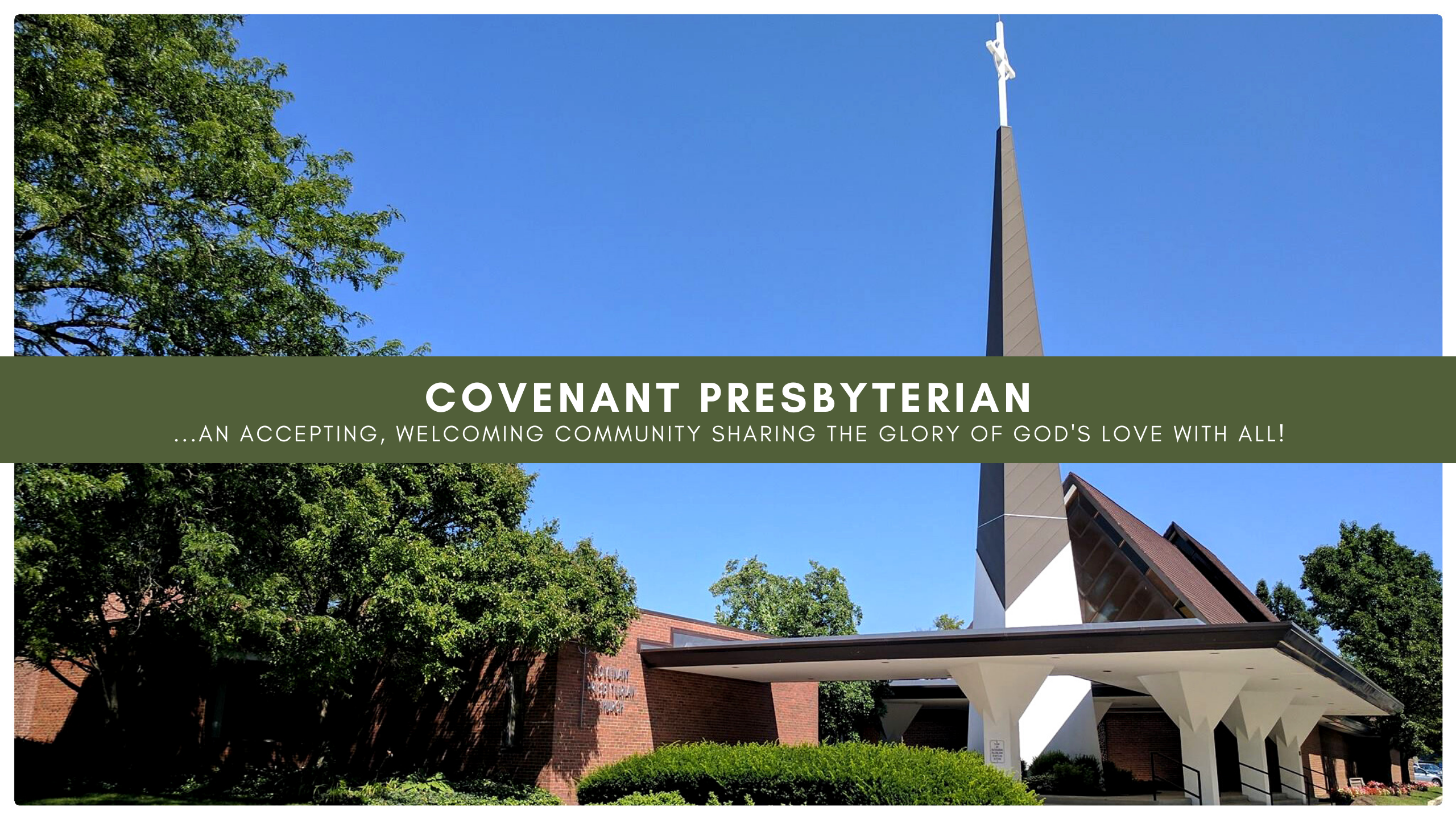 Bulletin - January 22th, 2023
Covenant Presbyterian Church
Third Sunday After the Epiphany
January 22, 2023 – 10am
Covenant is an accepting, welcoming community sharing the glory of God's love with all.
PRELUDE "Variations on Aurelia" arr. Linker
WELCOME AND ANNOUNCEMENTS Candle
CALL TO WORSHIP
Leader: The Lord is my light and my salvation; whom then shall I fear?
People: The Lord is the strength of my life; of whom then shall I be afraid?
Leader: One thing have I asked of the Lord; one thing I seek;
People: that I may dwell in the house of the Lord all the days of my life.
Leader: Let us sing and make music to the Lord!
*HYMN #409 "God is Here!" (verses 1, 3, 4) Ribbon
1 God is here! As we your people
meet to offer praise and prayer,
may we find in fuller measure
what it is in Christ we share.
Here, as in the world around us,
all our varied skills and arts
wait the coming of the Spirit
into open minds and hearts.
3 Here our children find a welcome
in the Shepherd's flock and fold;
here as bread and wine are taken,
Christ sustains us as of old.
Here the servants of the Servant
seek in worship to explore
what it means in daily living
to believe and to adore.
4 Lord of all, of church and kingdom,
in an age of change and doubt
keep us faithful to the gospel;
help us work your purpose out.
Here, in this day's dedication,
all we have to give, receive:
we, who cannot live without you,
we adore you! We believe!
CALL TO CONFESSION
PRAYER OF CONFESSION
Almighty God,
we confess that we have not been faithful to you in
our thoughts and actions.
We have been selfish in our desires
and quarrelsome in our relationships.
We have allowed fear to divide us from those who
seem different,
and let distrust separate us from our brothers and sisters.
Shine your light into our hearts.
Save us from our divisive ways.
Unite us in the same mind as Jesus Christ
who dwells with you and the Holy Spirit
in perfect harmony. Amen.
WORDS OF FORGIVENESS
HYMN #447 "We Are Forgiven" Ribbon
We are forgiven. We are forgiven. Thanks be to God. Thanks be to God.
We are forgiven. We are forgiven. Thanks be to God. Thanks be to God.
PASSING OF THE PEACE
The peace of the Lord, be with you all. And also with you.
HYMN #188 "Jesus Loves Me"
TALK WITH CHILDREN
PRAYER FOR ILLUMINATION Cross
THE FIRST READING Psalm 27:1, 4-9 (NRSVUE)
The voice of the Lord, powerful and full of majesty. Thanks be to God.
THE GOSPEL READING Matthew 4:12-23 (NRSVUE)
The Gospel of the Lord. Praise to you, O Christ.
PRAYER OF THE DAY †
God of all people
you sent your Son
into the shrouded world
into the borderlands;
may his dawning light
give hope to the broken,
the persecuted,
the alien and the excluded,
that we might feel the kingdom drawing near
and turn to follow him;
through Jesus Christ, the morning star.
Amen.
SERMON "The Call to the Kindom"
PRAYERS OF THE PEOPLE AND THE LORD'S PRAYER
Our Father who art in heaven… (Hymnal p. 35. We say "debts & debtors.")
HYMN #721 "Lord, You Have Come to the Lakeshore" (verses 1, 3, 4) Ribbon
1 Lord, you have come to the lakeshore
looking neither for wealthy nor wise ones;
you only asked me to follow humbly.
Refrain
O Lord, with your eyes you have searched me,
and while smiling have spoken my name;
now my boat's left on the shoreline behind me.
By your side I will seek other seas.
3 You need my hands, full of caring,
through my labors to give others rest
and constant love that keeps on loving. (Refrain)
4 You, who have fished other oceans,
ever longed for by souls who are waiting,
my loving friend, as thus you call me: (Refrain)
INVITATION TO THE OFFERING
OFFERTORY "For the Beauty of the Earth" by John Rutter
You can give online to Covenant by scanning this QR code.
*DOXOLOGY #606 Ribbon
Praise God, from whom all blessings flow;
praise God, all creatures here below;
praise God above, ye heavenly host;
Creator, Christ, and Holy Ghost. Amen.
*Prayer of Dedication Cross
*HYMN #630 "Fairest Lord Jesus" (verses 1-4) Ribbon
1 Fairest Lord Jesus,
Ruler of all nature,
O thou of God to earth come down,
thee will I cherish,
thee will I honor,
thou, my soul's glory, joy, and crown.
2 Fair are the meadows,
fairer still the woodlands,
robed in the blooming garb of spring.
Jesus is fairer;
Jesus is purer,
who makes the woeful heart to sing.
3 Fair is the sunshine,
fairer still the moonlight,
and all the twinkling, starry host.
Jesus shines brighter;
Jesus shines purer,
than all the angels heaven can boast.
4 Beautiful Savior,
Ruler of the nations,
Son of God and Son of Man!
Glory and honor,
praise, adoration,
now and forevermore be thine!
*CHARGE AND BENEDICTION
POSTLUDE Reprise of "Fairest Lord Jesus"
Unless otherwise noted, prayers in this service are reprinted by permission of Westminster John Knox Press from Feasting on the Word® Worship Companion. Copyright 2012.
† From Prayers for an Inclusive Church by Steven Shakespeare. New York: Church Publishing, 2009
Assisting in Worship Today:
Asher Esala–Liturgist
Whitney Dodds–Vocalist
Cherie Brooks – Director of Music & Technology
Katie Wynkoop–Organist/Pianist & Assistant Director of Music
Erin Wise – Director of Children's & Youth Ministries
Brian Biller – Media Production Specialist
Rev. Joel A. Esala–Pastor
Let us get to know you!
Please take a moment to send us your information so that we may stay connected with you. Your information is carefully managed and protected.
How did you hear about us?