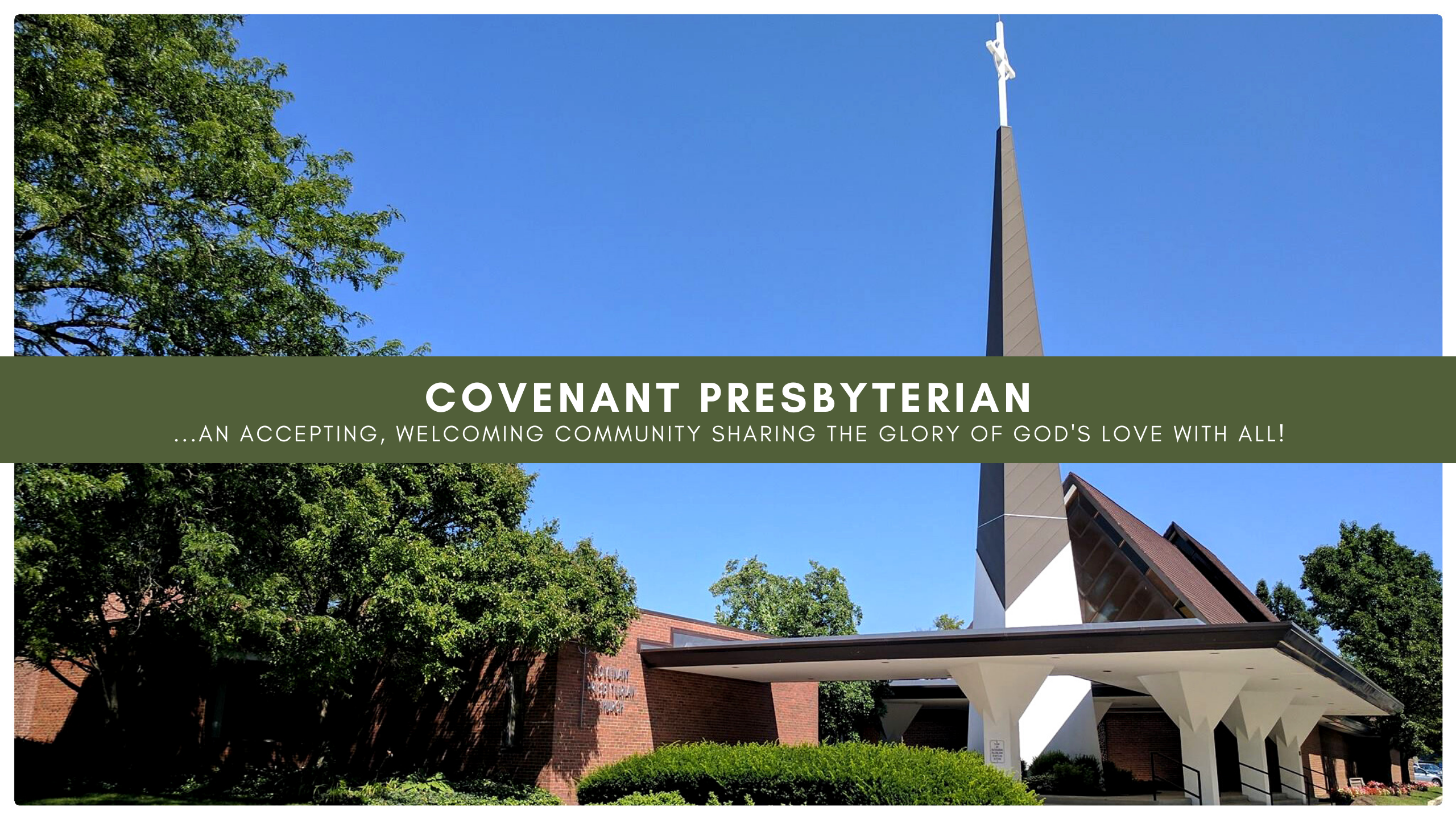 Bulletin - February 12th, 2023
Covenant Presbyterian Church
Sixth Sunday After the Epiphany
Scout Sunday
February 12, 2023 – 10am
Covenant is an accepting, welcoming community sharing the glory of God's love with all.
PRELUDE "I Sing the Mighty Power of God" arr. Forrest
WELCOME AND ANNOUNCEMENTS Candle
CALL TO WORSHIP
Leader: Steady our steps, O God, as we travel the journey set before us.
People: Let us walk in the way of light and pursue the path of peace.
Leader: Keep us on your course of life as we seek to be faithful
People: And as we gather to praise you, our faithful Lord and God.
Leader: Join me now in worship.
*HYMN #410 "God is Calling through the Whisper" (verses 1-3) Ribbon
1 God is calling through the whisper
of the Spirit's deepest sighs,
through the thrill of sudden beauties
that can catch us by surprise.
Flash of lightning, crash of thunder;
hush of stillness, rush of wonder:
God is calling—can you hear?
God is calling—can you hear?
2 God is calling through the voices
of our neighbors' urgent prayers,
through their longing for redemption
and for rescue from despair.
Place of hurt or face of needing;
strident cry or silent pleading:
God is calling—can you hear?
God is calling—can you hear?
3 God is calling through the music
of sublime and human arts,
through the hymns of earth and angels,
and the carols of our hearts.
Lift of joy and gift of singing;
days and nights our praises bringing:
God is calling—and we hear!
God is calling—and we hear!
CALL TO CONFESSION
PRAYER OF CONFESSION
Generous God, we are called to live and serve together as your people. We confess that we have sought to live for ourselves, not reaching out to others and honoring the divine image in all your children.
Forgive us, we pray. In your abundant mercy give us the grace to be your people, confessing our faults, offering forgiveness and working for reconciliation. Turn our hearts to your intentions that we may hold fast to one another and draw near to your presence. In Jesus, we ask it. Amen.
[Silence for personal confession]
WORDS OF FORGIVENESS
HYMN #587 "Alleluia!" Ribbon
Alleluia! Alleluia! Alleluia! Alleluia!
PASSING OF THE PEACE
The peace of the Lord, be with you all. And also with you.
HYMN #188 "Jesus Loves Me"
TALK WITH CHILDREN
PRAYER FOR ILLUMINATION Cross
THE FIRST READING Deuteronomy 30:15-20 (NRSVUE)
The voice of the Lord, powerful and full of majesty. Thanks be to God.
SPECIAL MUSIC "Come, Thou Fount of Every Blessing" by Bish, arr. Thompson
THE GOSPEL READING Matthew 5:17-30 (NRSVUE)
The Gospel of the Lord. Praise to you, O Christ.
PRAYER OF THE DAY †
Living One,
in whose freedom
creation was born as a gift:
free us from the need
to possess, define and silence others
that we might rejoice
in the strangeness of your beauty
revealed in flesh and blood
through Jesus Christ, our reconciliation. Amen.
SERMON "Kindom Speech"
PRAYERS OF THE PEOPLE AND THE LORD'S PRAYER
Our Father who art in heaven… (Hymnal p. 35. We say "debts & debtors.")
HYMN #443 "Just As I am, without One Plea" (verses 1-3) Ribbon
1 Just as I am, without one plea
but that thy blood was shed for me,
and that thou biddest me come to thee,
O Lamb of God, I come; I come!
2 Just as I am, though tossed about
with many a conflict, many a doubt,
fightings and fears within, without,
O Lamb of God, I come; I come!
3 Just as I am, thou wilt receive,
wilt welcome, pardon, cleanse, relieve;
because thy promise I believe,
O Lamb of God, I come; I come!
MINUTE FOR MISSION Habitat for Humanity Doug Teske
INVITATION TO THE OFFERING
You can give online to Covenant by scanning this QR code
OFFERTORY "Open Thou Mine Eyes" by John Rutter
*DOXOLOGY #606 Ribbon
Praise God, from whom all blessings flow;
praise God, all creatures here below;
praise God above, ye heavenly host;
Creator, Christ, and Holy Ghost. Amen.
*Prayer of Dedication Cross
*HYMN #745 "Now Go in Joy" Ribbon
Now go in joy
to spread the Word
till all people have heard:
God embraces all!
Follow, then, the disciples' call:
tend your neighbors with loving care
in daily work and prayer.
God's own grace empower your spirit.
Amen!
*CHARGE AND BENEDICTION
POSTLUDE Reprise of "Now Go in Joy"
Unless otherwise noted, prayers in this service are reprinted by permission of Westminster John Knox Press from Feasting on the Word® Worship Companion. Copyright 2012.
† From Prayers for an Inclusive Church by Steven Shakespeare. New York: Church Publishing, 2009
Assisting in Worship Today:
Anna Mizer–Liturgist
Jason Guthrie–Vocalist
Nancy Davidson–Campanile Bell Choir Director
Cherie Brooks – Director of Music & Technology
Katie Wynkoop–Organist/Pianist & Assistant Director of Music
Erin Wise – Director of Children's & Youth Ministries
Brian Biller – Media Production Specialist
Rev. Joel A. Esala–Pastor