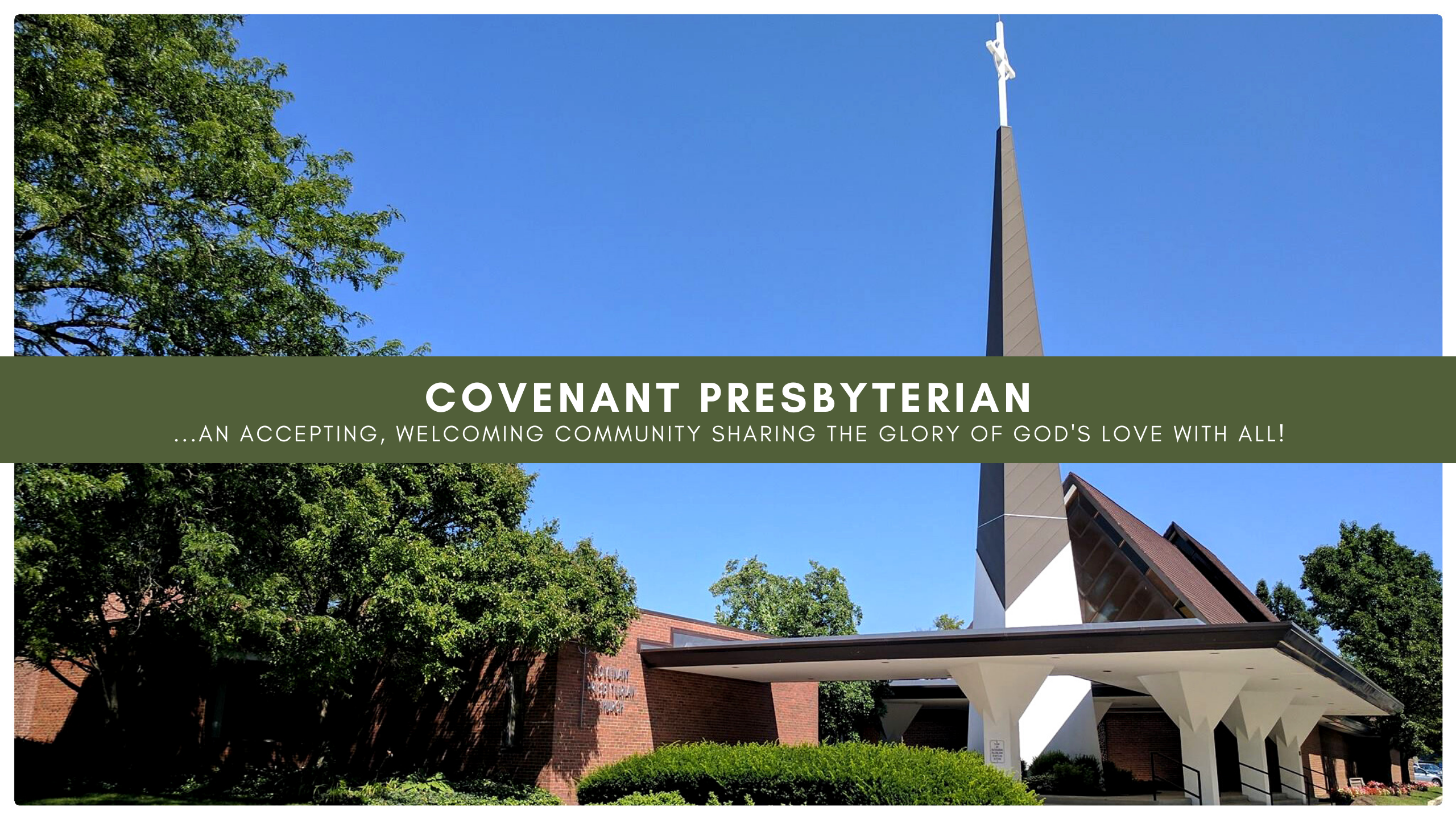 Bulletin - February 19th, 2023
Covenant Presbyterian Church
Transfiguration of the Lord
February 19, 2023 – 10am
Covenant is an accepting, welcoming community sharing the glory of God's love with all.
PRELUDE "Immortal, Invisible God Only Wise" arr. Limbaugh
WELCOME AND ANNOUNCEMENTS Candle
CALL TO WORSHIP
Leader: At the mountain of the Lord bow down,
People: for the Lord our God is holy.
Leader: On a high mountain, Jesus was transfigured,
People: and God said: This is my Beloved Son.
Leader: As God spoke, calling light out of darkness,
People: God's glory shines in the face of Jesus Christ.
Leader: Let us join our voices in worship.
*HYMN #5 "God the Sculptor of the Mountains" (verses 1, 3, 4) Ribbon
1 God the sculptor of the mountains,
God the miller of the sand,
God the jeweler of the heavens,
God the potter of the land:
you are womb of all creation;
we are formless; shape us now.
3 God the dresser of the vineyard,
God the planter of the wheat,
God the reaper of the harvest,
God the source of all we eat:
you are host at every table;
we are hungry; feed us now.
4 God the unexpected infant,
God the calm, determined youth,
God the table-turning prophet,
God the resurrected truth:
you are present every moment;
we are searching; meet us now.
CALL TO CONFESSION
PRAYER OF CONFESSION
God of compassion,
in Jesus Christ you reveal the light of your glory,
but we turn away, distracted by our own plans.
We confess that we speak when we should listen,
and act when we should wait.
Grant us wisdom to live in your light
and to follow in the way of your beloved Son,
Jesus Christ, our Lord and Savior.
[Silence for personal confession]
WORDS OF FORGIVENESS
HYMN #587 "Alleluia!" Ribbon
Alleluia! Alleluia! Alleluia! Alleluia!
PASSING OF THE PEACE
The peace of the Lord, be with you all. And also with you.
HYMN #188 "Jesus Loves Me"
TALK WITH CHILDREN
PRAYER FOR ILLUMINATION Cross
THE FIRST READING Exodus 24:12-18 (NRSVUE)
The voice of the Lord, powerful and full of majesty. Thanks be to God.
THE GOSPEL READING Matthew 17:1-9 (NRSVUE)
The Gospel of the Lord. Praise to you, O Christ.
PRAYER OF THE DAY †
Friend of Moses,
strength of Elijiah,
you go with your people
and give them your Spirit:
may the Child of your heart
transfigure the mortal world
that love may know no bounds;
through Jesus Christ, the beloved one.
Amen.
SERMON "Here Comes the Sun."
PRAYERS OF THE PEOPLE AND THE LORD'S PRAYER
Our Father who art in heaven… (Hymnal p. 35. We say "debts & debtors.")
HYMN #274 "You, Lord, Are Both Lamb and Shepherd" (verses 1-4) Ribbon
1 You, Lord, are both Lamb and Shepherd.
You, Lord, are both prince and slave.
You, peace-maker and sword-bringer
of the way you took and gave.
You, the everlasting instant;
you, whom we both scorn and crave.
2 Clothed in light upon the mountain,
stripped of might upon the cross,
shining in eternal glory,
beggared by a soldier's toss,
you, the everlasting instant;
you who are both gift and cost.
3 You, who walk each day beside us,
sit in power at God's side.
You, who preach a way that's narrow,
have a love that reaches wide.
You, the everlasting instant;
you, who are our pilgrim guide.
4 Worthy is our earthly Jesus!
Worthy is our cosmic Christ!
Worthy your defeat and victory;
worthy still your peace and strife.
You, the everlasting instant;
you, who are our death and life.
MINUTE FOR MISSION Raise the Harvest Home Update Lind Pratt
INVITATION TO THE OFFERING
You can give online to Covenant by scanning this QR code
OFFERTORY "Use Me Lord" by Sheldon Curry
*DOXOLOGY #606 Ribbon
Praise God, from whom all blessings flow;
praise God, all creatures here below;
praise God above, ye heavenly host;
Creator, Christ, and Holy Ghost. Amen.
*Prayer of Dedication Cross
*HYMN #192 "Shine, Jesus, Shine" (verses 1-3) Ribbon
1 Lord, the light of your love is shining,
in the midst of the darkness, shining;
Jesus, Light of the World, shine upon us;
set us free by the truth you now bring us.
Shine on me; shine on me.
Refrain
Shine, Jesus, shine;
fill this land with the Father's glory.
Blaze, Spirit, blaze;
set our hearts on fire.
Flow, river, flow;
flood the nations with grace and mercy.
Send forth your word, Lord,
and let there be light.
2 Lord, I come to your awesome presence,
from the shadows into your radiance;
by the blood I may enter your brightness.
Search me; try me; consume all my darkness.
Shine on me; shine on me. (Refrain)
3 As we gaze on your kingly brightness,
so our faces display your likeness;
ever changing from glory to glory,
mirrored here may our lives tell your story.
Shine on me; shine on me. (Refrain)
*CHARGE AND BENEDICTION
POSTLUDE Reprise of "Shine, Jesus, Shine"
Unless otherwise noted, prayers in this service are reprinted by permission of Westminster John Knox Press from Feasting on the Word® Worship Companion. Copyright 2012.
† From Prayers for an Inclusive Church by Steven Shakespeare. New York: Church Publishing, 2009
Assisting in Worship Today:
Jared McCune–Liturgist
Whitney Dodds–Vocalist
Cherie Brooks – Director of Music & Technology
Katie Wynkoop–Organist/Pianist & Assistant Director of Music
Erin Wise – Director of Children's & Youth Ministries
Brian Biller – Media Production Specialist
Rev. Joel A. Esala–Pastor
Let us get to know you!
Please take a moment to send us your information so that we may stay connected with you. Your information is carefully managed and protected.
How did you hear about us?