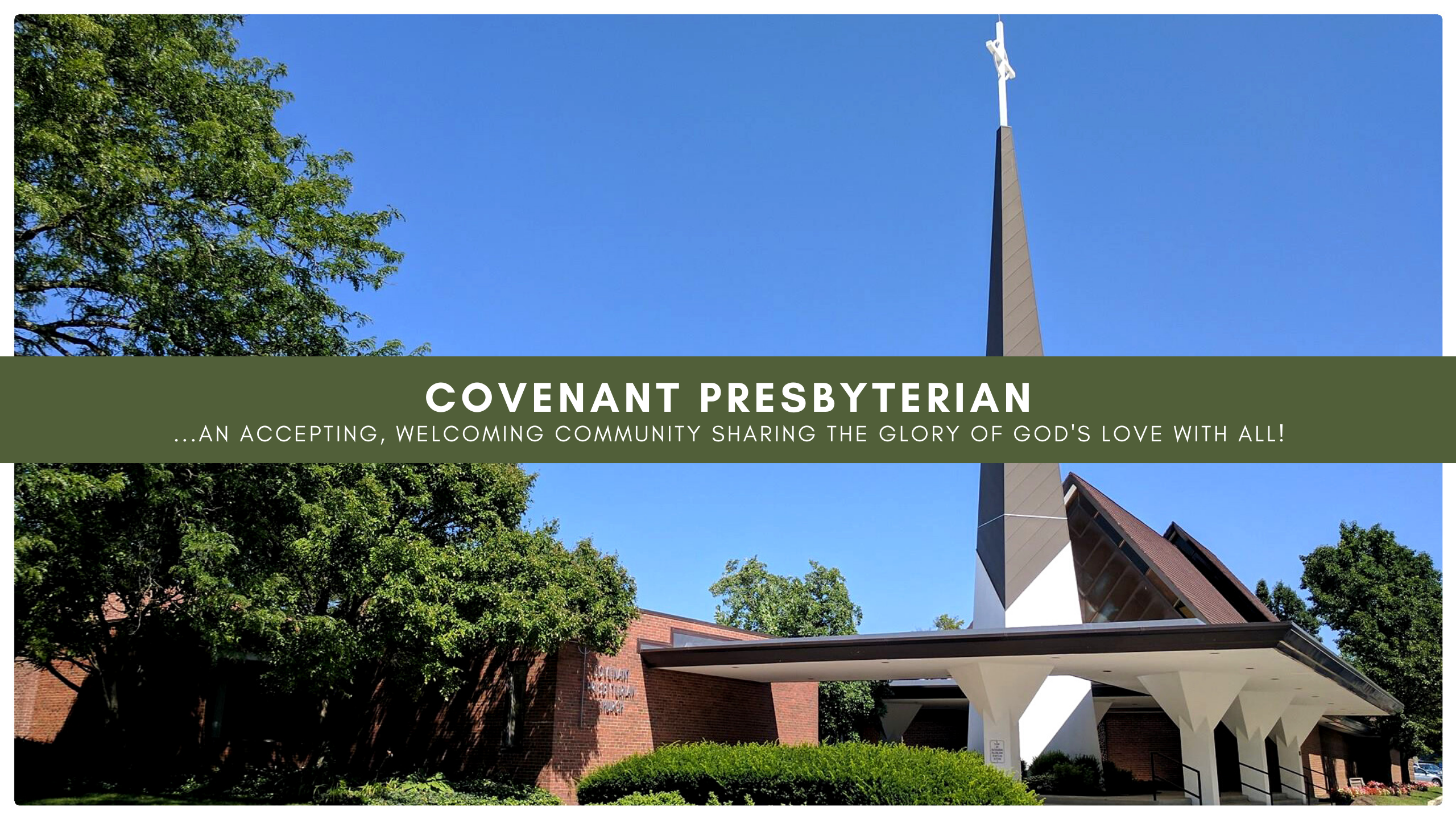 Bulletin - February 26th, 2023
Covenant Presbyterian Church
First Sunday in Lent
February 26, 2023 – 10am
Covenant is an accepting, welcoming community sharing the glory of God's love with all.
PRELUDE "O Love That Will Not Let Me Go" arr. Rouse
WELCOME AND ANNOUNCEMENTS Candle
CALL TO WORSHIP
Leader: Listen!
People: There is hope to be found here.
Leader: Listen!
People: God calls you by name here.
Leader: Listen!
People: There is love that abides here.
Leader: This world is full of chatter, so may we do our best to listen.
People: God is speaking.
Leader: Let us worship.
*HYMN #166 "Lord, Who throughout These Forty Days" (verses 1-4) Ribbon
1 Lord, who throughout these forty days
for us did fast and pray,
teach us with you to mourn our sins
and close by you to stay.
2 As you with Satan did contend
and did the victory win,
O give us strength to persevere,
in you to conquer sin.
3 And through these days of penitence,
and through this Passiontide,
yes, evermore, in life and death,
O Lord, with us abide.
4 Abide with us, till when this life
of suffering shall be past,
an Easter of unending joy
we may attain at last.
CALL TO CONFESSION
PRAYER OF CONFESSION
Holy God,
Too often we treat your Word like a radio station—something we can tune in and out of when it's convenient. Our minds are full of ads, emails, news updates, and notifications. In the midst of this clutter, we tend to gravitate toward the voices that think like us—easily ignoring the voices being silenced, easily ignoring your voice. Forgive us for failing to listen. Forgive us for getting caught in distractions. Forgive us for forgetting what your voice sounds like. Drain the distractions from our minds and help us turn once again toward you. With earnest hearts we pray, amen.
WORDS OF FORGIVENESS
I am loved!
I am loved!
I am held in grace!
I am held in grace!
I belong to God.
I belong to God.
Amen.
HYMN #581 "Glory Be to the Father" Ribbon
Glory be to the Father,
and to the Son,
and to the Holy Ghost;
as it was in the beginning,
is now, and ever shall be,
world without end.
Amen, amen.
PASSING OF THE PEACE
The peace of the Lord, be with you all. And also with you.
HYMN #188 "Jesus Loves Me"
TALK WITH CHILDREN
PRAYER FOR ILLUMINATION Cross
THE FIRST READING Genesis 2:15-17; 3:1-7 (NRSVUE)
We live not by bread alone, but by every word that comes from God. Thanks be to God.
THE GOSPEL READING Matthew 4:1-11 (NRSVUE)
The Gospel of the Lord. Praise to you, O Christ.
PRAYER OF THE DAY †
Spirit of the desert,
you drove Jesus
to the edge of the world
to find his truth and calling:
scour our hearts
and awaken our hunger
that freed from empty clinging
we might find ourselves in you;
through Jesus Christ, the Lord of the wilds.
Amen.
SERMON "Seeking: Who Will You Listen To?"
PRAYERS OF THE PEOPLE AND THE LORD'S PRAYER
Our Father who art in heaven… (Hymnal p. 35. We say "debts & debtors.")
SPECIAL MUSIC "Land of the Seeking"
MINUTE FOR MISSION Welcoming and Inclusion Taskforce
INVITATION TO THE OFFERING
You can give online to Covenant by scanning this QR code
OFFERTORY "I Surrender All" arr. Hayes
*DOXOLOGY #606 Ribbon
Praise God, from whom all blessings flow;
praise God, all creatures here below;
praise God above, ye heavenly host;
Creator, Christ, and Holy Ghost. Amen.
*Prayer of Dedication Cross
*HYMN "Who Will You Listen To?" (verses 1-3) Ribbon
1 The voices from the past
That echo through our minds
Like noisy ghosts haunt and harass
With words unkind
Who will we listen to?
Lies that bind and abase?
Or God who counters words untrue
With words of grace?
2 Society demands
We always strive for more
Accumulating wealth and land
And leave the poor
Who will we listen to?
The tempter's jealousy?
Or God's provision and pursuit
Of equity?
3 A rushing flood of hate
In news we often see
Conceals God's kingdom in a great
Cacophony
Who will we listen to?
The chaos all around?
Or God's dream of a world made new
Where love abounds?
*CHARGE AND BENEDICTION
POSTLUDE Reprise of "Who Will You Listen To?"
Unless otherwise noted, prayers by Rev. Sarah A. Speed | A Sanctified Art LLC | sanctifiedart.org
† From Prayers for an Inclusive Church by Steven Shakespeare. New York: Church Publishing, 2009
Assisting in Worship Today:
Adrienne Wise–Liturgist
Whitney Dodds–Vocalist
Cherie Brooks – Director of Music & Technology
Katie Wynkoop–Organist/Pianist & Assistant Director of Music
Erin Wise – Director of Children's & Youth Ministries
Brian Biller – Media Production Specialist
Rev. Joel A. Esala–Pastor
"Tune In"
by Lisle Gwynn Garrity
Inspired by Matthew 4:1-11
Silk painting with digital drawing and collage
Let us get to know you!
Please take a moment to send us your information so that we may stay connected with you. Your information is carefully managed and protected.
How did you hear about us?