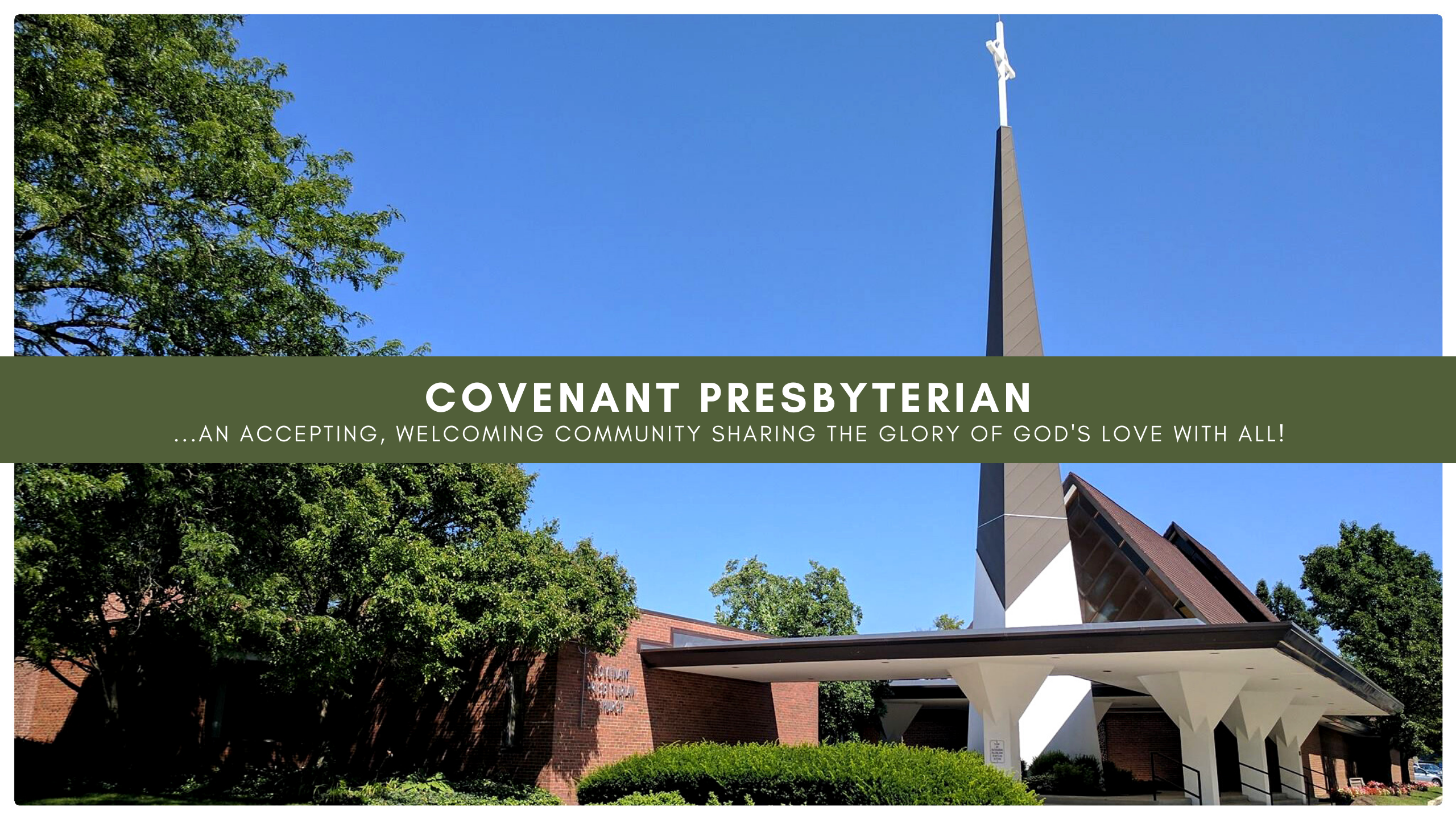 Bulletin - March 5th, 2023
Covenant Presbyterian Church
First Sunday in Lent
March 5, 2023 – 10am
Covenant is an accepting, welcoming community sharing the glory of God's love with all.
PRELUDE "Here is Love, Vast as the Ocean" arr. McKibben
WELCOME AND ANNOUNCEMENTS Candle
CALL TO WORSHIP
Leader: What is it like to begin again?
People: It is like flowers in the spring that push through frozen ground.
It is like babies learning to walk, one clumsy step at a time.
It is like Nicodemus in the night, asking Jesus for guidance.
It is like a Sunday morning, starting our week anew.
Leader: May we find God in our seeking.
People: May we learn as we go.
Leader: May we be brave enough to begin again.
People: Let us worship the God of new beginnings.
*HYMN #3 "Womb of Life and Source of Being" (verses 1-4) Ribbon
1 Womb of life and source of being,
home of every restless heart,
in your arms the worlds awakened;
you have loved us from the start.
We, your children, gather 'round you,
at the table you prepare.
Sharing stories, tears, and laughter,
we are nurtured by your care.
2 Word in flesh, our brother Jesus,
born to bring us second birth,
you have come to stand beside us,
knowing weakness, knowing earth.
Priest who shares our human struggles,
Life of Life and Death of Death,
risen Christ, come stand among us,
send the Spirit by your breath.
3 Brooding Spirit, move among us;
be our partner, be our friend.
When our memory fails, remind us
whose we are, what we intend.
Labor with us; aid the birthing
of the new world yet to be,
free of servant, lord, and master,
free for love and unity.
4 Mother, Brother, holy Partner;
Father, Spirit, Only Son:
we would praise your name forever,
one-in-three and three-in-one.
We would share your life, your passion,
share your word of world made new,
ever singing, ever praising,
one with all, and one with you.
CALL TO CONFESSION
PRAYER OF CONFESSION
God of new life, you call us into unknown places,
and we bury our heads in the sand.
You promise all the stars in the sky,
and we doubt it can be true.
You speak of new life in the Spirit,
and we tell ourselves we've missed our chance.
Over and over and over again, you invite us closer to you.
Show us the way. Forgive our mistakes. Give us the courage to begin again with you. Amen.
WORDS OF FORGIVENESS
We belong to God. We are held in God's love. We are made new. Amen.
HYMN #581 "Glory Be to the Father" Ribbon
Glory be to the Father,
and to the Son,
and to the Holy Ghost;
as it was in the beginning,
is now, and ever shall be,
world without end.
Amen, amen.
PASSING OF THE PEACE
The peace of the Lord, be with you all. And also with you.
SPECIAL MUSIC "When I Survey the Wondrous Cross" arr. Dobrinski
HYMN #188 "Jesus Loves Me"
TALK WITH CHILDREN
PRAYER FOR ILLUMINATION Cross
THE FIRST READING Genesis 12:1-4a (NRSVUE)
We live not by bread alone, but by every word that comes from God. Thanks be to God.
THE GOSPEL READING John 3:1-17 (NRSVUE)
The Gospel of the Lord. Praise to you, O Christ.
PRAYER OF THE DAY †
Holy God,
whose wild Spirit's breath
defies our frozen idols:
take the night time of our fear
and make it a welcoming womb
for us and all the world;
through Jesus Christ, in whom we are born anew.
Amen.
SERMON "Seeking: How Do We Begin Again?"
INVITATION TO THE OFFERING
You can give online to Covenant by scanning this QR code or
Text "Donate123" to 1-888-364-GIVE (4483).
OFFERTORY "All Things New" by Hagenberg
*DOXOLOGY #606 Ribbon
Praise God, from whom all blessings flow;
praise God, all creatures here below;
praise God above, ye heavenly host;
Creator, Christ, and Holy Ghost. Amen.
*Prayer of Dedication Cross
THE LORD'S SUPPER–See the back page of the hymnal
At Covenant, we believe the Lord's Supper is for everyone. From newborns to our most mature, all are welcome at this table. The Presbyterian Church teaches, "The opportunity to eat and drink with Christ is not a right bestowed upon the worthy, but a privilege given to the undeserving who come in faith, repentance, and love. All who come to the table are offered the bread and cup, regardless of their age or understanding" (Book of Order, W-3.049).
MUSIC DURING DISTRIBUTION "Come to the Table of the Lord" by Althouse
*HYMN "Begin Again" (verses 1-3) Ribbon
1 In the deep night of the soul
Rich in questions, yearning for
Life that matters far beyond
Picket fences and front lawns
When we tire of life mundane
We can still begin again
2 In the sunset of our life
After years of joy and strife
As we ponder legacy
Wondering what we will leave
When the lights are growing dim
We can still begin again
3 Every morning, every hour
Spirit gifts us with the power
To begin our life anew
What then will we choose to do?
Close a chapter, lift the pen
To once more begin again
*CHARGE AND BENEDICTION
POSTLUDE Reprise of "Begin Again"
Unless otherwise noted, prayers by Rev. Sarah A. Speed | A Sanctified Art LLC | sanctifiedart.org
† From Prayers for an Inclusive Church by Steven Shakespeare. New York: Church Publishing, 2009
Assisting in Worship Today:
Linda Gabel–Liturgist
Brian Gray–Vocalist
Nancy Davidson–Campanile Bell Choir Director
Cherie Brooks – Director of Music & Technology
Katie Wynkoop–Organist/Pianist & Assistant Director of Music
Erin Wise – Director of Children's & Youth Ministries
Brian Biller – Media Production Specialist
Rev. Joel A. Esala–Pastor
"Renacimiento"
by Carmelle Beaugelin
Inspired by John 3:1-17
Conté crayon, charcoal, acrylic, gold gild on paper
Let us get to know you!
Please take a moment to send us your information so that we may stay connected with you. Your information is carefully managed and protected.
How did you hear about us?