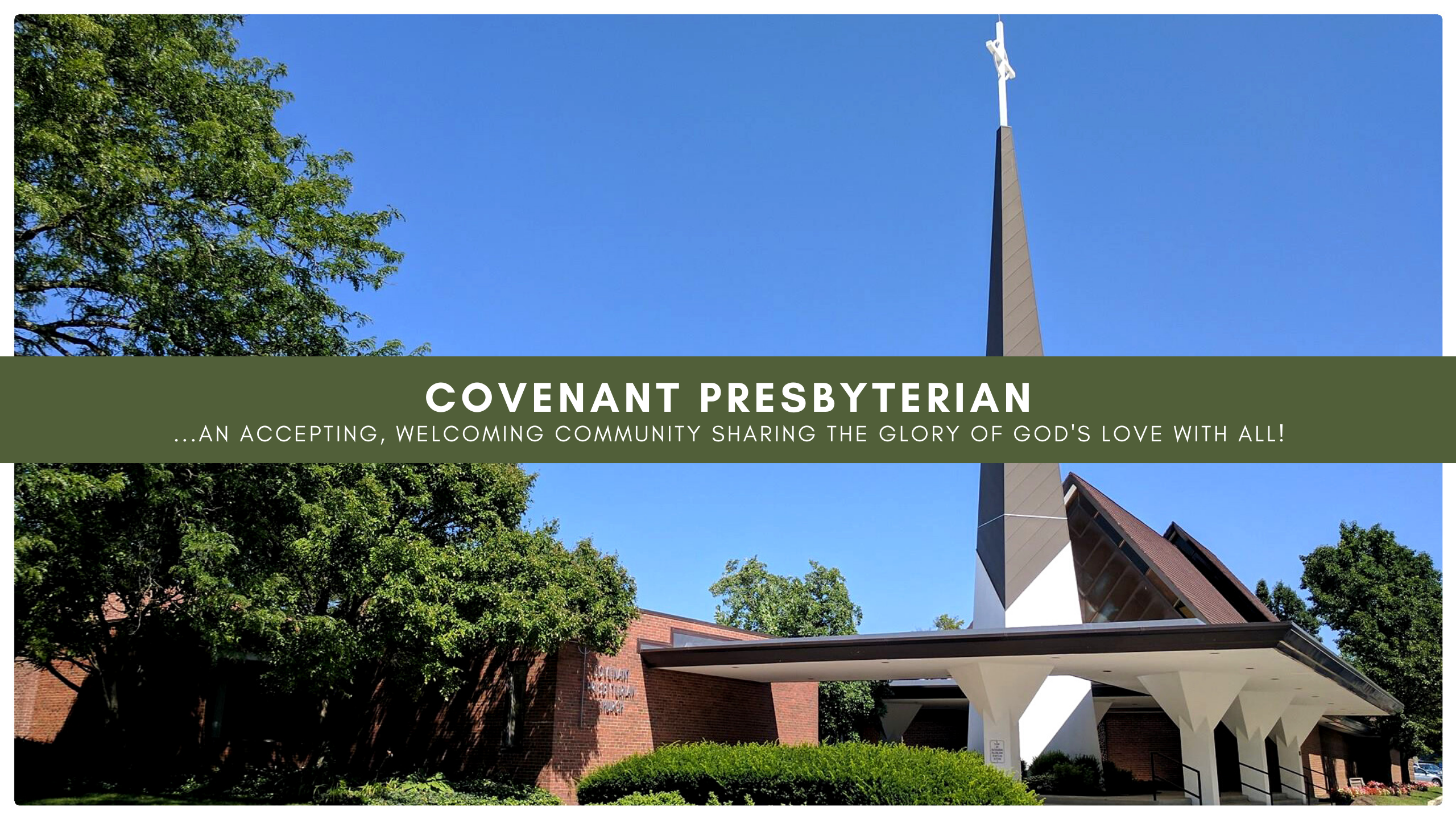 Bulletin - March 12th, 2023
Covenant Presbyterian Church
Third Sunday in Lent
March 12, 2023 – 10am
Covenant is an accepting, welcoming community sharing the glory of God's love with all.
PRELUDE "Make Them Hear You" by Ahrens and Flaherty, arr. DelMonte
WELCOME AND ANNOUNCEMENTS Candle
CALL TO WORSHIP
Leader: We gather together—
People: the seekers, the dreamers, the shooting-star wishers, in hopes of seeing God.
Leader: We gather together—
People: the curious, the hungry, the loving, the lonely, in hopes of finding peace.
Leader: We gather together—
People: those who are thirsty and those with water to spare, in hopes of finding justice.
Leader: So come to the well, come, let us worship God. Amen.
*HYMN #479 "Come Now to the Water" (verses 1-3) Ribbon
Refrain:
Ho, all who thirst,
come now to the water,
and all whose souls are parched
and weary, come and drink!
Ho, all who thirst,
come now to the water,
and from your heart will flow
a never-failing spring!
1 Why forsake the Lord,
the fount of living water,
choosing broken cups
that cannot be filled? (Refrain)
2 For the Lamb will be
our shepherd and will guide us
to the wellsprings of
the water of life. (Refrain)
3 All who come may take
this gift of living water.
They will thirst no more,
for they shall be filled. (Refrain)
CALL TO CONFESSION
PRAYER OF CONFESSION Cross
Holy God, we have been on every side of this story. We have been the one who is thirsty and in need of compassion, and we have been the one with a bucket and a deep well. So today we wonder: how often have we missed the opportunity to share water with our neighbors? How often have we forgotten that we have a bucket and the power to bring change? How often have we simply decided that justice and compassion were not worth the work? Forgive our fragile hearts and remind us that it was you who sat at that well in Samaria in the heat of the day. It was you. It is still you. With hope we pray, amen.
WORDS OF FORGIVENESS
This is the good news of the gospel:
God's grace is deeper than any well. We are seen, loved, and forgiven. May this realization change and inspire us. Amen.
HYMN #581 "Glory Be to the Father" Ribbon
Glory be to the Father,
and to the Son,
and to the Holy Ghost;
as it was in the beginning,
is now, and ever shall be,
world without end.
Amen, amen.
PASSING OF THE PEACE
The peace of the Lord, be with you all. And also with you.
HYMN #188 "Jesus Loves Me"
TALK WITH CHILDREN
SPECIAL MUSIC "Stars I Shall Find" by Johnson
PRAYER FOR ILLUMINATION
THE GOSPEL READING John 4:3-29, 39-42 (NRSVUE)
The Gospel of the Lord. Praise to you, O Christ.
PRAYER OF THE DAY † Cross
Lord of the wellspring,
source of life and truth:
Jesus asked for water
from the hands of a woman
in the land of the stranger;
may he teach us to name our need,
to love our neighbor
and to worship you
in spirit and truth,
through Jesus Christ, who shows us who we are.
Amen.
SERMON "Seeking: Will You Give Me a Drink?" Notebook
PRAYERS OF THE PEOPLE AND THE LORD'S PRAYER
Our Father who art in heaven… (Hymnal p. 35. We say "debts & debtors.")
SPECIAL MUSIC "Amazing Grace" arr. Courtney
INVITATION TO THE OFFERING
You can give online to Covenant by scanning this QR code or
Text "Donate123" to 1-888-364-GIVE (4483).
OFFERTORY "By Our Love" by Christy Nockels, arr. McDonald
*DOXOLOGY #606 Ribbon
Praise God, from whom all blessings flow;
praise God, all creatures here below;
praise God above, ye heavenly host;
Creator, Christ, and Holy Ghost. Amen.
*Prayer of Dedication Cross
*HYMN 493 "Now There is No Male or Female" (verses 1-3) Ribbon
1 Now there is no male or female;
now there is no free or slave;
now there is no Jew or Gentile
in the earth Christ died to save.
Christ has set us free for freedom:
we no more sing slavery's creed;
old submissions cannot claim us;
Christ has set us free indeed.
2 Crucified with Christ the Savior,
baptized in his holy death,
and as Christ was raised to glory
we have new life on this earth.
Power of water and God's naming,
turning us from dark to light,
joins us to those who, before us,
ran the race and fought the fight.
3 Death has no dominion o'er him,
so for us death holds no power;
life's own waters now have marked us,
born to God this very hour.
From this moment and forever
dead to sin, alive in Christ,
born of water and the Spirit,
now in Christ we find our life.
*CHARGE AND BENEDICTION
POSTLUDE Reprise of "Now There is No Male or Female"
Unless otherwise noted, prayers by Rev. Sarah A. Speed | A Sanctified Art LLC | sanctifiedart.org
† From Prayers for an Inclusive Church by Steven Shakespeare. New York: Church Publishing, 2009
Assisting in Worship Today:
Rusty Miller – Liturgist
Whitney Dodds – Vocalist
Zac DelMonte - Director of Illuminati
Illuminati, The Sacred Music Ensemble of the Columbus Gay Men's Chorus
Cherie Brooks – Director of Music & Technology
Katie Wynkoop–Organist/Pianist & Assistant Director of Music
Erin Wise – Director of Children's & Youth Ministries
Brian Biller – Media Production Specialist
Rev. Joel A. Esala–Pastor
"Living Water"
by Lauren Wright Pittman
Inspired by John 4:5-42
Digital painting
Let us get to know you!
Please take a moment to send us your information so that we may stay connected with you. Your information is carefully managed and protected.
How did you hear about us?