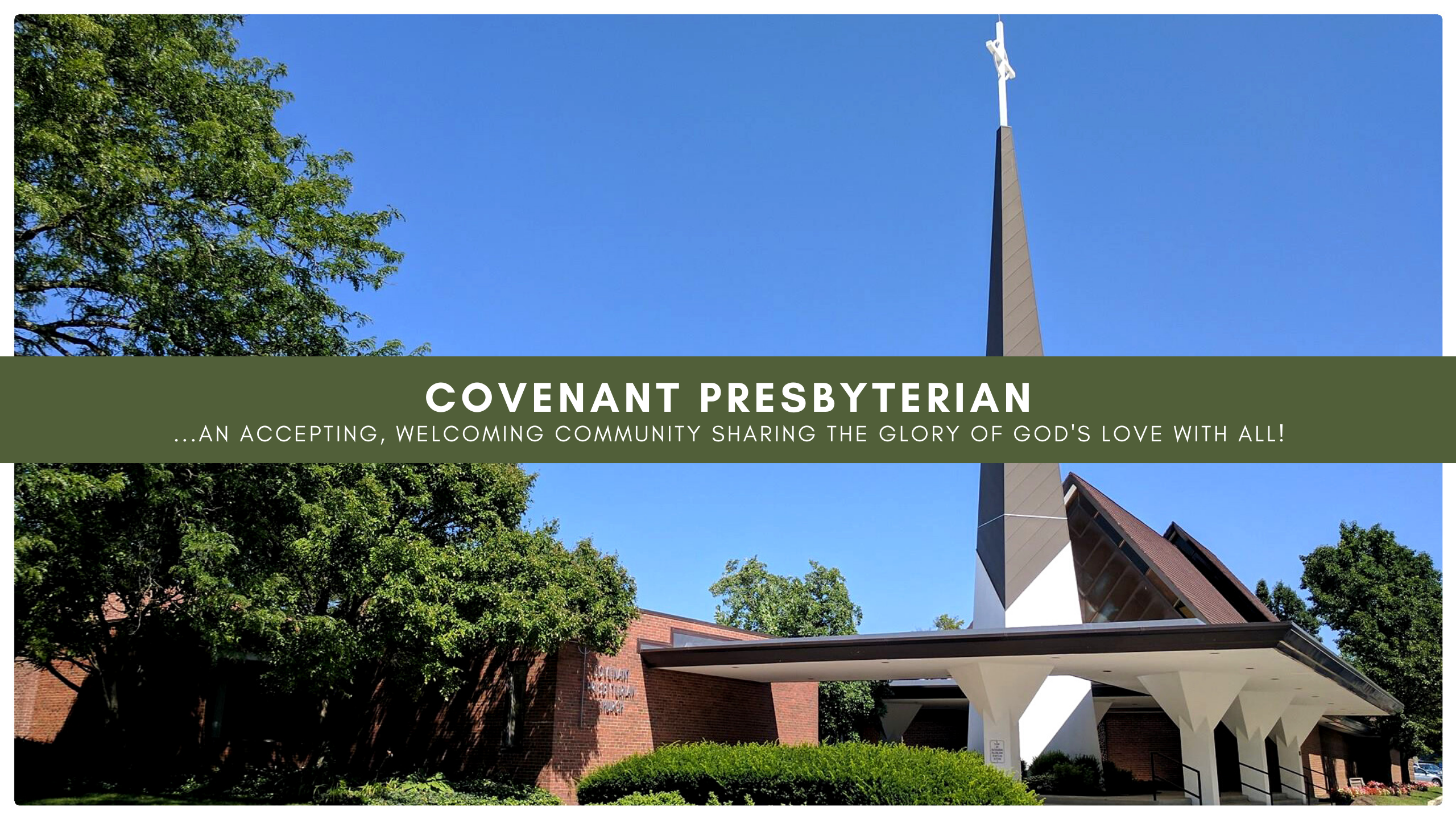 Bulletin - March 26th, 2023
Covenant Presbyterian Church
Fifth Sunday in Lent
March 26, 2023 – 10am
Covenant is an accepting, welcoming community sharing the glory of God's love with all.
PRELUDE "Beneath the Cross of Jesus" arr. Linker
WELCOME AND ANNOUNCEMENTS Candle
CALL TO WORSHIP
Leader: Have you ever felt washed up, brittle, worn-down to the bone?
People: Have you ever felt grief lay heavy on your back?
Leader: Have you ever felt like hope was out of reach?
People: Have you ever wondered, can these bones live?
Leader: If you have, then you are in the right place, for this is God's house. Hope lives here.
People: So, come. Rest your weary bones.
Leader: Let us worship Holy God.
*HYMN #250 "In the Bulb There is a Flower" (verses 1-3) Ribbon
1 In the bulb there is a flower;
in the seed, an apple tree;
in cocoons, a hidden promise:
butterflies will soon be free!
In the cold and snow of winter
there's a spring that waits to be,
unrevealed until its season,
something God alone can see.
2 There's a song in every silence,
seeking word and melody;
there's a dawn in every darkness,
bringing hope to you and me.
From the past will come the future;
what it holds, a mystery,
unrevealed until its season,
something God alone can see.
3 In our end is our beginning;
in our time, infinity;
in our doubt there is believing;
in our life, eternity.
In our death, a resurrection;
at the last, a victory,
unrevealed until its season,
something God alone can see.
CALL TO CONFESSION
PRAYER OF CONFESSION
Jesus of Nazareth,
I confess: I forget that you know this feeling.
I forget that you, too, have wept.
I forget that you, too, have lost.
I forget that you, too, have gathered at the tomb,
have grieved for a friend, have felt the sting of humanity.
Forgive me for all the times I place blame on you.
Forgive me for all the times I create distance, imagining that you could never feel what I feel. Forgive me for allowing the valley of dry bones to be a sea of space between us.
Pour yourself into the cracks in my heart. Bring these bones back to life. Bring me closer to you. With gratitude I pray, amen.
WORDS OF FORGIVENESS
Friends, you could spend your whole life ignoring God,
pushing God away, or trying to solve the world's problems all on your own, and God would still love you all the same.
Even in our shortcomings, we are God's beloved.
So hear and believe this good news:
We are saved by grace through faith. We belong to God. We are not alone.
HYMN #581 "Glory Be to the Father" Ribbon
Glory be to the Father,
and to the Son,
and to the Holy Ghost;
as it was in the beginning,
is now, and ever shall be,
world without end.
Amen, amen.
PASSING OF THE PEACE
The peace of the Lord, be with you all. And also with you.
HYMN #188 "Jesus Loves Me"
TALK WITH CHILDREN
PRAYER FOR ILLUMINATION Cross
THE SCRIPTURE READING Ezekiel 37:1-14 (NRSVUE)
We live not by bread alone, but by every word that comes from God. Thanks be to God.
SERMON "Seeking: Can These Bones Live?" Mr. Bruce Miller
PRAYERS OF THE PEOPLE AND THE LORD'S PRAYER
Our Father who art in heaven… (Hymnal p. 35. We say "debts & debtors.")
SPECIAL MUSIC "Land of the Seeking"
MINUTE FOR MISSION One Great Hour of Sharing Beth Askue
INVITATION TO THE OFFERING
You can give online to Covenant by scanning this QR code or
Text "Donate123" to 1-888-364-GIVE (4483).
OFFERTORY "Ask" arr. by Sorenson
*DOXOLOGY #606 Ribbon
Praise God, from whom all blessings flow;
praise God, all creatures here below;
praise God above, ye heavenly host;
Creator, Christ, and Holy Ghost. Amen.
*Prayer of Dedication-Sam Sparks Cross
*HYMN #53 "O God Who Gives Us Life and Death" (verses 1-3) Ribbon
1 O God, who gives us life and breath,
who shapes us in the womb,
who guards our lives from birth to death,
then leads us from the tomb:
deliver us from fears that kill
the life we have from you.
Help us to know your Spirit still
is making all things new.
2 O God, who calls your people out
to venture and to dare,
to plumb the bleak abyss of doubt
and find you even there:
when we despair in wandering
through wastes of empty lies,
refresh us with the living spring
of hope that never dies.
3 O God of covenant and law,
revealed in cloud and flame,
your mighty deeds evoke our awe;
we dare not speak your name.
Yet we by faith are drawn to you
and will your people prove,
as on our hearts you write anew
the covenant of love.
*CHARGE AND BENEDICTION
POSTLUDE Reprise of "O God Who Gives Us Life and Death"
Unless otherwise noted, prayers by Rev. Sarah A. Speed | A Sanctified Art LLC | sanctifiedart.org
† From Prayers for an Inclusive Church by Steven Shakespeare. New York: Church Publishing, 2009
Assisting in Worship Today:
John Harder–Liturgist
Jason Guthrie–Vocalist
Sam Sparks–Prayer of Dedication
Bruce Miller–Guest Preacher
Cherie Brooks – Director of Music & Technology
Katie Wynkoop–Organist/Pianist & Assistant Director of Music
Erin Wise – Director of Children's & Youth Ministries
Brian Biller – Media Production Specialist
Rev. Joel A. Esala–Pastor
"Rubble"
by Carmelle Beaugelin
Inspired by Ezekiel 37:1-14
Conté crayon, charcoal, acrylic, paprika paste, cinnamon
Let us get to know you!
Please take a moment to send us your information so that we may stay connected with you. Your information is carefully managed and protected.
How did you hear about us?