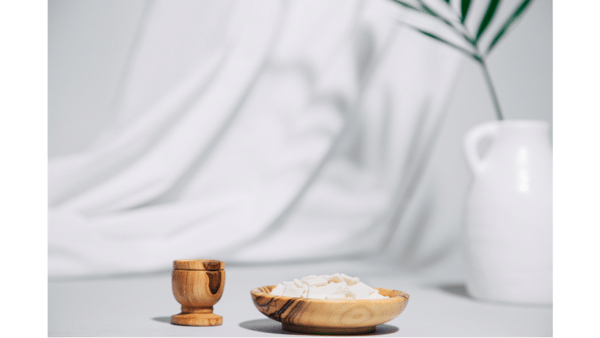 Good News Letter
Cuba First Baptist Church 17 South Street Cuba, New York 14727 585-968-1531
Pastor's Ponderings - April 2021
It has been a long journey through Lent, and now we prepare our hearts for Easter Sunday - the celebration of the resurrection of our Lord Jesus Christ! It comes early this month, April 4th! But did you know that we "officially" celebrate Easter all the way through to Pentecost Sunday, which this year is May 23rd? That is a lot to celebrate!
And actually, we should celebrate Easter every day of the year. Why? Because we are a Resurrection People! Our faith in Christ assures us that we too will be resurrected to eternal life!
I have been thinking more about this lately, perhaps because I am becoming "a certain age." Or maybe it is because we continually hear the increasing numbers of people who have lost their lives to the COVID pandemic. In times like these it is natural to think more about our mortality and wonder what it will be like to pass from life to death to eternal life. Of course, we will not have answers for many of our questions surrounding death, but we will have peace! How do I know this?
Just recently I learned of the death of a long-time friend's daughter who was not much older than my own daughter. As I visited my friend and her daughter's Facebook pages to offer condolences and pay tribute, I was so struck by the overwhelming number of people lifting up praise for God's peace in the midst of sorrow. Oh yes, there were many, many posts of the meaningful gifts this dear one brought to those who knew her, and of the vital part she played in their lives. But the peace referred to was not because of the good things this generous daughter had brought to the world nor due to a life well lived. The peace experienced is that of what God alone has done for us through the raising of his Son. Because of Jesus, we are at peace with God. Today. Every day. We have God's perfect peace.
"Peace I leave with you;" says Jesus, "my peace I give to you. I do not give to you as the world gives. Do not let your hearts be troubled, and do not let them be afraid." (John 14:27)
Christ has risen! We are People of the Resurrection. We too shall rise. Hallelujah, what a Savior!
May all of God's blessings be yours as you celebrate Easter. Every Day!
In Christ's Love,
Pastor Lynn
Musings of a Church Mouse
Well, here I am again, the pen on the paper instead of the "mouse in the house".
I continue to live in the church, but it's been awhile since I felt "normal". I wonder if our ancestors ever experienced times like these? While I was thinking about that, and doing a little cleaning, I found a book! It's called "A Century of Service" and it's all about our church! It covers the years of 1834-1934. Now, I'm guessing not too many of you were around then, and of course I wasn't, but I got to thinking that you might like to hear something from that book.
There is a lot in the book about the history of Cuba First Baptist and who did what. I think some of you may recognize some of the names as relatives of current family. Names like Enos, Edwards, Hunt, Malcolmson, Childs, Keenan, Guildford, Keenan and Hopkins come up frequently as the church celebrated the 100th year of existence.
I really had to smile at this one. Back in the beginning days, the people took the Sunday worship quite seriously. Each Sunday, the hours of 10am -4pm were designated as "church". The first two hours were for a worship service, including a sermon that generally ran well over an hour. At noon, everyone ate the lunch that they brought with them, then it was time for Sunday School. By 2pm, it was time for another worship service, including another hour-long sermon. At about 4pm, everyone went home (most had chores to attend to) but for those in the village…there was an evening prayer service. Now, I'm not sure…but I'm thinking our church family (as much as they love the church), might have something to say about those Sundays in our culture.
As time goes by, I'll share a little more with you from the book. I'm still reading (I'm a slow reader) but the parts about the organ and Sunday School are my favorites so far.
As for our church today, Pastor Lynn is in the office several hours a day, Monday through Thursday. My friend, Melissa comes every afternoon to do the bulletin and other things that come up. The Ladies are busy in the Rummage rooms several days too. They have to quarantine everything that comes in and people are not allowed to just "drop off" things. They have to make an appointment. Actually that's a pretty good idea…it allows the women to keep the amount waiting to be sorted to a manageable level. Bev comes to clean two mornings a week. She's doing a great job at keeping the church ship shape – ready for all to come back.
The Red Cross still uses the Fellowship Hall for the blood drive. That's so important and I'm really glad that our church allows them to use the facility. Not much activity other than those things, but occasionally somebody stops in. That usually surprises me and I run and hide. Don't need to be startling anybody!
Even though we can't be together yet, I look forward to seeing you all. Know that I care about each of you – even those who generally say "ew" when they see a mouse.
I'm really very harmless and very well meaning. I'm also extremely grateful for my home. I can't thank you enough for allowing me to live here.
I'm hearing that maybe pretty soon, we can be together if we're careful. I have a tiny mask that I keep handy….just in case. Until that time – remember that I love you all, and that your family loves you too.
Your ever so humble …Church Mouse
Announcements
· The Diaconate asks that you prayerfully consider donating to the Easter Offering Fund. All the donations are used by the Diaconate to fund church activities. Some of these include: The Secret Place, and Caremark Booklets. Thank you for supporting activities that enhance the lives of our congregation.
· Please consider donating to our International Ministries. Peter and Sarah McCurdy have moved to Mexico City a little over two weeks ago. One of Peter's collogues shared about how in the city alone the Baptists have lost 40 pastors with another 20 plus losses outside of the city. This is leaving 60 plus widows without income or housing. There are about 20 pastors who lost their spouse but are able to keep working and stay in their house. If you would like to give a special offering to help these pastors, send it to International Ministries, 1003 West 9th Ave Suite A, King of Prussia, PA 19406. In the memo write Specifics – McCurdy. Please email the McCurdy's to let them know you sent money in to help the widows so they can direct the money in the correct way.
· Maundy Thursday: April 1: "The "Why?" of the Last Supper" and Communion. This will be a pre-recorded online service given by Pastor Alexandra.
· Good Friday, April 2: Pastors Lyn and Alex invite you to Stations of the Cross, a multigenerational and interactive service which will be pre-recorded and accessible online on Good Friday. A link to the service will be publicized close to that date.
· Easter Sunday: April 4: in-person and online worship
· All Easter lilies must be picked up on April 4 after worship. There will be no deliveries.
· Trustees meeting will be April 12 at 6 p.m.
· Diaconate meeting will be April 14 at 6 p.m.
· Sadly, the decision to cancel the Spring Market has been made. The safety of our family, our vendors and the customers is crucial. With great enthusiasm, we're looking forward to the Fall Market.
· The Rummage Rooms have re-opened! As long as the current COVID rate remains or decreases, the Rummage Rooms will be open Saturdays from 9 a.m. -12 p.m. Should there be a spike in infections, especially one that affects the CRCS school system…The Rummage Rooms will be closed again. Notification will be on Facebook and the Church website. Drop offs will still be by appointment only. Please contact Claudia Little (968-3061) or Melody Hayward (968-3606) to make an appointment. There is an extreme need for children's and infants items. Housewares are also in demand. ABWM
April Birthdays: 11 – Megan Ahrens, Natalie Snyder (grand-daughter); 12 – Kody Pierce; 13 – Lee Stewart; 15 – Shelly Burt; 16 – Alice Resch; 17 – Cindy Colley; 21 – Coleman Searle.
Prayer Requests
Prayers from March : Wendy Carter (friend of David Friedly); Burt and Mickie Tidlund; Cindy Colley; Peg Baker; Joanne Hoagland; Jean Searl; Annie (Larry and Sandy Lathrop); Amy Friedly; Lisa Babb; Pat Lewis; Grace DeGroat Continuing Prayers: The family of Todd Wright; Ruth Bixby; Natalie Snyder and family; Bell (aunt of Al Mohilewski); Carol Place; Jason Patten and his daughter Loghann; Patricia Hibbard; Shannon Albert; Walter and Ida Hibbard; Penny Drake (friend of Lee Stewart); Baby Aelin Beck; Eloise Nolan (Natalie Snyder's aunt); Mickie Tidlund; Lora (Penny Greene's aunt); Esther Knapp; Jim Hubbard (Betsy Hubbard's son); Amelia Hillman; Sheila and Duke Burnett; Rod Cady; Sandy Lathrop; Keith and Vyrna Brown (Kim Gleason's parents). Other: Prayer for all those affected by COVID-19. Sympathy: Please keep the Beard family and the family of Ruth Witter Tarbox (Esther Hardman's sister), the family of Betty Washburn and the family of Buster VanVaulkenburgh in your prayers as Sandra, Ruth, Betty and Buster have joined their savior
Special Interest Missionaries
David and Joyce Reed, IberoAmerica and Caribbean
Dan and Sarah Chetti, Lebanon
Peter and Sarah McCurdy, Mexico City
*All those in the military, police, firemen, first responders, hospital workers, doctors, nurses, all front line personnel and our Nation and its new administration.
*All those in and outside of our congregation who may not be listed but need the healing power of the Spirit.
Remember in Care Facilities
Batavia VA - Dennis Chamberlain
Cuba Memorial Hospital - Gene Case
Eden Heights - Helen Swift
Field of Dreams - Betsy Hubbard, Joanne Guild
Manor Hills (Wellsville) - Elva Gross
Grief Support
After the year that our world has experienced, the need for the Grief Support group is even more vital. At the time of this printing, the group is still communicating via email, but as soon as it is deemed safe, the intention is to gather as a group and spend some time together.
All are invited to join this group. It is a Christian based group that offers support and comfort to anyone experiencing a life-changing event. We certainly have had so many of those. Whether your life was impacted by the death of a loved one, the loss of a job, or any other event that has changed your existence. Grief comes in many shapes and sizes; there is no shelf life, and it can take away your health, your mental state, your emotional state and prevent you from functioning in the way you'd like.
Please feel free to contact Claudia Little if you'd like to be included in the emails that go out, or if you'd like information on the upcoming meetings. The intent will be to gather once a month at 1pm on the first Wednesday of the month. When a definite date has been set, the information will be sent out in the bulletin, email and/or phone. One thing that has come from these days of solitude… we need each other, the support, the communication and the love that a group can bring. claudialittle7@icloud.com
Summer Update from the Board of Christian Education
As summer approaches, trust me it will be here before you know it, I wanted to update everyone on what we are planning. First of all we can expect June's dairy days to be coming back, brought to you by the folks at our chamber of commerce. On Saturday, June 19th, we will be bringing back our family carnival as a fun way to celebrate dairy days with our neighbors. Everyone is invited to join the fun and try their skill in some exciting games. If you would like to help us to set up or run any of the games contact a Board of Christian Ed member.
In August we plan to hold VBS and Camp JYC, hopefully in a mostly traditional fashion. Camp JYC will be held August 6-8 at the JYC campgrounds and info packets will be coming out soon. VBS will be held the week of August 16-20 and will take place in the morning/early afternoon. Our prayer is that these two major youth events will take place as close to our traditional models as we can safely do.
Lastly, we have word that Camp Vick is hopeful to hold an in-person camping season this summer. We are waiting for camp leaders to fully announce schedules and guidelines but are excited to send some our First Baptist kids on a camping experience. There will also be a workday to be announced in May to help get the camp ready for a new season. They really need all the help they can get to fix up and clean the camping areas so the youth can have the best time. Please consider making this workday an opportunity to give back to a ministry that has served this church so well over the years.
Thank you for your support and prayers,
Bill Beck
Financial Information
Please consider your giving during this uncertain time. You are able to contribute (kind of like a virtual offering!) at https://cubafirstbaptist.org/donate. Of course you can also mail in your donations to Cuba First Baptist, 17 South St, Cuba, NY 14727. All checks should be made payable to: Cuba First Baptist.
Go to our website at cubafirstbaptist.org for ongoing information. There are Facebook links available on the website too.
Remember that you are not alone. Contact the church office at 585-968-1531 with any concerns. Leave a message if no one answers. Pastor Lynn retrieves messages.
Weekly Offering Goal $2853: 2/7 $2253*; 2/14 $1308*; 2/21 $1952*; 2/28 $2241*; 3/7 $3896*; 3/14 $2869*
*including $250 ABWM contribution
Betty Francis Memorial Scholarship
The family of Elizabeth (Betty) Edwards Francis established a scholarship in her memory to continue Betty's passion for teaching and her involvement in the church.
Priority will be given to a high school senior who is an active, baptized member of Cuba First Baptist Church planning to pursue a career in teaching or ministry and has at least a "C" average or 2.0 GPA.
All applications will be available from the Office in March and are due May 1st.
The Poelma Service Scholorship
(Established by Delores and Jim Cross in honor of Larry and Linda Poelma)
A graduating Cuba-Rushford Central School Senior from First Baptist Church who has provided Service to our Church and Congregation.
An individual, regardless of age, from the First Baptist Church family studying at a college, taking an on-line course or beginning the educational process by attending G.E.D. classes.
The Scholarship Committee may recommend someone in the community who has provided service to First Baptist Church, Cuba Library, Cuba Memorial Hospital or the Village of Cuba, providing all Scholarship Committee members agree.
All applications will be available from the Office in March and are due May 1st.
AMERICAN BAPTIST CHURCHES of NEW YORK STATE presents
RECOVERING CIVILITY
&
NURTURING CONVICTION
A Discussion About Being Christian
Led by Jim Kelsey
President George Washington wrote a booklet entitled "Rules of Civility & Decent Behavior in Company and Conversation," wherein he catalogues a lengthy list of civil behaviors. It is a list of things we should and should not do. In the present discussion we want to get at a deeper question than how we should behave. We have a pretty good idea of what is kind and generous and civil and what is not; we hardly need to catalogue those things. I want to give attention to why we find it hard to be civil and why we should want to do better. An assumption through this discussion is the "spirit is willing but the flesh is weak" (Matt. 26:41).
What will we consider?
SESSION One: Developing a Robust Understanding of Civility
Civility is more than manners or tolerance or relativism; it is a Christian discipline we develop.
SESSION Two: Language as a Barometer for Our Capacity for Civility
Our distinctively human God-given capacity for highly articulated language is both our glory and our downfall.
SESSION Three: Christian Civility: What Do We All Have in Common?
Our communities are fractured with divisions, yet we share an organic unity in our common creation in the Image of God.
SESSION Four: Christian Civility: How Then Shall We Live?
How does the Bible describe Christian character?
SESSION Five: What Are We Going to Do to Travel More Faithfully with One Another?
What will frustrate and what will encourage living better together?
When and how will we do this?
There will be five Zoom sessions of 1 ½ hours each. They will be recorded in case you miss one. You will be given about 10 to 12 pages to read and some discussion questions for each session. The schedule will be:
April 19
May 3 & 17
June 7 & 21
The sessions will offered in the autumn of 2021 as well.
What must you do to participate?
Contact Jim Kelsey at jkelsey@abc-nys.org /315.863.7336 to receive the reading materials in advance for each session. Then ue the following link:
Topic: Recovering Civility & Nurturing Conviction--Time: 7:00 pm
https://ministrelife.zoom.us/j/94555068989?pwd=YVdObFFxZ0gralIrdVJOWkllR2lHZz09#success
Meeting ID: 945 5506 8989
Password: KVBDd2
Phone: 646-558-8656
Your church's contributions to Regional ministry through the Region Offering, United Mission giving, the America for Christ Offering, and direct gifts makes this opportunity possible.
American Baptist Churches of New York State
3218 James St.
Syracuse, New York 13206
2021 Biennial Mission Summit
Register Today for the
2021 Biennial Mission Summit
Registration is open for the American Baptist Churches Biennial Mission Summit, meeting online Thursday, June 24 to Saturday, June 26, 2021. Plan now to experience the vitality of our American Baptist family together with other American Baptists from all corners of the United States and the world during our first ever denomination-wide online Biennial Mission Summit! Take advantage of our early registration discount through March 31, 2021.
Visit www.americanbaptists2021.com to register.
ABW
As the COVID-19 times continue, we are hopeful that soon we will be able to join together for meetings and perhaps some events. These have been very trying times, and at the time of this writing, they continue to be…but hope springs eternal.
Once the CDC has issued a statement that churches may resume regular worship and meetings of more than 10 can be held; we hope to have an ABWM meeting, probably in May at the earliest. Our first and foremost concern continues to be the safety of our church family.
As the time comes closer though, we hope to be able to do a deep clean in the kitchen. Although it has not been used much, after a year of sitting idle, we're sure that it needs a good cleaning. When that day arrives, a plea will go out via email and phone to recruit helpers. Please consider sharing a couple of hours to the cause.
As we have indicated in the bulletin, the Spring Market was cancelled. We look forward to our Holiday Market, tentatively scheduled for Dec. 4th. Details, registration forms etc. will be made available after a more definite event can be confirmed.
The Rummage Rooms are now open on Saturdays from 9-12. We are so blessed to have women who are willing to work tirelessly to keep the shelves filled with clean gently used clothing. We continue to take in goods by appointment only, and to quarantine all goods for a minimum of 48 hours before handling or sorting. As things open up, the hope will be to be open on Fridays too. When this happens, we will use the bulletin, local newspaper and the newsletter to let people know. As vaccinations are received and the general public is deemed a little safer…anyone who is willing to help sort inventory or work on Sat (or Friday) mornings, should contact Melody Hayward (585-968-3606) or text Claudia Little (585-307-8821). This is a wonderful mission to the community and also a means to allow the ABWM to continue to support the church financially. Anyone wanting to donate gently used, clean items such as spring/summer infant, children's, men's or women's clothing or household goods, should contact either Claudia or Melody to set up a drop off appointment. Items just "left" cannot be used. Please help us keep this mission going. So many in the area depend on the Rummage Rooms for their daily needs. Thank you to all who have helped by donating, working or supporting this branch of the ABWM.
The Table Ministry waits patiently for the ok to distribute some meals to our seniors or families that could use a boost. Anyone aware of an extreme need should contact Claudia Little.
Thank you to all who have helped during the past year ….. it has certainly been a tough one, but we survive as a church family.
Congratulations
Congratulations to Pastor Alexandra! She has received the 2020-2021 Distinguished Service Award from NYS EMTA (Educational Media Technology Association) for her outstanding work. We rejoice in her well-deserved achievement!
"And let us consider how to stir up one another to love and good works, not neglecting to meet together, as is the habit of some, but encouraging one another, and all the more as you see the Day drawing near" (Heb 10:24–25).
Our address is: 17 South Street, Cuba, New York 14727