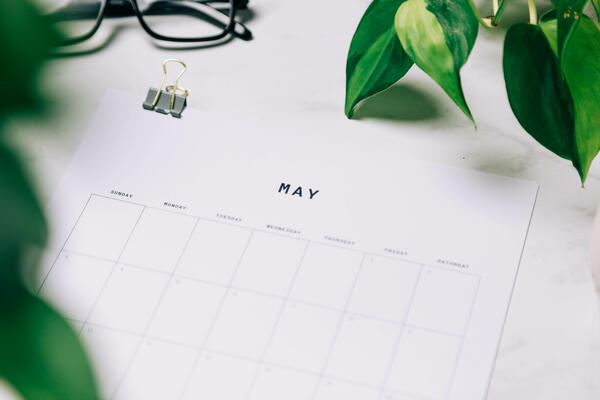 Pastor's Ponderings
"As you come to him, the living Stone—rejected by men but chosen by God and precious to him— you also, like living stones, are being built into a spiritual house to be a holy priesthood, offering spiritual sacrifices acceptable to God through Jesus Christ. But you are a chosen people, a royal priesthood, a holy nation, a people belonging to God, that you may declare the praises of him who called you out of darkness into his wonderful light." 1Peter 2:5,9 NIV
Recently I had an "aha!" moment or what I might also call a "God wink."
I have a favorite pair of shoes that is so comfortable but don't always go with the outfit I want to wear. How happy I was this morning when these blue suede clogs matched perfectly!
And you know how clogs are – so easy to slip on and cast off, never too hot and sweaty with just your bare feet, always warm enough with a good pair of wool socks, and so easy to get big toes as well as little pebbles inside.
So, this morning after getting dressed, I noticed that I did indeed have a tiny little pebble inside my shoe. Rather than slip it off and shake it out I just kind of worked my foot around it until that annoying pebble was deep down inside where I wouldn't feel it anymore. That was fine for a while, as long as I was sitting. But you know how annoying pebbles in shoes are – as soon as you stand up and walk around they jiggle loose and annoy your feet again! And so it did.
The awful thing about this is that I put up with this annoyance for most of the morning. What was I thinking? Did I expect it to go away all on its own? Was I actually enjoying the pain and annoyance, however small for this was a very tiny pebble? Could I just not be bothered about dealing with it because I have so many other more important things to do? Why was I ignoring a ridiculously easy and quick solution?
After scrunching the pebble back to its unobtrusive place in my shoe again, I sat contemplating these questions. Before I could answer, God winked. "Yes, why do you?" I felt the Spirit say.
My only answer was that I just didn't feel like it. I just wanted to go about my day, no matter that I chose to ignore this little annoyance. I didn't care. Seeing how insane this attitude was, I immediately shook out my shoe.
"What other little annoyances or things that need attention do you choose to ignore or just don't care about?" the Spirit whispered to my heart. Aha, that is putting the shoe on the other foot, isn't it!
So I pondered that and could name a few other instances. As I offered up those things to God in repentant prayer I felt transformed, more alive, and more loved. I can't say that my attitude and actions will always be right concerning those things, but I am so glad to know that God continues to shine God's light into my heart and my life.
How about you? What is God whispering to your heart and wanting to shine in your life?
How wonderful is our God who loves us so!
In Christ's love,
Pastor Lynn
Musings of a Church Mouse
Well, here we are in May! Spring is here and that always makes me feel better. The church is still pretty quiet. We did have a visit from the insurance company to make sure our boilers were safe (I learned that boilers make the heat that warms our church – it's really pretty interesting). Before the inspector left, he put new certificates up and said, "See you next year!" It makes me happy to know that we are being so well taken care of.
The other visitors were working on the organ. They tuned it (that took a while and I loved hearing them play the notes) and they did a repair or two. They come twice a year to take care of this magnificent instrument. I heard them say that we were very fortunate to have such a nice one.
It sounds like things in the outside world are getting a little better. I've heard lots of talk of vaccinations that will keep people healthy. I'm really happy about that. I don't think they have those for mice though (do they even make needles that small?).
You may remember that I found that book a while back that told about our church from 1834-1934. It's been so much fun to read. I can hardly imagine life back then but I'm betting there was a church mouse – maybe two!
This part made me laugh a little. Back in the 1870s, finances were quite different from now. At one point, every male and "sisters who were able" were assessed a tax! It was decided by an averaging committee. Hmmmm, around that same time, parishioners began to pay rent on their pew! Sometimes it was as high as $1000 a year! That required a "seating committee". The book didn't report what happened to those who couldn't pay their rent. Maybe they had to stand?
At any rate, apparently it wasn't very successful and soon after that the church depended on voluntary contributions from the members. I think that sounds much better.
Back then; the pastor was one of the better-paid members of the community. Some made as much as $500 a year, plus the use of the parsonage. In comparison, lady teachers took home $1.50-$2 a week. In addition to the salary, the church family offered a pastor's donation. They took things like potatoes, cabbage, chickens, flour, bacon, eggs, lard, firewood and occasionally a woven carpet to the pastor in the fall to help with winter life. This was a social event and according to the book "a jolly good time was had by all". I wonder if Pastor Lynn would like some chickens.
Times back then were sure different from now but I see one thing in common. The church family worked together to keep the church going then, just as my family does so now. I guess history can repeat itself.
I pray every night that soon we will be back together in person. I look forward to laughing in the kitchen, snacks after church, dinners and special programs. I know you are too. Please know that I am diligently keeping track of everything that I can. I'll pray for you all (and it would be ok, if you said a prayer or two for me).
Your ever so humble Church Mouse
Announcements
· Camp Vick is calling for volunteers for work day on May 1! Let's get our campers off to a great start.
· Trustees meeting will be May 10 at 6 p.m.
· Diaconate meeting will be May 12 at 6 p.m.
· LOOKING AHEAD—A Service of Remembrance
During this past year, we have lost so many dear friends from our church family. We have been heartbroken and unable to gather together to share our grief and comfort each other. When we are able to meet without restrictions, the Diaconate is planning to hold a Service of Remembrance to celebrate the lives of those we have lost, share our grief and perhaps heal a little. Family members will be able to choose whether or not they want their family member included in this remembrance. Please watch for more information. Yours in Christ, the Diaconate: Lois Lounsberry, Chair; Shelly Burt, Ann Gross, Luanne Perry, Ann Scott, Deb Stavish, Faith Stewart and Crystal Wright.
· The Diaconate thanks SCHWAB CHARITABLE for their grant donation to our church for $100. This generous donation to be used for mission outreach is presented in recognition of Private Steve Melton, US Army. This donation came via the Jason G. Pike funds LTC, USA retired.
· The 2021 American Baptist Men of NYS Joe Folckemer Scholarship application is now open. American Baptist Men of NYS offers scholarship aid to mainly assist men in obtaining further education. Female applicants will be referred to AB Women for scholarship application. We also endeavor to encourage continuing relationships through prayer, correspondence and "care boxes". The basis for the 2021 scholarship will be $500. Our prayerful goal is to help educate the American Baptist Men of tomorrow. For more information and application please visit the web site baptistmennys.weebly.com If you would like to assist our efforts in New York State by making a financial contribution to our scholarship Ministry please send your check made out to "ABMen NYS" to: AMERICAN BAPTIST MEN of NYS
c/o Karl Hanson, 17 Linden Court, Clifton Park, NY 12065
Please write "College Scholarship" in the memo line.
· The Rummage Rooms are still only open on Saturdays from 9-12, but the ladies are asking for a few things. There is a big need for household items. Please keep that in mind as you do that spring cleaning or downsizing. They also need spring and summer, gently used clothing - especially infant's and children's. Donations are by appointment, just contact Claudia (. 585-968-3061) or Melody (585-968-3606). Now that many have received their vaccinations, maybe there are a few who would be willing to help sort, organize and stage the selling space. Extra stools have been added if you prefer to sit! What a great way to serve the church and community! Generally, Tuesday are work days, but if a few more hands are available...other days are possible. There is also a need for people to help on Saturday mornings. Our customers are wonderful, and we need extra hands to take money and expedite their visits. Please contact Claudia or Melody to sign up. One hour, 3 hours, one day or more...up to you! Many of our community friends tell us that they depend on us, let's not let them down.
What do we need for the Rummage Rooms?
1. Gently used clothing: Infant through adult (Spring and Summer).
2. Dishes, mugs and glasses – at least 2 matched.
3. Pots, pans, skillets, tea pots.
4. Any kitchen appliances – coffee maker, popcorn maker, grills, mixers, etc.
5. Utensils, matched silverware, measuring cups.
6. Bowls, baking equipment, canisters, storage items.
7. Unspotted linens of any kind – sheets, towels, potholders, blankets, etc.
8. Baby items.
9. Craft supplies, material, yarn.
Other items are welcomed and will be used where we can. Sorry. We cannot accept any electronics or upholstered items. Thank you! ABWM
May Birthdays: 3 – Ray Perkins; 4 – Mike Piwko, Susan Jeffers; 5 – Carole Mohilewsky, Ken Miller; 7 – Donna Calhoun; 11 – Carol Place; 12 – Judy Karst, Marian Freer; 14 – Carol Shaffer, Larry Wise; 16 – Alison Lewendowski; 18 – Helen Swift; 20 – Mrs. Natalie Snyder; 21 – Natalie Goble; 25 – Penny Anne Greene; 27 – Rayden Ahrens; 28 – Madison Morehouse. Anniversary: Jim & Glenda Burdick.
April Prayer Requests
Dick Gleason (Andrea Wise's uncle); George Hadden; Larry Wise; Amy Freidly; Eric Goldthwait; The family of Ruth Witter Tarbox, the family of Sandra Beard, the family of Betty Washburn, the family of Buster VanVaulkenburgh, Amy Freidly; Wendy Carter (friend of David Friedly); Burt and Mickie Tidlund; Cindy Colley; Peg Baker; Jean Searle; Grace DeGroat; Pat Lewis; Natalie Snyder and family; Ruth Bixby; Carol Place; Jason Patten and his daughter Loghann; Patricia Hibbard; Shannon Albert; Walter and Ida Hibbard; Penny Drake (friend of Lee Stewart); Baby Aelin Beck; Eloise Nolan (Natalie Snyder's aunt); Lora (Penny Greene's aunt); Esther Knapp; Jim Hubbard (Betsy Hubbard's son); Amelia Hillman; Sheila and Duke Burnett; Sandy Lathrop; Keith and Vyrna Brown (Kim Gleason's parents). Other: Prayer for all those affected by COVID-19. Prayers for the firefighters and Allegany National Forest Workers. Sympathy: Prayers to the family of Billie Jo Darrin.
Special Interest Missionaries
David and Joyce Reed, IberoAmerica and Caribbean
Dan and Sarah Chetti, Lebanon
Peter and Sarah McCurdy, Mexico
*All those in the military, police, firemen, first responders, hospital workers, doctors, nurses, all front line personnel and our Nation and its new administration.
*All those in and outside of our congregation who may not be listed but need the healing power of the Spirit.
Remember in Care Facilities
Batavia VA - Dennis Chamberlain
Cuba Memorial Hospital - Gene Case, Pauline Comes
Eden Heights - Helen Swift
Field of Dreams - Betsy Hubbard, Joanne Guild
Manor Hills (Wellsville) - Elva Gross
Wellsville Manor – Rod Cady
Exciting Camp JYC News
CAMP JYC
REBOOT
Jesus is my Fresh Start
2021 YOUTH RETREAT
Dear Camper,
This summer will be our 38th year of holding a Youth Retreat for children who have completed grades 2 - 6 at Camp JYC (outside Franklinville). Our First Baptist team will be coordinating a weekend this year that is packed with fun and excitement. Camp JYC is owned by the Franklinville Baptist Church and our church has rented it for the weekend of August 6-8. Camp JYC is a fantastic facility with an in-ground swimming pool, spacious lodge, six cabins for sleeping, a restroom/shower building and areas for basketball, 4 square, Ga Ga Ball, volleyball and soccer. We will be monitoring the latest information regarding COVID safety guidelines and pivot our policies to meet or exceed requirements. All campers should plan to bring face coverings and sanitizer. Please follow our Facebook page for updates on policy.
Our programming features studying and acting out Bible stories, crafts, swimming, games, worship-in-the-woods, and campfires with spirited singing and great stories. Our theme this year is "Reboot".
Campers are to arrive at 4:30 pm on Friday, August 6 and should be picked up promptly at 1 pm on Sunday, August 8. The cost is $65 per person, contact camp director for questions on assistance.
Attached are a Registration/Health Form and "What to Bring" list. If you want to join us, please get the Registration/Health Form and $65 fee to Bill Beck, 17 South Street, Cuba, NY 14727, by Sunday, July 18.
Hope you can join us at Camp JYC
In Christ's Service,
Cuba First Baptist Church
Online registration forms can
be found on our Facebook page.
Or contact Bill Beck at
585.307.4792
Camp Vick & Pathfinder 2021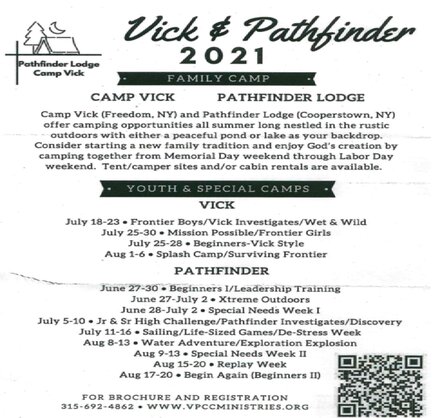 The ABWM is looking forward to better times for all and plans are beginning to formulate. Although we have not met in person, a couple of activities are being considered for the future and will be shared as soon as details are complete.
The Rummage Rooms continue to be in operation. At this time, the doors are only open on Saturdays from 9-12. The hope is that Fridays will be possible sometime soon. We have learned during the pandemic, that drop offs by appointment only is very beneficial. It prevents the women from being overwhelmed by amount of items. There also seems to be a little more responsibility from our donors in what they "drop off". Donations are gently used; most are clean and a lot easier to deal with. Thank you to all who have called for an appointment…..it is much appreciated.
As you enter the summer season, and attack those cupboards and closets, please remember that household goods (dishes, vases, placemats, sheets, etc.) are needed. As always, gently used clothing (spring and summer right now) are in demand, especially children's. We're finding a need for toys also. We did not put these out when the COVID-19 guidelines were stricter, but hopefully by summer, we can offer our customers some affordable things for their kids. If you're unsure about items, please feel free to ask Melody Hayward (585-968-3606). She's the pro! And with the help of Sandy Lathrop, Sally Wild, Sallie Miller and Janet Hadden, has kept the Rummage Rooms afloat during this long pause in normal life.
There are many in our community who depend on this mission to provide needed items for their families and extended families. Please consider donating and/or working in the Rummage Rooms. Contact Melody or Claudia (585-968-3061) if you would be willing to sort and stage items. This is generally done on Tuesdays, but as the volume increases, additional hours are available. Stools have been added! Maybe you can't stand for a long time but sorting works well sitting too. We are also looking for people to work on Saturdays. Again, taking money and expediting our customers' visit can be done sitting. It's a very rewarding experience and a terrific way to serve your neighbors. If you're looking for a way to help, this is the perfect answer…one hour, 3 hours, one day or more. You can do what is good and comfortable for you.
Hopefully, soon we will be able to distribute love gift boxes again. Keep in mind that this is giving "over and above" your normal giving. Many people designate money they find in the dryer or particular change to this cause. Until you have a new box, why not have a "love gift" cup? Just drop in your contribution, or of course, envelopes are great too. One member drops in change every time someone does something nice for her. What a terrific idea!
Please know that we're just waiting to be able to provide a nice meal for all of our church family. In the meantime, if you know of someone who could use a boost, or an extra meal…please let Claudia Little know. The Table Ministry is restricted from doing a lot but we could figure something safe out if there is a need.
As always, we thank all of those who support the ABWM. It is because of YOU, that we have been able to remain an active part of Cuba First Baptist and because of YOU that we are able to reach out, support our church and provide for our community.
A Word from the Trustees
At the March meeting of the board of Trustees, the members discussed how we might let the church family know a little more about what the group has been doing. With COVID-19 guidelines, paper handouts are discouraged (minutes), so we will be sharing a few items each month. The members are Chairperson- Claudia Little, Vice Chairperson- Lindsay Scott, Secretary – Carol Shaffer, with Henry Mayo and Tammy Clothier serving on the finance committee with Claudia. Eric Grover, Lindsay, David Friendly, Lee Stewart, and Vinnie Tabone are tackling the building and grounds issues. If you have ANY questions, please feel free to reach out to any of these hard working servants. If they don't have the answer, they'll find one. We also ask for your prayers as we do our best to serve you.
One of the on-going projects in our church has been our wonderful organ. Recently, it was discovered that there was a power source issue and Parson's Organ Co (who services the organ 2 times a year) was contacted. Henry and Claudia met with the technicians and learned a lot about our organ. The bottom line is that it's in really good shape. The limited use during the past year does not hurt it at all as long as the sanctuary is heated to some extent. A new power source was installed and we're good to go! We are also keeping a log of any issues we might encounter. A thank you to Nettie White for overseeing this portion of the upkeep.
While reviewing the finances of the church, the board was happy to see that we're staying afloat. Part of this is due to some changes in salaries, but it was also noted that we are receiving $500 per month from ABCNY. This is the Psalm fund that allows the state organization to offer some relief to churches paying their pastors during the pandemic. This grant is for a year and will end in September, 2021. It is hoped that we will be back to a more normal level by then. Another reason to be thankful for our New York State organization.
One concern is that our "building fund" is falling slightly behind. This money is used for things like roof repair, plumbing etc.…not everyday maintenance.
If you are sending in your contribution, did you know that you can request where you would like it to be applied? For example…if you want half to go to missions or current expenses…you only need to note on the memo line of a check or include a note with cash. This would apply to money for the building fund too. We truly hope we don't have a large amount of repairs but we're sure you all know that things break and situations arise.
The Board of Trustees is so grateful for each of you and the support you give. We know that these are hard times and money is tight. We encourage all to give what is comfortable and to pray. Pray for wisdom in your giving and in our decisions.
In Corinthians 9:10. We read, "Now he who supplies seed to the sower and bread for food will also supply and increase your store of seed and will enlarge the harvest of your righteousness". With your help, our church can continue to be strong, flourish and plan a fruitful future.
Respectfully submitted, Claudia Little, chairperson
Did you know this about Faithlife Equip?
Recently Cuba First Baptist Church subscribed to Faithlife Equip to provide us with a whole new integrated way to manage our church office data and tasks, to connect with our membership and to grow in the Spirit and in our discipleship with the many tools provided. With increasingly more relationship building happening in the digital world, Faithlife Equip will empower us – and is empowering us! – to extend our reach for our Lord Jesus Christ.
As your pastor, if you have not yet done so, I strongly urge you to join Faithlife. There is no monetary cost to you. When you do, you will be able to take advantage of all the tools available:
· A personal Faithlife page where you can have your own:
o private prayer list
o Faithlife Study Bible
o Bible Reading Plan
o Calendar which will incorporate yours and any group's calendar that you choose to belong to (if you want)
o Postings to Faithlife (like we can do in Facebook or other social media applications)
o Task List for your own personal use
o And more!
Then go to the top left corner of your Faithlife page (next to the Faithlife logo) and search for Cuba First Baptist Church. Click the blue button (I think it says Follow).
Melissa, our secretary who is an admin for our group, will change you to member status, unless you are responding to an email invitation. When you are a member, it means you are a member of the Faithlife Group, not a member of our church!
Your personal Faithlife "home" page is called the "Activity" page. In the center column you will see notices and posts and events from Cuba First Baptist (if you have joined and from other groups you may join along the way). You can also find these on the various pages of our website. You will always be in the know about what is happening at CFBC! When you are a member of our Faithlife church group, you will be able to access our:
· Group Members List
· Our church's directory
· Group Chat
· Newsletters
The best part, aside from being connected to each other through Faithlife, is you will also have:
· Our church's Mobile App for instant access to:
· Our church's Website
· Our church Faithlife Group Page and your Personal Page
· Messaging
· Sermons (recorded)
· And Links to other Faithlife groups you have joined
· Bible Study & Discipleship Tools
· Faithlife TV: Christian movies for adults, kids & families; Biblical stories & documentaries; and more.
· Logos Bible Software: Bible Study Tools & Resources, Books & Commentaries, Media & Interactive Tools and video courses.
Our Cuba First Baptist Church Faithlife Group is also equipped with online Giving. Those two blue rectangular buttons, "Give" and "Invite," are at the top right corner, just below the photo of our beautiful church. The Give button is for giving to CUBA FIRST BAPTIST CHURCH, not to Faithlife! When you give online through Faithlife, either through our Faithlife Group page or our new Faithlife church website, you will be able to access an up-to-date report of your giving at any time through your personal Faithlife page!
The Invite button is for you to invite others to our Cuba First Baptist Church Faithlife group!
I hope you can see the great potential and many benefits we have at our disposal to enhance our communication, grow in our discipleship, and to extend our reach for our Lord Jesus Christ.
Please join Faithlife and Faithlife Cuba First Baptist Church Group! It may take a little time to become familiar with this platform, but you will be so glad you did! And I'm here to help and our secretary, Melissa is too – don't hesitate to call, txt, email or message us with any questions or feedback!
Yours in Christ,
Pastor Lynn
Financial Information
Please consider your giving during this uncertain time. You are able to contribute (kind of like a virtual offering!) at our website . Of course you can also mail in your donations to Cuba First Baptist, 17 South St, Cuba, NY 14727. All checks should be made payable to: Cuba First Baptist.
Go to our website for ongoing information.
Remember that you are not alone. Contact the church office at 585-968-1531 with any concerns. Leave a message if no one answers. Pastor Lynn retrieves messages.
Weekly Offering Goal $2390: 4/4 $1663; 4/11 $2273; 4/18 $2237 . *including $250 ABWM contribution
Online Services
If you have internet access, you may join in to the YouTube Live broadcasts as I lead an abbreviated time of worship and prayer each Sunday at 10:00 a.m. through our church YouTube page . Bulletins will be emailed out with the specific link each Saturday and can also be found on our website and Facebook page .
"And let us consider how to stir up one another to love and good works, not neglecting to meet together, as is the habit of some, but encouraging one another, and all the more as you see the Day drawing near" (Heb 10:24–25).
Our address is: 17 South Street, Cuba, New York 14727