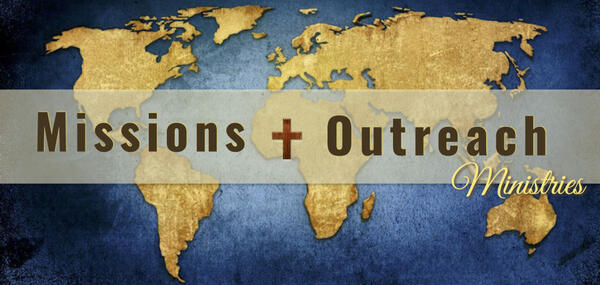 AUGUST Missionary Window
South Coast Church Missionary Window August 10, 2021
We know, as HIS people, that it is a blessing for us to be part of God's plan to take the Good News of our Lord throughout the whole world in order to fulfill His Word. The Corona Virus has brought both hinderance and amazing opportunities for missionaries everywhere. We are hearing loud and clear from our missionaries (particularly in Asia with predominantly Muslim populations) that the power of intercessory prayer is the bedrock of success. One missionary says:
"When people say, 'oh, all I can do is pray,' they're really not understanding the significance of prayer. Those prayers are being poured out continually before the throne of God, and God hears them. Your prayers are not useless. When you commit to pray, know your prayers are effective. Learn that redemption continues through-out our whole life. I am continuing to learn to engraft into my everyday life the truth that Jesus wants to redeem every difficult situation I face. Redemption is to be a daily experience, not just a one-time prayer of salvation."
Let the testimonies of God's faithfulness in the midst of the experiences of our missionaries encourage you to believe for His protection in your home and HIS guidance of your prayer and support for the cause of missions. God loves this world, and He is at work one heart at a time. We ask that you join us in our desire to pray for them as we receive communication from them. How is the Lord speaking to you? What missionary, nation or people are you willing to commit to for the next years?
Universally, virtually all missionaries ask that we pray for:
· OPEN DOORS
· BOLDNESS
· THAT GOD'S WORD WILL SPREAD
· FOR PROTECTION
· FOR TRAVEL
· FOR REFRESHMENT
Micah & Karissa Adams (Elijah/Raeah)– Bolivia-Amazon Jungle Please pray for the Adams family. They and their two young children will be leaving from their itineration here in California these last months to head to the Amazon Jungle in a few weeks. OMG please, Lord, protect them! Please pray for favor regarding customs and immigration. Lots of paperwork is needed to be processed. Please pray bags aren't lost or damaged. (When all your earthly possessions are distilled down to 12 check-ins, each one is important) Please pray that God sustains them through all the transitions as they say goodbye to friends and family. Please pray for the right home to become available in Bolivia and that God would bring new lasting and deep relationships when they arrive.
You can see a perspective of this amazing adventure that the Lord has planned for them through these links: ( Shortlink†: http://s1.ag.org/adams-journey-to-the-jungle Long link: https://youtu.be/9pKhC2TsgaI ).
Dan Klepel – Thailand
Dan tells us that the number of Covid cases continues to rise - 18,000 per day. And 150 deaths per day. These deaths are not just statistics, but close friends like Pastor Weerapong, an Akha Tribal pastor in Northern Thailand. Pastor Weerapong planted nine churches. I was privileged to work with him in planting one of these churches in Baan Nong Haa. Currently, I was working together with him on a building project - the Chiang Rai Akha City Church and Missionary and Ministry Training Center. Pastor Weerapong contracted Covid while working on this new building. He is survived by his wife Som and their three children.
Liberty Church Bangkok is finished! It's incredible to see how the Lord provided the funds needed for this 3,500 seat sanctuary! We rejoice with Pastor Anupharp, and we pray that SOON Covid and its restrictions will pass so the church members will be able to meet together in their new building.
Even though we've had to move to an online platform for teaching, the LD program, our church based training initiative, has doubled - with almost 300 students now! This means our potential for reaching Thailand has doubled as well! TAGS (Thailand Assemblies of God Seminary) also has over 30 BA students and 16 MA students enrolled. Translating and developing our curriculum has been a lot of work, but the results are well worth it as we see the impact it has on the students' lives and ministries.
Randy & Becky Tarr – Africa
For the past 23 years, the Tarr family had the wonderful privilege of serving a great team of missionaries working in 16 countries of West Africa, in the role of West Africa Area Director. For 11 of those years, Randy also served as the President of the West Africa Advanced School of Theology (WAAST) in Lome, Togo. In May 2021, they left their role of Area Director to assume the role of Strategic Leader for Training for AGWM Africa and the Director of Africa's Hope. Africa's Hope is the theological training arm for the entire continent of Africa, serving the Assemblies of God churches on the continent. This ministry is empowering the 357 Bible schools and extension centers with over 23,000 currently enrolled students who are training for ministry in Africa.
We have learned: The power of TEAM
The power of PRAYER
The joy of CELEBRATION
The joy of FRIENDSHIP
WE ARE GRATEFUL TO YOU for your faithful support and prayers over the past 30+ years! We count on your continued support, both in prayer and in finances. While our role has recently changed, our focus has stayed the same - seeing the church planted in Africa at every opportunity. We are convinced that raising up African men and women leaders is one of the keys to bringing in the harvest.
"Spirit-empowered, biblically trained leaders are the
HOPE of AFRICA!"
COMPELLED
Please be praying for all of our South Coast Church Missionaries and remember to continue your monthly giving to support their work for the Lord around the world.
So All Can Hear
Welcome!
Our address is: 588 9th St, Imperial Beach, CA 91932, USA