Dishman Connections
Here's what is happening @DBC
Pastor Appreciation Month
The entire month of October is Pastor appreciation month. Be sure to tell our pastors just how much we appreciate them!
Potluck Sunday
We are having a potluck right after service on October 27th. Please bring your favorite main dish, side dish, salad or dessert to share with everyone! We look forward to fellowshipping with you!
Thanksgiving Potluck Dinner
Our church wide Thanksgiving potluck dinner will be on Friday, November 15th @ 6:00PM. There is a sign up sheet on the bulletin board in the foyer. Please sign your name and how many people will be attending with you. Then sign your name under an item you will be bringing. We hope you will be able to join us for a wonderful time of worship and fellowship as we kick off the Holiday Season.
Women's Bible Study
All women are invited to join us Thursdays @ 11:30AM. Come join us as we study up on Abraham, Moses and Joshua. We look forward to seeing you all there. For more information contact Mary Long or Debbie Wuthrich.
Celebration Prayer Breakfast
On Wednesday, January 1st at 9am, we will be having a celebration prayer breakfast. This is a chance for us all to come together and celebrate everything that God has done in your life this year, as well as pray for what God has planned for 2020. If you have something to celebrate that has happened to you this year, Please fill out a connection card and place it in the offering plate during service or in the connection card box located on the welcome center.
We Need Your Help!
Our children's department is in need of some helpers still. We need someone to help during the life group hour in our 4 year olds– kindergarten class, and our 1st & 2nd grade class. If you are interested in serving in these positions, please contact Pastor Chris or Debbie Wuthrich at mail@dishmanbaptist.org.
Dishman Family Tree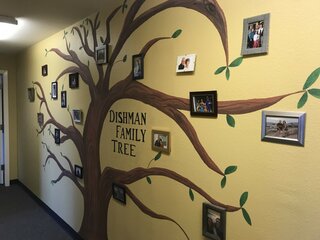 We are still collecting family photos of all our members to hang on the "family tree" in the church office. Bring in your 4x6 picture in a frame or just email us a digital copy and we'll frame it for you. This will give the staff a visual as they pray for each of you during their week. If you want to see it stop on by the office!
Greeters Needed
We are in need of some greeters on Sunday Mornings. We need 2 in the morning at 9:00AM before life groups and 2 at 10:35AM before our worship service. All you have to do is open the door for people, tell them good morning and hand them a worship folder. If you think this is something you would like to do, contact Mary Long.
Faithlife App
This is an app and website that you can join for free. It allows you to follow everything about Dishman. From daily verses and weekly sermons from Pastor Chris to Prayer requests and praises from our church members. Get started today by visiting Faithlife.com or downloading the app and joining the Dishman Baptist Church Group.
Connecting People to Christ and To One Another
Our address is: 315 North Argonne Road, Spokane, WA, 99212