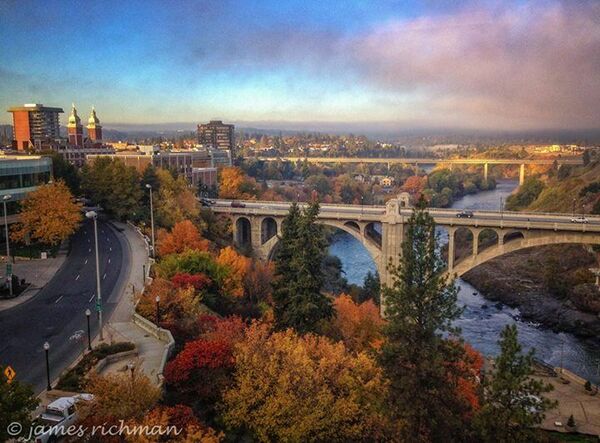 Dishman Connections
Upcoming Events
Gospel & Spheres of Authority Conference
The Gospel & Spheres of Authority Conference is all about how the Gospel is the lens through which we view the different authority figures in our lives (Church, Family, Government) and how we can be obedient to Christ in how we interact with and think about these authorities.
This is a FREE Conference!
You can register by clicking the picture above or by visiting our website at dishmanbaptist.org/gospel-conference.
Baby Shower!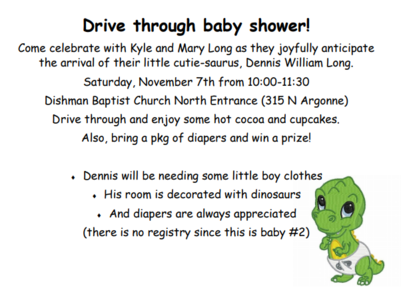 Family Worship Sunday
This Sunday, October 25, is the 4th Sunday of this month and Family Worship Sunday. All children ages 5 yrs and older will be in the sanctuary for worship with their families. Children ages 0-4 yrs old will have children's church in their classrooms.
Online Services
Sunday mornings and Wednesday evenings we have been doing our services LIVE through Facebook. During our Wednesday service this week Facebook cut off our feed saying it violated their community standards. I guess that means we are doing something right and preaching God's word if the "world" is censoring us. Because of this we will no longer be streaming our services live through them. We will be working on a way to have them streamed LIVE on our webpage, but until then you can visit our Faithlife page at faithlife.com to watch the sermon or our website at dishmanbaptist.org to listen to it. All services are posted after they are complete. Thank you for your cooperation as we try to make this transition.
Wednesday Evening Service
We have started up a Wednesday Evening service that runs from 6:30-7:45. Join us as our Associate Pastor Of Worship, Chuck Evans leads us through 1 Corinthians.
Life Groups
We have returned to in person Life Groups! All Life Groups start at 9:30AM on Sunday morning. We hope that you will be able to join us as we study God's word together again!
Clean Up Help
There are some things that need to be done around the outside of the church and we need your help.
Our bushes are all due for a good trim. On the corner of Valleyway and Argonne as well as by the East Entrance.
If you have the time to come and help us out that would be greatly appreciated!
Volunteers Needed
We are in still need of volunteers for our Children's department!
We have all lead teachers, we just need some helping hands for our 2-4 yr olds and 5-8 yr olds. Right now I am setting up a schedule for September, October, and November. I am asking volunteers to pick 3 Sundays in that time frame. You can pick 3 consecutive Sundays or one in each month. You get to choose the days and the age you want, but it is first come first serve.
Please contact me, Tricia Harrison by text at 509-280-1390 (please do not call as I am homeschooling my kids), email at tkocto21@yahoo.com, or see me at church on Sundays at the Children's department desk downstairs.
Thank You!
Amazon Smile= Supporting Dishman
Did you know your online shopping could help financially for Dishman? Amazon Smile gives you the opportunity to pick a charity of your choice for donations to go to. All you have to do it go to smile.amazon.com, sign in with your normal amazon account, pick Dishman First Baptist Church as your charity of choice and go shopping! Amazon then donates a portion of your purchase directly to Dishman at no extra cost to you! You shop like normal and get to help support Dishman financially at the same time. How cool is that?
Connecting People to Christ and To One Another
Our address is: 315 North Argonne Road, Spokane, WA, 99212