Announcements
for the Week of August 22


Fall Praise Teams: A sign up sheet is at the welcome desk for those who would like to help with praise teams this fall.
Fall Programming: Sunday School will begin September 12. Midweek events will begin September 22. Volunteers are always needed. Please see Nancy if you are willing to serve.
Looking for Volunteers: With the start of Midweek activities on September 22, we are seeking volunteers to join a group for a fun time preparing and serving meals. Any help is appreciated! Subs are also welcome. Please contact Bev Van't Hof to volunteer or if you have any questions. Thank You!
Help Needed: Looking for volunteers to help with the High School Youth during events. We are looking to connect with all adult generations. If you are interested or want more information talk to Diane Brockberg.
Volunteers Needed: Edgerton care center is in need of volunteers!
We are looking for individuals to assist with: Haircare, Sunday Services, Bingo and larger events. If interested in more information please contact Darcy Soland at Edgebrook @ 507-631-1228.
Open House Baby Shower: There will be an Open House baby shower for Alyson Gunnink in the church fellowship hall on September 18 from 10:00-12:00 p.m.
Pancake Breakfast: Southwest MN Christian Circle 2 invites you to their annual Labor Day Pancake Breakfast on Monday, September 6 from 7:30-10:00 a.m. at the high school campus - 550 Elizabeth St. In addition to hot pancakes served right off the griddle, there will be sausages, juice, milk, and coffee. Free-will donations are gratefully accepted.
This Week
Nursery: Jessica Roskamp and Colin Scholten
Children's Message: Nancy Wassink
Calling Elders: Keith Van Hulzen and Dave Rieck
Next Week Sunday
Nursery: Brenalyn Smit and Hope Snyder
Children's Message: Jason Snyder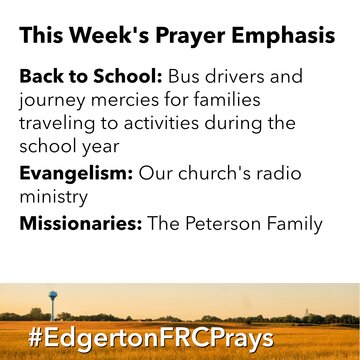 Our address is: 230 Maple St, Edgerton, MN 56128, USA