Announcements
for the Week of September 5


Fall Programming: Sunday School will begin September 12. Midweek events will begin September 22. Volunteers are always needed. Please see Nancy if you are willing to serve.
Looking for Volunteers: With the start of Midweek activities on September 22, we are seeking volunteers to join a group for a fun time preparing and serving meals. Subs are also welcome. Please contact Bev Van't Hof at 507-220-9228 to volunteer or if you have any questions. Thank You!
Help Needed: Looking for volunteers to help with the High School Youth during events. We are looking to connect with all adult generations. If you are interested or want more information talk to Diane Brockberg.
GEMS: Wednesday, September 8th, GEMS will meet at Rock River Park for our first meeting. Drop off time is 6:30pm and pick up is at 8:15pm. Please have the girls bring their GEMS bags! 3rd grade and
anyone new joining will get their bags at this meeting. Reach out to Jen Brands at 507-227-5880 if you have any questions!
Open House Baby Shower: There will be an Open House baby shower for Alyson Gunnink in the church fellowship hall on September 18 from 10:00-12:00 p.m.
Hope Harbor: We rejoice in the Lord faithfully providing to Hope Harbor as we Build Strong Families. Joins us to celebrate all the goodness He has done throughout this last year! Celebration of Hope 2021 on Friday, October 1st at Grace Life Church, 601 E College Drive, Marshall, MN. Social hour is at 5:30 p.m. and dinner and program at 6:30 p.m. Dinner is complimentary. Silent auction will open during the social hour. General donations will also be accepted at this even. Due to limited space, please RSVP by September 20.
COFFEE BREAK BIBLE STUDY –Join other women in the study of God's word and make new friends! All women of the community are invited to study Isaiah Chapters 1-12 "A Call to Return". Discover how we need the one true, amazing God as much as the people did in Isaiah's day long ago. The fall session of Coffee Break and Children's Story Hour (ages 3-Kindergarten) begins September 22 at 9:30 a.m. in the Fellowship Hall of First CRC in Edgerton. Rev. Matt De Boer will get us started by giving some background information on the book of Isaiah. Nursery will be provided. If you have questions or if you would like to attend but cannot make it to the first meeting, contact Thea (507-227-9513) or Ashley (507-227-6446).
Pancake Breakfast: Southwest MN Christian Circle 2 invites you to their annual Labor Day Pancake Breakfast on Monday, September 6 from 7:30-10:00 a.m. at the high school campus - 550 Elizabeth St. In addition to hot pancakes served right off the griddle, there will be sausages, juice, milk, and coffee. Free-will donations are gratefully accepted.
SWC Tractor Ride will be held on Saturday, Sept 11. Rolls and coffee will be served beginning at 8:30 a.m. from the park shelter in Leota, MN. We'll hit the road at 9:30 and as we get into Edgerton, we'll parade past the residents at Edgebrook Estates. A noon meal will be served at the SWC cafeteria. We'll return to the route at 1pm, with a stop at Mark VanderPol's farm for a tour of the Vander Pol tractor collection. The event will conclude with fresh olie bollen at the Leota City Park. The event is free will donation. With questions or to pre-register, call Kendra Kuipers at 507-227-0488.
Bible League Volunteers: Join Bible League Volunteers for their "Spreading the Fragrance of Life" dinner event on September 20 with Bible League representatives, and conference on September 21. Keynote speaker will be Kelli Gotthardt. It will be held at the First Reformed Church in Sioux Center. Tickets available online at
bibleleague.org/tickets. Registration deadline is September 12. No refunds after September 12.
This Week
Nursery: Reece and Jacob Wassink
Children's Message: Kristin Groen
Calling Elders: Ron Menning and Kevin Kleinjan
Monday:
1:00 p.m. Joy Circle
Tuesday:
7:00 p.m. Elders Meeting
7:30 p.m. Deacons Meeting
8:00 p.m. Consistory
Next Week Sunday
We will be celebrating the Lord's Supper.
Nursery: Londa Dirksen and Josh Groen
Children's Message: Brenda Kleinjan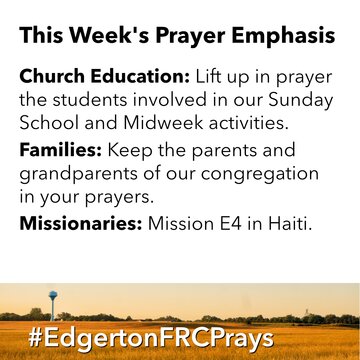 Our address is: 230 Maple St, Edgerton, MN 56128, USA