Announcements
for the Week of September 12

This Sunday is One Sunday and we will not only kick off our Sunday School year but we will also be observing the Lord's Supper.
Our sermon text for this week is Genesis 34:1-31. Our public reading of scripture is 1 Timothy 4:1-16 and the responsive reading is Psalm 45:6-12.
If you are unable to join us on Sunday, we are still livestreaming our service at our website, YouTube Channel, and Facebook Page.

Fall Programming: Sunday School begins this Sunday. Midweek events will begin September 22. Volunteers are always needed. Please see Nancy if you are willing to serve.
Looking for Volunteers: With the start of Midweek activities on September 22, we are seeking volunteers to join a group for a fun time preparing and serving meals. Subs are also welcome. Please contact Bev Van't Hof at 507-220-9228 to volunteer or if you have any questions. Thank You!
Help Needed: Looking for volunteers to help with the High School Youth during events. We are looking to connect with all adult generations. If you are interested or want more information talk to Diane Brockberg.
Open House Baby Shower: There will be an Open House baby shower for Alyson Gunnink in the church fellowship hall on September 18 from 10:00-12:00 p.m.
Open House Baby Shower: There will be an open house baby shower for Bernice Van Hulzen in the church fellowship hall on Saturday, September 25 from 10:00 a.m.—12:00 p.m.
Giveaway: On Sunday September 5 we announced that we have switched our pew Bibles from the 1984 NIV, which is no longer available for purchase, to the English Standard Version. If you are interested in a acquiring a study Bible in the ESV, Pastor Mark is giving you the opportunity to win one. Pastor Mark's monthly giveaways are back and for September he is giving away a Reformation Study Bible and a Systematic Theology Study Bible. You can put your name into the drawing and check out these Study Bibles in the Narthex. Drawing will take place on September 27.
COFFEE BREAK BIBLE STUDY –Join other women in the study of God's word and make new friends! All women of the community are invited to study Isaiah Chapters 1-12 "A Call to Return". Discover how we need the one true, amazing God as much as the people did in Isaiah's day long ago. The fall session of Coffee Break and Children's Story Hour (ages 3-Kindergarten) begins September 22 at 9:30 a.m. in the Fellowship Hall of First CRC in Edgerton. Rev. Matt De Boer will get us started by giving some background information on the book of Isaiah. Nursery will be provided. If you have questions or if you would like to attend but cannot make it to the first meeting, contact Thea (507-227-9513) or Ashley (507-227-6446).
This Week
Nursery: Londa Dirksen and Josh Groen
Children's Message: Brenda Kleinjan
Calling Elders: Cal Brouwer and Keith Van Hulzen
Fellowship: Danette & Dennis Smit and Alyssa & Brandon Huisken
Next Week Sunday
Nursery: Caty Arp and Jozilyn Van't Hof
Children's Message: Deb Corbin
Fellowship: Faye De Boer and Caitlin & Greg Arp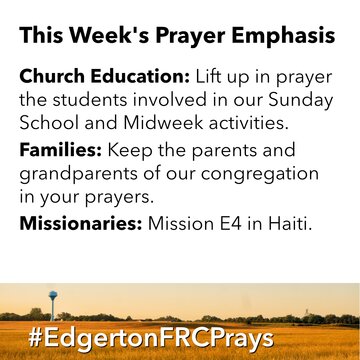 Our address is: 230 Maple St, Edgerton, MN 56128, USA