Announcements
for the Week of September 19

Tomorrow is the Lord's Day! Join us for worship at 9:30 a.m. as we bring praises to our God for who he is and what he has done.
The passage we will be looking at for the sermon is Genesis 35:1-29. Our responsive reading will be Psalm 45:13-17 and the public reading of scripture is 1 Timothy 5:1-25
If you are unable to join us in person, you can view the service via our webcast. You can find the service at our website, YouTube Channel, and Facebook Page.

The RCW Fall Soup Supper will be on Wednesday, October 6, from 5-7 p.m. Soup recipes and the sign-up sheet for donating food and working at the supper are on a table in the entryway. Many hands make light work – your help is needed! Thank you!

On Sunday September 5 we announced that we have switched our pew Bibles from the 1984 NIV, which is no longer available for purchase, to the English Standard Version. If you are interested in a acquiring a study Bible in the ESV, Pastor Mark is giving you the opportunity to win one. Pastor Mark's monthly giveaways are back and for September he is giving away a Reformation Study Bible and a Systematic Theology Study Bible. You can put your name into the drawing and check out these Study Bibles at the Welcome Desk.

Open House Baby Shower: There will be an open house baby shower for Bernice Van Hulzen in the church fellowship hall on Saturday, September 25 from 10:00 a.m.—12:00 p.m.
COFFEE BREAK BIBLE STUDY –Join other women in the study of God's word and make new friends! All women of the community are invited to study Isaiah Chapters 1-12 "A Call to Return". Discover how we need the one true, amazing God as much as the people did in Isaiah's day long ago. The fall session of Coffee Break and Children's Story Hour (ages 3-Kindergarten) begins September 22 at 9:30 a.m. in the Fellowship Hall of First CRC in Edgerton. Rev. Matt De Boer will get us started by giving some background information on the book of Isaiah. Nursery will be provided. If you have questions or if you would like to attend but cannot make it to the first meeting, contact Thea (507-227-9513) or Ashley (507-227-6446).
Hope Harbor: We rejoice in the Lord faithfully providing to Hope
Harbor as we Build Strong Families. Joins us to celebrate all the goodness He has done throughout this last year! Celebration of Hope 2021 on Friday, October 1st at Grace Life Church, 601 E College Drive, Marshall, MN. Social hour is at 5:30 p.m. and dinner and program at 6;30 p.m. Dinner is complimentary. Silent auction will open during the social hour. General donations will also be accepted at this even. Due to limited space, please RSVP by September 20.
Gospel Concert: You are invited to a Gospel Concert in Woodstock, Mn at the American Reformed Church on Sunday October 3, 2021 from 2:00-5:00. This is the annual fundraiser to purchase Recovery Bibles for clients at the New Life Treatment Center. Music will be provided by: Gospel Gold Quartet, The Klassens, and Cornerstone Quartet. Testimonies will be given by alumni from New Life Treatment Center. BBQ's and ice cream sundaes will be served. Freewill donation will be accepted. Please come and enjoy fellowship, great music and support the New Life Treatment Center Bible Fundraiser.
Inspiration Hills Annual Fall Auction: Friday, October 22, 6:00 p.m. Doors Open, 7:00 p.m. Live and Online Auction. The Fall Auction will have a wide variety of items available with Zomer Realty & auction leading the auction. The focus of the auction is to highlight the
ministry of Inspiration Hills and raise funds for major projects. This year, the proceeds will go towards replacing the fire suppression
system in the kitchen. Everything that happens at Inspiration Hills, whether it's summer camp, retreats, family reunions, or any other
gatherings, involves food. Please join us for a fun evening of
Gathering together to support the ministry that God is doing at
Inspiration Hills, Refreshments will be provided.

There will be a Red Cross blood drive at the First Christian Reformed Church in Edgerton on Tuesday, September 28, 12:30-6:30 p.m. Please call Betty at 507-227-8416 or fbhuisken@gmail.com to make or confirm an appointment. There is a constant need for blood. Every 2 seconds someone/somewhere in the U.S. needs blood. Anyone 17 years or older and in good health is able to donate.
This Week
Nursery: Caty Arp and Jozilyn Van't Hof
Calling Elders: Dave Rieck and Jason Heard
Fellowship: Faye DeBoer and Lee & Glenda Vande Griend
Children's Message: Deb Corbin
Note: Pastor Mark will be on vacation this coming week but will be in the area if anyone is in need of pastoral care.
Wednesday:
Midweek
6:15-7:00 p.m. Food & Fellowship
6:45-7:15 p.m. Kids Choir
7:00 p.m. Sr. & Jr. RCYF
7:15-8:00 p.m. K-5th Grade Catechism
7:15 p.m. Chapel Choir
Next Week Sunday
Marlin Van Schepen will deliver the message.
Nursery: Amy Van Hulzen and Kaden Brockberg
Children's Message: Nancy Wassink
Fellowship: Greg & Caty Arp and Diane & Gene Westenberg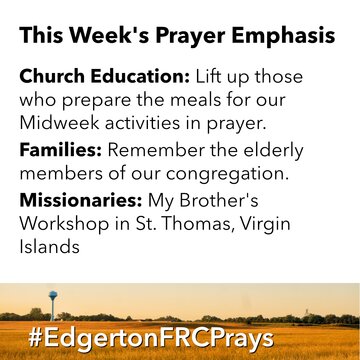 Our address is: 230 Maple St, Edgerton, MN 56128, USA