Announcements
for the Week of October 3

Join us this Sunday morning as we "taste and see that the Lord is good" as we observe World Communion Sunday at 9:30.
The passage we will be looking at for the sermon is Luke 1:1-4. Our responsive reading will be Psalm 46:1-7 and the public reading of scripture is Genesis 36:1-42.
In addition, our missionaries to Alaska, the Bruxvoorts, will be giving a short update on their ministry.
If you are unable to join us in person, you can view the service via our webcast. You can find the service at our website, YouTube Channel, and Facebook Page.

The RCW Fall Soup Supper is this Wednesday, October 6, from 5:00-7:00 p.m. Soup recipes and the sign-up sheet for donations and workers are in the entryway. Please bring soups to church on Wednesday warm, if possible, or put them in the fridge. Thanks for your help!

EDGE Youth Fundraiser:
We are selling Papa Murphy's Pizza! Contact a youth group member or place your order at the table by the welcome desk. All orders must be paid for upon ordering. The pizzas can be picked up at church on October 16th, between 10:15-10:30 AM. Thank You for your support!

Bibles For Missions Thrift Store Dinner: The board of the Bibles for Missions Thrift Store invites all volunteers and their spouses to a dinner as thanks for all the hours you have worked. The dinner will be held in the ARC center at the American Reformed Church at 1720 N. Burlington, Worthington, MN on October 7. We need to know how many people will come. Sign up by October 1 at the store or call Joyce Aykens (507-372-2017 or Verla Wheeler (507-360-5811).
Inspiration Hills Annual Fall Auction: Friday, October 22, 6:00 p.m. Doors Open, 7:00 p.m. Live and Online Auction. The Fall Auction will have a wide variety of items available with Zomer Realty & auction leading the auction. The focus of the auction is to highlight the ministry of Inspiration Hills and raise funds for major projects. This year, the proceeds will go towards replacing the fire suppression system in the kitchen. Everything that happens at Inspiration Hills, whether it's summer camp, retreats, family reunions, or any other gatherings, involves food. Please join us for a fun evening of Gathering together to support the ministry that God is doing at
Inspiration Hills, Refreshments will be provided.
Justice for All is having their Annual Meeting and Fall Auction on Thursday, October 28 at 530p in the Parkview Event Center – Rock Valley, IA. There will be an update about the ministry, short business meeting, and a live auction with Mark Zomer and Doug Kooima. Enjoy a meal and fellowship while supporting Justice for All ministry. Thursday October, 28 530p Parkview Event Center, don't miss out!
Gospel Concert: You are invited to a Gospel Concert in Woodstock, Mn at the American Reformed Church on Sunday October 3, 2021 from 2:00-5:00. This is the annual fundraiser to purchase Recovery Bibles for clients at the New Life Treatment Center. Music will be provided by: Gospel Gold Quartet, The Klassens, and Cornerstone Quartet. Testimonies will be given by alumni from New Life Treatment Center. BBQ's and ice cream sundaes will be served. Freewill donation will be accepted. Please come and enjoy fellowship, great music and support the New Life Treatment Center Bible Fundraiser.
This Week
Nursery: Ashley Hulstein and Kamryn Smit
Calling Elders: Ron Menning and Keith Van Hulzen
Children's Message: Jason Snyder
Fellowship: Dennis & Danette Smit and Sandy Brouwer
Monday:
1:00 p.m. Joy Circle
7:00 p.m. Elders Meeting
7:30 p.m. Deacons Meeting
8:00 p.m. Consistory Meeting
Wednesday:
5:00 - 7:00 p.m. RCW Fall Soup Supper
Midweek
6:45-7:15 p.m. Kids Choir
7:00 p.m. Sr. & Jr. RCYF
7:15-8:00 p.m. K-5th Grade Catechism
7:15 p.m. Chapel Choir
Next Week Sunday
Nursery: Danette Smit and Keaton Arp
Children's Message: Brenda Kleinjan
Fellowship: Deb Corbin and Ardeth & Dean Fransen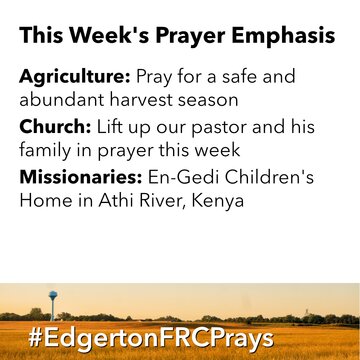 Our address is: 230 Maple St, Edgerton, MN 56128, USA