Announcements
for the Week of October 10


Sympathy is expressed to the family of Georgia Pietz who passed away on Wednesday. Visitation will be on Sunday 2:00 –5:00 p.m. at our church. And the funeral will be on Monday at 10:30 a.m.

Thank you to everyone who helped in anyway to make our Fall Soup Supper a big success! We were told by many that our food was delicious. To all of you who made soup or desserts, donated hamburger, worked in the kitchen, helped with clean-up, came to eat, or greeted people with a friendly smile, THANK YOU! We appreciate the extra time everyone took to make this event a success!
The First Reformed Church Women

Edge Youth Pizza Pickup: Thank you to everyone who ordered pizza for the Edge Youth Fundraiser! Please pick your fresh pizza up THIS SATURDAY (10/16) between 10:15-10:30 am. We will be set up at the south doors.

October Giveaways: This month we once again have two English Standard Version Bibles that Pastor Mark is giving away. One is the Gospel Transformation Study Bible and the other a small book of just the Psalms. You can find the baskets to put your name in on the
Welcome Desk. The drawing will take place on Sunday October 31. The September winners were: Reformation Study Bible - Ora
Bobeldyk and the Systematic Study Bible - Marilyn Schoolmeester.

Operation Christmas Child: It's time to think about Operation
Christmas Child. Please consider packing a box for boys and girls around the world who may not get a Christmas gift at all this year. The boxes are by the welcome desk. Collection dates are November 15-21. That gives you plenty of time to take the kids or grandkids shopping and let them help you make gift choices. The $9.00 donation is being covered by our church again this year so you don't have that expense when you are packing a box. The boxes are here and ready to be filled. Thanks in advance.

Priscilla Circle: The Priscilla Circle will not meet this week. We will meet next week Wednesday, October 20 instead.
Combined Service: Our congregation will be hosting the community Reformation Sunday evening worship service. Plan to join our local sisters and brothers in worship on October 31 at 6:30 p.m.
New Class: Pastor Mark is starting a class called "Considering the
Confession" on the third Sundays of the month. This class will be only 15-20 minutes in length as we look at the articles of the Belgic
Confession. The class will take place on Sunday mornings at 10:50 and will begin on October 17.
Inspiration Hills Annual Fall Auction: Friday, October 22, 6:00 p.m. Doors Open, 7:00 p.m. Live and Online Auction. The Fall Auction will have a wide variety of items available with Zomer Realty & auction leading the auction. The focus of the auction is to highlight the
ministry of Inspiration Hills and raise funds for major projects. This year, the proceeds will go towards replacing the fire suppression
system in the kitchen. Everything that happens at Inspiration Hills, whether it's summer camp, retreats, family reunions, or any other
gatherings, involves food. Please join us for a fun evening of
Gathering together to support the ministry that God is doing at
Inspiration Hills, Refreshments will be provided.
Justice for All is having their Annual Meeting and Fall Auction on Thursday, October 28 at 530p in the Parkview Event Center – Rock
Valley, IA. There will be an update about the ministry, short business meeting, and a live auction with Mark Zomer and Doug Kooima. Enjoy a meal and fellowship while supporting Justice for All ministry. Thursday October, 28 5:30 pm Parkview Event Center, don't miss out!
This Week
Today, we will witness the baptism of Raeleigh Lynn, daughter of Jordan and Courtney Gunnink. Following the morning service, there will be a time of Fellowship.
10:45 a.m. Sunday School
Nursery: Danette Smit and Keaten Arp
Calling Elders: Jason Heard and Cal Brouwer
Children's Message: Amy Van Hulzen
Fellowship: Deb Corbin and Ardeth & Dean Fransen
Tuesday:
9:00 a.m. The ladies will be making pigs-in-the-blanket.
Wednesday:
1:00 p.m. The ladies will finish the pigs.
Midweek
6:15-7:00 p.m. Food & Fellowship
6:45-7:15 p.m. Kids Choir
7:00 p.m. Sr. & Jr. RCYF
7:15-8:00 p.m. K-5th Grade Catechism
7:15 p.m. Chapel Choir
Next Week Sunday
Nursery: Dawn Gruys and Kya Voge
Children's Message: Kristin Groen
Fellowship: Londa & Kirk Dirksen and Bernice & Ross Van Hulzen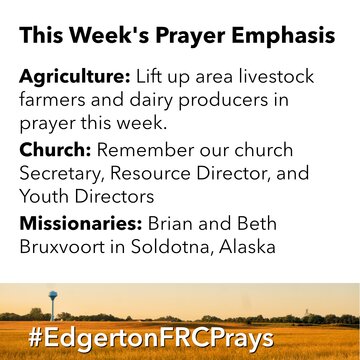 Our address is: 230 Maple St, Edgerton, MN 56128, USA