Announcements
for the Week of October 24

We look forward to seeing you at worship at 9:30 this Sunday morning.
The public reading of scripture is Ezra 2:1-35 and the responsive reading will be Psalm 47:5-9. The sermon passage for this week's sermon is Luke 1:39-56.
You can also view the service by watching our webcast. You can find the service at our website, YouTube Channel, or Facebook Page.

Thank you to the Youth Group for the soup and the cookies that you shared on Wednesday. It is appreciated!
Hennie Roskamp and Maryanne Westenberg
Thank you to Pastor Mark and our church family for your love, comfort, and support shown to us after my Dad's passing. If it was food, a card, phone, a visit, or a prayer, we appreciate it all. He will be missed. Also thanks for your much needed prayers for Dave after his "interrupted fishing trip" with blood clots & heart issue. God is surely in the details & we felt your prayers of encouragement. (1Thessalonians 5:11) He is doing great now. Pat & Dave Rieck
Thank you for the coats donated so far to Center of Hope. Other items also to be donated are good women's and men's shoes and children's items. The bike department can us bikes, chain oil, WD 40, and bike parts.
Sympathy is expressed to the family of Jim Heard who passed away this past week.

Please note your nomination ballots were placed in your mailboxes two weeks ago. They will need to be returned by October 31.

The Chapel Choir has begun rehearsals for a Christmas Cantata. Please join us on Wednesday evenings at 7:15 p.m.!

Next Sunday evening, our congregation will be hosting the community Reformation Sunday evening worship service at 6:30 p.m. Plan to join our local sisters and brothers in worship.

There are pigs-a-the-blanket available for sale. $10 for a dozen. Contact: Linda Bleyenburg or MaryAnn Zylstra.

Operation Christmas Child: It's time to think about Operation
Christmas Child. Please consider packing a box for boys and girls around the world who may not get a Christmas gift at all this year. The boxes are by the welcome desk. Collection dates are November 15-21. That gives you plenty of time to take the kids or grandkids shopping and let them help you make gift choices. The $9.00 donation is being covered by our church again this year so you don't have that expense when you are packing a box. The boxes are here and ready to be filled. Thanks in advance.
Open House Baby Shower
You are invited to an Open House Baby
Shower for Breanna Drooger on October 30 at 10:00 a.m. –12:00 p.m. in the fellowship hall.
Talking Bibles
On October 28 at 7:00 p.m. at First CRC Fellowship hall, Mark Hoekstra, President of Talking Bibles International will be giving a presentation on the life changing work of Talking Bibles for people who can't read or do not have the living word of God in their language. The public is invited for a time of fellowship and coffee
afterwards. For more information contact Cal at 507-227-1460.
Justice for All
Justice for All is having their Annual Meeting and Fall Auction on Thursday, October 28 at 530p in the Parkview Event Center – Rock
Valley, IA. There will be an update about the ministry, short business meeting, and a live auction with Mark Zomer and Doug Kooima. Enjoy a meal and fellowship while supporting Justice for All ministry.
Thursday October, 28 5:30 p.m. Parkview Event Center, don't miss out!
Helping Hands Pregnancy Center
You are invited to our annual Fundraising Banquet on Tuesday, November 16. 5:45 p.m. Silent Auction, Punch, & Snacks. 6:25 p.m. Delicious Thanksgiving Dinner, Ministry Update, Client Testimonies, Music by the Klassen Family. It will be held at the Worthington Event Center, 1447 Prairie Drive, Worthington. RSVP appreciated as soon as possible or by November 2 to svoehl@frontier.com or 372-2111.
This Week
Nursery: Diane Brockberg and Liana Bloemendaal
Calling Elders: Kevin Kleinjan and Ron Menning
Fellowship: Gay Lynn & Mike Drooger and Shelli & Jason Menning
Sunday
There is no Sunday School this Sunday
4:00 p.m. Come and join us for Bingo in the fellowship hall.
Nursery: Diane Brockberg and Liana Bloemendaal
Calling Elders: Kevin Kleinjan and Ron Menning
Children's Message: Brenda Kleinjan
Fellowship: Gay Lynn & Mike Drooger and Shelli & Jason Menning
Monday
9:00 a.m. The ladies will be making pigs-in-the-blanket.
Tuesday
1:00 p.m. The ladies will finish the pigs.
Wednesday
Midweek
6:15-7:00 p.m. Food & Fellowship
6:45-7:15 p.m. Kids Choir
7:00 p.m. Sr. & Jr. RCYF
7:15-8:00 p.m. K-5th Grade Catechism
7:15 p.m. Chapel Choir
Next Week Sunday
Nursery: Dixi Snyder and Rihanna Hulstein
Children's Message: Nancy Wassink
Fellowship: Jessica & Lucas Roskamp and Alvina Schoolmeester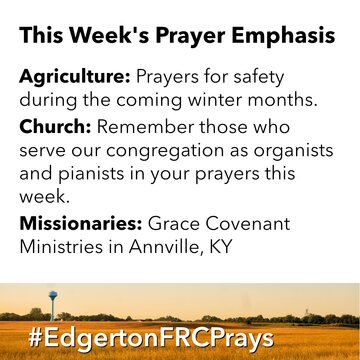 Our address is: 230 Maple St, Edgerton, MN 56128, USA