Announcements
for the Week of October 31

We look forward to you joining us for worship this Sunday as we celebrate the sacrament of baptism and welcome Faelynn Snyder into the visible membership of our church.
The public reading of scripture is Ezra 2:36-57 and the responsive reading will be Psalm 48:1-8. The sermon passage for this week's sermon is Luke 1:57-80.
You can also view the service by watching our webcast. You can find the service at our website, YouTube Channel, or Facebook Page.


Please note your nomination ballots for Elders and Deacons were placed in your mailboxes a few weeks ago. This Sunday is the last day to get your ballot in.

This month we once again have two English Standard Version Bibles that Pastor Mark is giving away. One is the Gospel
Transformation Study Bible and the other a small book of just the Psalms. You can find the baskets to put your name in on the
Welcome Desk. This Sunday is the last day to get your name in for the drawing.

It's time to think about Operation Christmas Child. Please consider packing a box for boys and girls around the world who may not get a Christmas gift at all this year. The boxes are by the welcome desk. Collection dates are November 15-21. That gives you plenty of time to take the kids or grandkids shopping and let them help you make gift choices. The $9.00 donation is being covered by our church again this year so you don't have that expense when you are
packing a box. The boxes are here and ready to be filled. Thanks in advance.
The Chapel Choir has begun rehearsals for a Christmas Cantata. Please join us on Wednesday evenings at 7:15 p.m.

Thank you to the Youth Group for the soup and the cookies that you shared on Wednesday. It is appreciated! Bernice Brouwer

The authority and sufficiency of Scripture was a foundational belief of the Reformation and remains a central doctrine of Reformed thought. But is it still held in the same regard? Can this old and more traditional Reformed idea still speak to and inform the church's challenges today? Come to First Christian Reformed Church of Edgerton, MN on Saturday night, November 13, at 7:00 pm to find out. Dr. Cornelis Venema, a leading Reformed
theologian and president of Mid-America Reformed Seminary, will be addressing this issue under the title, "Abiding in the Word of Christ: The Church's Present Challenge." Attendance is free and all are welcome for this time of teaching, reflection, and evaluation as we fellowship with one another.

Helping Hands Pregnancy Center
You are invited to our annual Fundraising Banquet on Tuesday, November 16. 5:45 p.m. Silent Auction, Punch, & Snacks. 6:25 p.m. Delicious Thanksgiving Dinner, Ministry Update, Client Testimonies, Music by the Klassen Family. It will be held at the Worthington Event Center, 1447 Prairie Drive, Worthington. RSVP appreciated as soon as possible or by November 2 to svoehl@frontier.com or 372-2111.
Pigs-in-the-Blanket
There are pigs-in-the-blanket available for sale. $10 for a dozen. Contact: Linda Bleyenburg or MaryAnn Zylstra.
This Week
Sunday
Cake will be served after church this morning in honor of Art & Rose Bleyenburg's 65th Wedding Anniversary.
Nursery: Dixi Snyder and Rihanna Hulstein
Fellowship: Jessica & Lucas Roskamp and Alvina Schoolmeester
Calling Elders: Keith Van Hulzen and Jason Menning
10:45 a.m. Sunday School
6:30 p.m. Community Combined Reformation Service
Monday
1:00 p.m. Joy Circle
7:00 p.m. Elders Meeting
7:30 p.m. Deacons Meeting
8:00 p.m. Consistory Meeting
Tuesday
9:30 a.m. Priscilla Circle
Wednesday
Midweek
6:15-7:00 p.m. Food & Fellowship
6:45-7:15 p.m. Kids Choir
7:00 p.m. Sr. & Jr. RCYF
7:15-8:00 p.m. K-5th Grade Catechism
7:15 p.m. Chapel Choir
Next Week Sunday
Nursery: Heather Van't Hof and Taylor Van Dyke
Children's Message: Jason Snyder
Fellowship: Sandy & Art Menning and Ora Bobeldyk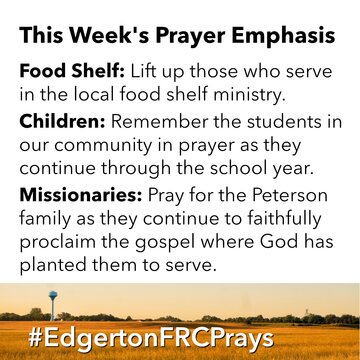 Our address is: 230 Maple St, Edgerton, MN 56128, USA