Announcements
for the Week of November 7

We look forward to seeing you this Sunday morning at 9:30 as we bring our worship to the throne of the Lord of Heaven and Earth!
The Old Testament public reading of scripture will be Ezra 2:57-70 and the responsive reading will be Psalm 48:9-14. The sermon text will be Luke 2:1-21.
If you are unable to join us this Lord's Day the service is also available via webcast. You can watch it on our website, YouTube Channel, or Facebook Page.

The authority and sufficiency of Scripture was a foundational belief of the Reformation and remains a central doctrine of Reformed thought. But is it still held in the same regard? Can this old and more traditional Reformed idea still speak to and inform the church's challenges today? Come to First Christian Reformed Church of Edgerton, MN on Saturday night, November 13, at 7:00 pm to find out. Dr. Cornelis Venema, a leading Reformed theologian and president of Mid-America Reformed Seminary, will be addressing this issue under the title, "Abiding in the Word of Christ: The Church's Present Challenge." Attendance is free and all are welcome for this time of teaching, reflection, and evaluation as we fellowship with one another.

Don't forget our clocks go back an hour this Sunday morning. Enjoy the extra hour of sleep or an extra cup of coffee before coming to worship.

The Groen family would like to offer a sincere thank you for all of the cards and gifts that were received during Pastor Appreciation Month. Thank you also to the congregation for the generous gift from the Consistory. We feel greatly appreciated and we also appreciate the love that you show to us. May God bless First Reformed and our ministry together that Jesus might be glorified.
Thank you: Thank you to the youth of First Reformed for the gift of soup mix and cookies.
Thank you: We have sincere appreciation for the cards and greetings given to us on our 65th Anniversary and for the beautiful bouquet from the "Church Women". Also, thanks to our kids for serving the cake and coffee in our honor. Art and Rose Bleyenburg

Remember Nathan Thompson's father, Nels, in prayer. He has been diagnosed with a rare form of leukemia and is hospitalized at Mayo Clinic. Pray for healing and strength for Nels and wisdom for the doctors as they pursue the best path of treatment.
This Week
Nursery: Heather Van't Hof and Taylor Van Dyke
Fellowship: Sandy & Art Menning and Ora Bobeldyk
Children's Message: Nancy Wassink
Calling Elders: Cal Brouwer and Gene Westenberg
Sunday:
9:30 a.m. Worship
10:45 a.m. Sunday School
Monday:
9:00 a.m. The ladies will be making Pigs-in-the-Blanket
Tuesday:
1:00 p.m. The ladies will finish the Pigs.
Wednesday:
Midweek
6:15-7:00 p.m. Food & Fellowship
6:45-7:15 p.m. Kids Choir
7:00 p.m. Sr. & Jr. RCYF
7:15-8:00 p.m. K-5th Grade Catechism
7:15 p.m. Chapel Choir
Next Week Sunday
Nursery: Shanna Snyder and Tyler Van't Hof
Children's Message: Brenda Kleinjan
Fellowship: Pat & Dave Rieck and Lesli & Harlan Dragstra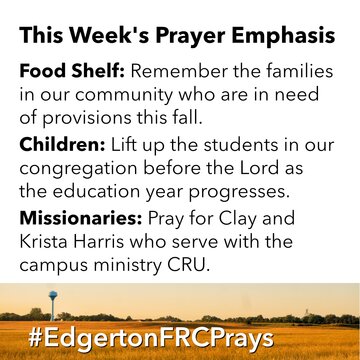 Our address is: 230 Maple St, Edgerton, MN 56128, USA